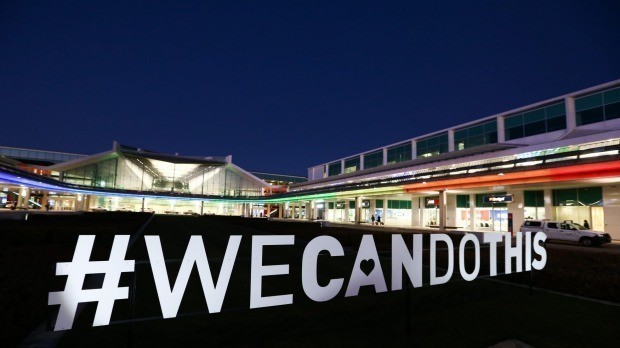 Canberra airport lights up in rainbow colours to greet arriving MPs as the campaign for marriage equality in Australia ramps up.
The marriage equality campaign in Australia has ramped up, with mass rallies being held across the country over the weekend as  the Australian Marriage Equality' national campaign unveiled its new slogan, #WeCanDoThis.
Meanwhile, Canberra Airport lit up in rainbow colours to greet federal MPs flying into the capital, ahead of the introduction of a cross-party bill to support gay marriage expected this fortnight. The #WeCanDoThis was also on display at the airport.
https://twitter.com/CanberraAirport/status/630284335963205632/photo/1
Canberra Airport managing director Stephen Byron told The Age the light display was aimed at supporting the end of "ridiculous" discrimination against same sex couples, including his brother Tom Snow, who married his husband Brooke Horne in New Zealand last year.
"Equality of same-sex relationships is an issue that is very important for Canberra Airport – not only because we believe that equality is an essential right for our whole community but also because it has a particular personal significance for our family. Mr Byron said.
"My brother Tom Snow and his husband were married last year in New Zealand with their children and our extended family as witnesses.
"It struck me at this time how ridiculous it is that my relationship, and my wife and children, are afforded the protection and support of our government, yet Tom and his family are forced to travel overseas to get married."
 Article | Levi Joule.