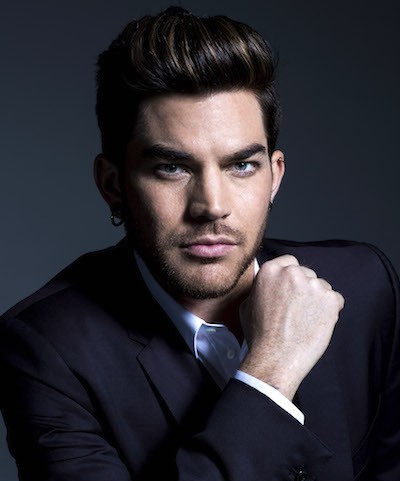 express' Levi Joule sat down with pop sensation Adam Lambert in a remarkably candid exclusive interview to discuss his new album, new look and the radically changing nature of the gay scene worldwide.
Lambert exclaims "The thing that I contribute to the world is music." But for us, that is not all he brings. What he has to say about GLBT culture also makes him one of our biggest current gay icons.
His path from that young, out and proud 20 something on 'American Idol' to the lead singer of Queen, one of the most recognised and loved bands in the world has given him an exclusive understanding of what it means to be famous and gay.
Lambert had only arrived in NZ only a few days earlier after spending a week in Australia. There, he performed on 'The Voice' and was also involved in a minor controversy which was generated over the suggestion that he should start dating Ricky Martin from shock jock DJ Jackie O.
Headlines quickly ran on across the media, with 'The Daily Telegraph' running with the headline 'Adam Lambert slams radio host Jackie O or gay jibe' something Lambert dismisses outright. "That was really funny, because there was no drama." "It was click bait. They [the media] made it such a big deal, but I wasn't offended at all."
So it wasn't an example of 'double standards' for the way single gay artists compared to single straight artists are treated in the media?
"There is a shred of truth in that, but I was having fun with her. I didn't think twice about it. Some people invented some other drama that wasn't going on."
Lambert says things have changed pretty drastically from his days on 'American Idol' for gay artists in the entertainment industry. "We're progressing for sure. Being gay, it's not taboo anymore.
"People aren't so hung up on it – I think the industry isn't so scared about it anymore, they used to think it won't sell. Now its been proven that most of the people who buy pop music don't care."
More broadly, Lambert credits the entertainment industry, with helping to further advance GLBT rights. "I think it's very interesting, because I think the entertainment industry has really helped push things further" Lambert says.
" I think the entertainment community has done a lot to push us forward as a society. They've really opened people's eyes and told tales of some of the struggles, some of the realities and also profiled more diversity within the gay community which allows people to understand things more. Especially film and television, there are a lot more gay characters, they're not the stereotypes anymore, they're moving past the stereotypes. It's amazing how it's pushed public opinion."
Lambert says the way gay artists are portrayed has improved and that at the beginning the 'gay thing' was the only issue ever brought up.
"When everything happened with me in the beginning it was a little out of my control. I was being talked about before I even had a chance to answer any questions so it was already in the consciences that I was 'the gay guy' and so the minute I could get off the show and do interviews, that was what all the questions were about."
While the questions now tend to be more about his music, Lambert says he will always be open about who he is when asked. "I have no shame, I came out when I was 18, I didn't mind talking about it, because I'm an open book and I didn't want to come off like I had a secret or was downplaying anything, so I just kind of ran into it head first.
"What I've learnt over the years is that it's tricky because the media will tell the story however they want to tell it, so it's still out of your control to a certain amount."
'American Idol' was a lifetime ago to Adam Lambert and when questioned about whether "those photos", showing him kissing another man might have been the reason he lost the final he says he's moved on. "I don't really think about that anymore, that was six years ago. I feel like it's all in the past."
Lambert is amongst only a handful of ex 'American Idol' contestants to have gone on to achieve industry success, something he puts down to the team who support him. "I think it's a game of chance and having the right people around you – that makes a big difference."
Since leaving 'Idol' as runner up in 2009, Lambert has gone on to release three chart topping albums and has recently wrapped up touring the world with Queen, performing as the band's front man – an experience which Lambert rates as one of his best yet. "They are rock royalty and Freddie Mercury was definitely an idol of mine. He was so boldly flamboyant and didn't give a shit. He was ahead of his time in that way.
"It's funny, because in the 70s and 80s a lot of male artists were quite flamboyant and camp and kind of seemed to fade out in the 1990s and 2000s, you didn't see anymore of that. It's kind of like we went backwards a little bit."
When discussing his style he explained that earlier on during 'Idol', Lambert's genre was dictated by the show's producers.
"They said 'we want to see you doing the classic rock thing'… I thought, I can identify with that, I can pull it off and so I ran with it. That was that chapter."
"The second one was more funky pop and I experimented with some other sounds. My look was a little bit more modern and contemporary at that point."
"And now I'm in this chapter and it's changed. The campy kinda crazy has been taken down a bunch of notches, I wanted to do something a little bit more from the heart, I wanted my fans to understand me a little bit more and understand the stuff I've been through emotionally and the places I've been. I wanted to talk about the things I've noticed about the world I've been living in. Like this pursuit of happiness; how do we find it, how does it manifest itself, how we get derailed sometimes by things while looking for happiness."
"The [Ghost Town] album is very contemporary; it's pop – stylistically I feel like I was dressing up in crazy costumes a lot and it was really fun, but  I'm into more classic Americana now, I like cleaner looks. I was looking at old pictures of Elvis and George Michael and Chris Isaac and those classic looks."
Lambert says this in contrast to his earlier style where he says he liked to explore and blur the concept of gender identity. "I liked playing with the contrast of masculinity and femininity, like Boy George, like David Bowie, like Marilyn Manson."
While Lambert's look may be more contemporary and straightforward, he believes the performance of gender is being questioned like never before. "There's a beautiful moment right now where we are understanding and exploring all sorts of different options and variations on gender. It's gotten a lot easier. I don't feel like it's an obstacle anymore." Lambert says.
"There is an interesting conversation about gender stereotypes right now.I think things are changing. I think people are starting to recognise that a lot of these norms are instructed by society. We're brought up conditioned to believe 'this is what a man is,' 'this is what a woman is' and I think it's a really exciting time right now to see that is being questioned and challenged and in some cases rejected. It's good. I think it's limiting to be forced to pick a box to define yourself."
Lambert again notes the entertainment industry's role and says that the media has moved towards more diverse and realistic portrayals of GLBT people, something he believes has led to positive change within the gay community.
"I think that's the exciting thing that the media has been able to profile different types of gay people. It allows the next generation coming up to think they have options and that they don't have to be this or be that, or stick to a stereotype in order to find an identity," the singer says.
Adam Lambert's insight into being an out and proud gay artist is unique and rather refreshing – the interview could go on for hours. Then, sadly, the record label representative gives the signal to wrap up, not before Lambert makes one final point in which he makes his most poignant comment yet about how the gay community now views itself.
"You know, you used to go out to a gay bar and people would be like 'I'm a top' or 'I'm a bottom' and I have to act like this and I personally think that's bullshit and I know a lot of young people growing up right now who think, 'That's not how I want to act'"
"There are so many shades of grey, there are so many different ways to be gay, lesbian, bisexual, transgender – it's not just one thing."
 Article | Levi Joule. Photos | Dan Liu