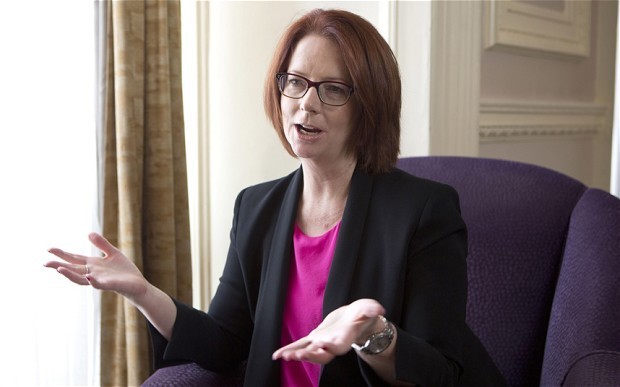 The former Prime Minister announced her support of marriage equality while delivering the Michael Kirby lecture at the University of Melbourne
Former Prime Minister Julia Gillard has announced her support for same sex marriage, while also launching a passionate attack against Tony Abbott's plan for a "people's vote" on same sex marriage, saying the idea poses "real dangers" to democracy because it implies politicians are not capable of taking decisions or leading reforms.
The news is significant as Gillard had previously opposed marriage equality, voting against a bill which wold have legalised same sex marriage in 2012.
"The derisory references to the 'politicians' choice', makes the blunt nature of the populist appeal clear," she said while delivering the annual Michael Kirby lecture, named in honour of former judge and legal scholar Michael Kirby, a high profile out gay man.
"There is truly something absurd about politicians themselves inviting the public to conclude that politicians are not up to making a decision. Particularly so, when it is actually in our nation's interests to be bolstering belief in the capacity of our parliamentary system," Gillard said.
Gillard argued "the speed and temper of our times" was "already working to undermine faith in the ability of democracies to cope and to embrace reform" even as it became more necessary than ever.
"The bonds that bind government and the governed together are already fraying. Enabling our nation to ready for the future, to adopt the continuing stream of big changes necessary, requires thoughtful strengthening of those bonds, not unusual tactics calculated to increase the wear and tear. All this means a plebiscite or referendum is an idea of superficial appeal and long lived dangers.
The former Prime Minister said that she would vote in favour of marriage equality if she got a vote in parliament again.
 Article | Levi Joule.