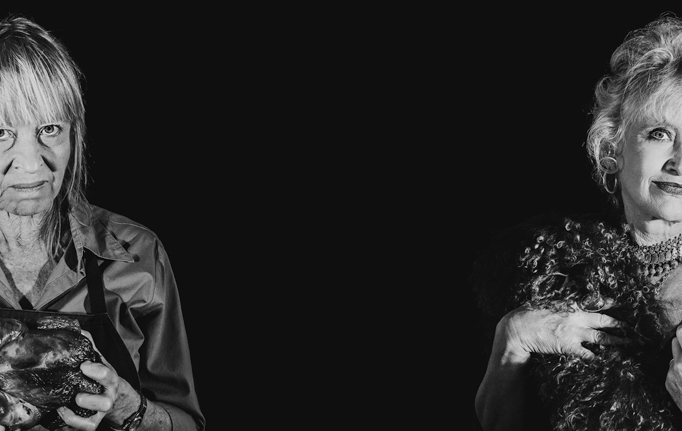 Only days away from opening night, Amy Jane Bedwell talks to playwright and actress Jess Sayer about playwriting, lesbianism, and her latest female-centric play, SHAM.
I am looking forward to 31 May. I'll have a drink at the bar before cramming in to the intimate Basement playhouse for an equally intimate performance. Opening night is almost always guaranteed to be the best performance, and I have high hopes for Jess Sayer's most recent accomplishment, SHAM.
Playing for a limited season, SHAM is the story of Meryl, played by Michele Hine, and her rocky relationship with her sister Dame Neva Farris, played by Annie Whittle. Darien Takle also stars as Annie's character's lesbian lover, and emerging actor Torum Heng in the role of Fern, Meryl's daughter.
Award winning playwright Jess Sayer was the 2015 recipient of the prestigious Bruce Mason Award. SHAM will be the first of her plays to hit the stage since this honor. A proud lesbian, she believes that all stories need to be told. Directing this explosive piece, is esteemed Wellington based director Conrad Newport.
I sat down with Jess to see what it was like to write a piece which explores such a seldom seen story of mature lesbian love.

You've written and staged a few plays now – What makes SHAM different?
I guess what I am passionate about at the moment, as a playwright, is telling women's stories. And I think I always will be. Creating a situation in which women have their own arcs, their own battles, their own passions – none of which centre around men – I think that's really important story telling.
SHAM is the first play I have written for four women. It deals with female relationships; sisters, lovers, friends, mothers and daughters. Family. And I love the age mix. Three of the characters are in their fifty/sixties and one is in her twenties.
I love writing for older women, as there never seems to be enough material out there for them. Which baffles me, because these women have lived. Sixty years is a lot of time; imagine what each of these characters has done? The lives they've lived? And with the sister dynamic, I have been able to play with reversion; that inescapable thing we all do with our siblings when we fight. We go back to childhood irreverence, and that has been a lot of fun.
How does SHAM represent the queer community?
I chose to create two older lesbian characters because I, personally, had never seen them represented on stage. Neva and Ann (the characters) were incredibly fun to create. I wanted to write a relationship peppered with history; years and years spent together. These two characters know each other inside out. I have never really explored that relationship before.
I am sick of the idea that because someone is 'gay' that all of a sudden, the way they have a relationship is different to the way a 'straight' couple might have theirs. At the end of the day, we're all just people. And people fight. They love. They tell lies. And they keep secrets.
When people come to see SHAM, they will see an incredibly nuanced relationship between two women. They will see that it is no different to their own relationships; to those of their parents; their grandparents.
I literally just asked my friend, who is also a lesbian, why it's important to see a long term lesbian relationship represented on stage. She talked to me about how, just the other day, she was walking down queen street and was cat called, harassed and made to feel like she was doing something wrong. And that's why we need these relationships on stage. They are normal!
How prominently does this lesbian relationship feature in the play?
The relationship is very present in the play. Annie Whittle and Darien Takle play lovers who have been together for a long time. In the beginning, due to Annie's character's profession, their relationship had to be played out in secret. Their relationship, and the fact that it had to be so hush hush, is actually what sparked a lot of what happens in the play.
I love that Annie's character sometimes uses her sexuality as a weapon, and sometimes as a defence.

As a lesbian playwright, do you find writing about queer issues liberating? Do you worry about being boxed in as a queer playwright?
I think all stories need to be told. SHAM delves into a thirty-four-year lesbian relationship, which I have really enjoyed exploring. I don't worry about being boxed in, no. I think I will always just tell the stories that come to me.
How do you want your audience to feel when they leave the Basement Theatre?
I find this question so hard. I think that is the magic of theatre; every play will hit someone in a unique way. And usually it is in a way you never could have predicted.
Book now to see SHAM at the Basement Theatre in Auckland from 31 May to 10 June. Tickets are available at iTicket.com