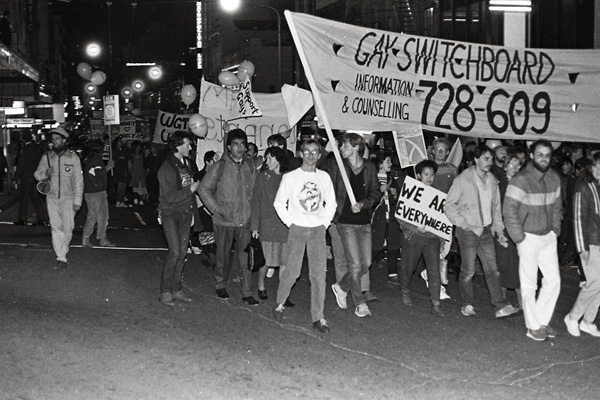 To mark the thirty-year anniversary of the Homosexual Law Reform in New Zealand, express talks to some of the key players in this remarkable social and political change and considers what still needs to be done.
David Hindley
I was one of the co-ordinators of the Gay Task Force in the capital, with a particular interest in media. I was also a member of the Pink Triangle magazine collective, helping with writing and production. I took thousands of photographs of the events around the law reform campaign.
I was in my mid 20s. It was an extraordinary experience being involved. Scary at some points – a group of us had to take my partner to hospital one time after he suffered concussion in a nasty queer-bashing. There were some very serious anti-gay assaults. But there was an extraordinary sense of community. The community-building in law reform set the foundations for other successful Wellington events, such as the annual fair and the 2011 Asia/Pacific Outgames.
It is important to recognise the successes we have had and to remember and honour the people who took part but are no longer alive. Things aren't perfect, there are many, many things that need to change in New Zealand, but it is important sometimes to just take time out and celebrate the successes we have had.
Image Credit | Alex Efimov
Bill Logan
I was based in Wellington, in the Gay Taskforce. I represented us in the media, coordinated lobbying of members of parliament, and mediated conflicts. Gay men, lesbians, bi-sexuals and trans people are not natural allies – and the coalition we needed if we were to get the reform through was far wider even than that. There was a lot of potential conflict, and sometimes the conflict broke through to the surface.
We were all volunteers. I lived on the unemployment benefit, and a friend gave me an extra $20 a week.
The main change was the result of the huge public debate, the massive coming out process, and the tectonic shift in cultural attitudes. Before 1986 only exceptional careers were open to publicly identified members of sexual minorities. Within a short time after 1986 only exceptional careers were closed to publically identified members of sexual minorities.
Things have continued to improve, but most high schools except some inner-city co-ed schools, remain horrible places for queer and transgender youth. Many people oppose public discrimination, but privately can't cope with sexual difference in their own families, even to the point of kicking young teenagers onto the street. Self-harm, and attempted and completed suicide among our youth is huge problem. Health services (particularly services for transgender people, and for people in crisis) remain in a ghastly state.
James "Jim" Peters
Since the Homosexual  Law reform bill was passed I have often been approached by young LGBT people and asked what was it like during those times. They were difficult days made easier by many volunteers, both gay and straight, that came out to support us. Some of our opponents, especially the fundamentalist leaders, were uncharitable to put it mildly.
AIDS was forefront during this period and though many opponents used the issue against us, I sensed a strong united bond developing within the gay community. We were very protective of each other.
The law reform campaign and AIDS emergence gave us reason to come together in a united front. Up until then the gay community never had a strong reason to come onto the streets in unity. We were a potent force.
Today I am heartened witnessing the many social and community events that involve the gay community and the support institutions we have. We now have our government vying for our political support and advertisements directed at our pink dollars. That was unheard of three decades ago.
There is still work to be done, we must remain diligent as political and social forces are still endeavouring to undo the progress. Should we need to stand united again I hope our history will be an inspiration.
Bruce Kilmister
Celebrating 30 years of Homosexual Law Reform has much more meaning for those who lived through the process than those who didn't.  What was it like back then I am often asked and usually I quote an employment advertisement for "attractive women to entertain and host business men. Must be over the age of 21 years and automatic retirement at the age of 35years. Weight and height must be acceptable within prescribed limits and attention to dress and appearance foremost."
This was the employment code for our national airlines hostesses and in today's environment it would be outside the law. Back then it was perfectly acceptable to discriminate on the grounds of sex, age, appearance. Corporate discrimination meant single men and women could not get a mortgage with banks or insurance companies. Getting married was often the only way to get a salary increase.
If this type of discrimination was valid for the perception of so called "normal" people, then being gay was being very much outside the law and firmly "in the closet."  You could not seek employment in any of the Defence Forces, nor could you seek employment in civil society and don't even think of trying to be a teacher as back then homosexuality was a word associated in the same breath as criminal, paedophile, pansy, and a host of offensive name calling. Employment and accommodation were the two most discriminated areas impacting on our lives. Being sexually active with other gay men meant automatic prosecution after police had visited your employer, and landlord. Police raids on clubs and saunas were frequent and the media broadcast the names of those caught and prosecuted resulting in lives being ruined.
Celebrating Homosexual Law Reform is more valid if you lived through it back then.
Saturday 9 July marks thirty years of validation for the rainbow community. Celebrate this amazing achievement and give thanks to the magnificent men and women who fought for our freedom at Rainbow Auckland's Rainbow Gala Extravaganza at SkyCity Auckland. For more information and to book tickets visit iTicket.co.nz