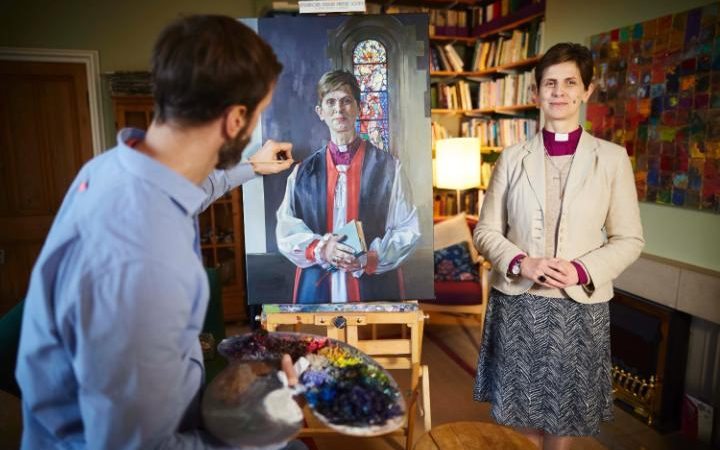 Oxford University has announced that it will replace "stale" portraits of "pale" men with gay, female and black icons.
Oxford says it was trying to combat criticism that it is "one of the most male, pale and stale places of learning in Britain" but replacing primarily white male portraits with images of a diverse range of notable people. This change comes after pressure was put on the university by Prime Minister David Cameron as figures showed that only 27 black undergraduate students were admitted in 2014.
Dozens of new portraits have been commissioned by Oxford, costing £900 each, reports the Sunday Times. Both staff and students are able to nominate a subject by the end of this week with figures alreadying including Libby Lane, the first female Anglican bishop who was named earlier this year (pictured above.)
Some of the portraits such as the ones of Lucy Banda Sichone and Norman Manley, haved been placed on the walls of Rhodes House and Feminist author Naomi Wolf will have a portrait put upon the same venue reports the Sunday Times.
Speaking to the paper, Ms Wolf commented: "In my college, New College, there are portraits of men everywhere. While pictures are not the same as gender or race equality, I do not think this is trivial. If all you see are white men, white men, white men, it is very hard to believe that people in your society think you have a place in history. Changing iconography helps to change how you see history."
The portraits, both in paint and photograph, fall under the University's Diversifying Portraiture project, launched back in 2014. The project hopes to collect 250 pictures of people who have "challenged the stereotypes and preconceptions of their times"
Stephen Goss, Oxford's provice-chancellor for personnel and equality, said portraits would be "displayed prominently at sites right across the university, reflecting the remarkable contributions made by so many individuals to modern Oxford's culture of inclusion, equality and tolerance."
Source | Pink News
Image | Telegraph