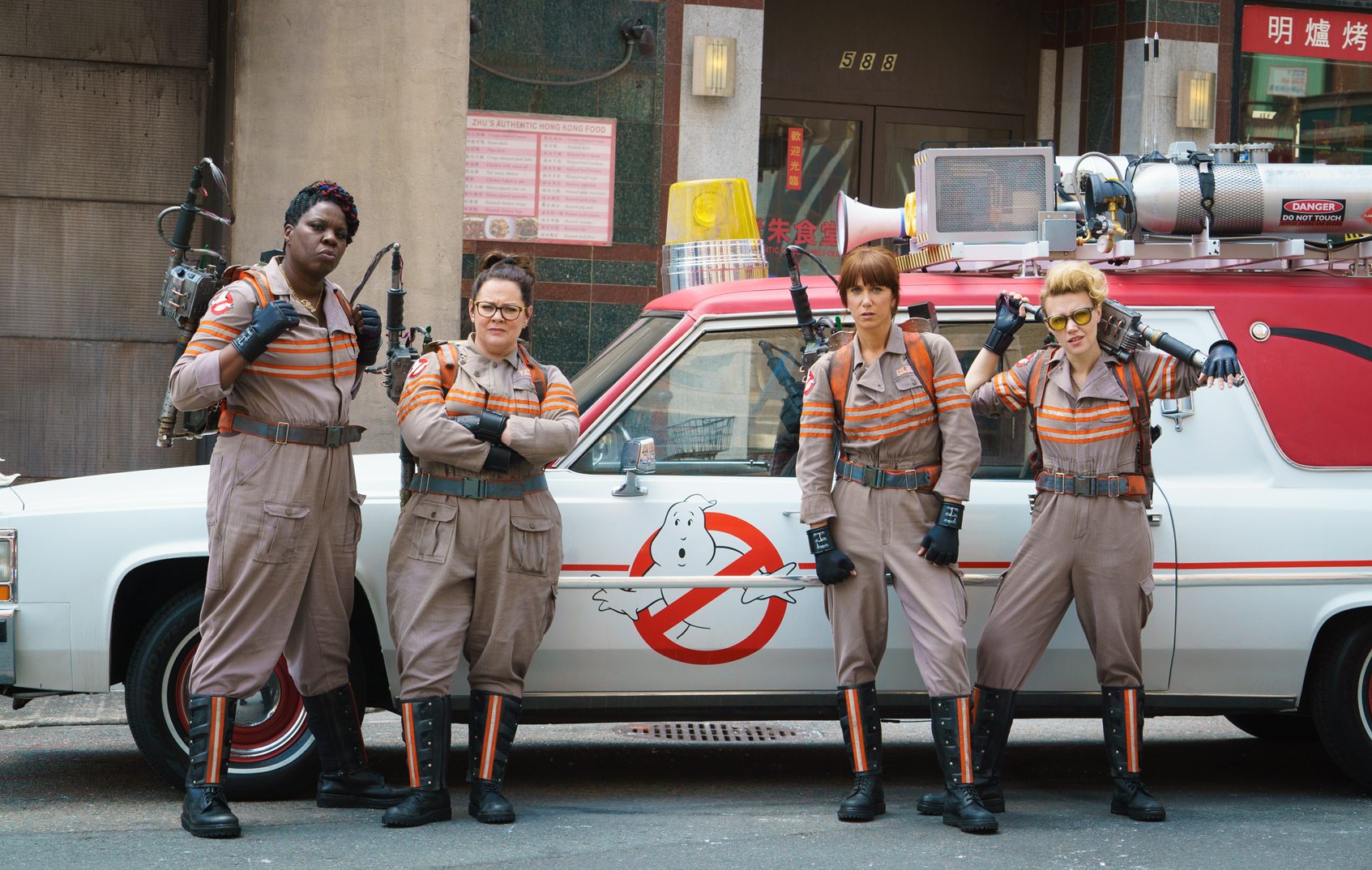 "If there's something strange in your neighborhood. Who you gonna call?" The Ghostbusters of course. This supernatural comedy film directed by Paul Feig, and written by Feig and Katie Dippold. It is a reboot of the Ghostbusters franchise. Following a series of supernatural phenomenon in New York City, paranormal enthusiasts Erin Gilbert and Abby Yates, nuclear engineer Jillian Holtzmann, and subway worker Patty Tolan band together to stop the otherworldly threat.
Ghostbusters became a cultural phenomenon, thanks to the vision of comedians Dan Aykroyd and Harald Ramis, and filmmaker Ivan Reitman. Aykroyd fashioned a script after being inspired by his own spiritual beliefs and an article on Quantum Physics and Para-psychology. Director Reitman declared the original script "impossible" to make. Thus Aykroyd rewrote the script with Ramis. After pitching the film to Columbia Pictures, the film was given a $25 million budget. However, the filmmakers had only a year to make the film so that it can open in the summer of 1984. In the end, the film opened to rave reviews and made $225 million at the box office. It spawned a sequel, two animated series, several video games and a mountain of merchandise. Now, thirty-two years later, a reboot has finally come to haunt a new generation.
Since the last haunting of Ghostbusters II in 1989 and before the reboot haunted screens, various scripts and ideas for a third film in the Ghostbusters series had long been planned. But due to Murray's reluctance to commit to the project and the death of Harold Ramis in 2014 resulted in the decision to reboot the franchise instead. The project was officially announced in 2014, with Paul Feig slated as director. By January 2015, a female cast, that included Melissa McCarthy, Kristen Wiig, Kate McKinnon and Leslie Jones, were officially announced through a picture tweeted by Feig. Both the announcement of the reboot and the cast attracted significant controversy, which consisted of critical and sexist remarks from fans. The controversy reached an all time high when the first official trailer was posted on line in March 2016. By May 2016, it became the most disliked movie trailer in YouTube history, with 221,400 likes and 649,900 dislikes.
The four women have definitely proven that women have equal power as men to become leads of major tent-pole franchises. Love him or not, Feig is consistently makes movies about women and girl-power. This is a female-driven comedy that tries to admirably prove that women can do as much as men. Chris Hemsworth emerges as a genuine surprise as a comedic star. Not only can this man be a superhero, but he can also be one of the funniest people on the screen. Out of the ghost wranglers, McKinnon emerged as real comedic dynamite. Thanks to the sweetly earnest and the gracious generosity of McCarthy and Wiig about giving the spotlight to her. McKinnon obviously regarded her character as an once-in-a-lifetime opportunity to develop her cinematic chops.
For those unaware of everybody's girl crush, Kate McKinnon (real name: Kathryn McKinnon Berthold) is a four-time Primetime Emmy-nominated American actress and comedian. A regular cast member on Saturday Night Live and The Big Gay Sketch Show, McKinnon is known for her strong character work and celebrity impressions, such as pop singer Justin Bieber; comedian and television host Ellen DeGeneres; politician Hillary Clinton and German Chancellor Angela Merkel (just to name a few). She also happens to be SNL's first openly lesbian cast member, as well as the series' third known gay cast member (after Terry Sweeney and Danitra Vance).
During her interview with Julie Goldman, she elaborated on her sexual awakening: "I figured it out by watching the X-Files and noticing my physiological reaction to it," McKinnon said. "I thought it was a product of David Duchovny's face but it was Gillian Anderson who still is the queen of my heart. So I knew then. I told some of my friends, eventually I found my mother. She found me crying and said 'what's wrong?' And I said 'I think I'm gay' … and she said 'fine. Love it. Whatever you want to be.'" She added further that she's "a hundred percent lez. Have not seen a human penis." In a recent interview with the LA Times, McKinnon said: "I tried for a short time to be something I wasn't, and had no success with it… It's a practical solution to just be yourself." McKinnon has talked a lot about the power of individuality, which is why she's so unafraid to be unique.
Talking to the Daily Beast, director Feig confirmed that McKinnon's character is gay. Feig said: "I hate to be coy about it, but when you're dealing with the studios and that kind of thing…" He added: "You know, Kate is who she is… If you know Kate at all she's this kind of pansexual beast where it's just like everybody who's around her falls in love with her and she's so loving to everybody she's around… I wanted to let that come out in this character." Which everyone has excited ever since her memorable flirtatious wink to Kristen Wiig's character and her not-so-subtle pickup lines. One of those fans, Liz Watson tweeted: "The new Ghostbusters movie is in fact bad news for men, but only because Kate McKinnon has made every woman in this audience fully gay"
Ghostbusters is an amusing delight, thanks to its female cast. But unlike the original, it lacks the charm, wit, and energy that made it the comedy classic. Like many remakes and reboots that merely re-treated the original, the film did not try anything new and took little to no risks. It looks as if the filmmakers, particularly the writers, simply didn't try to do anything special. They just simply filled it overblown nostalgia for the original and forgot to create its own original story. However, like the original, the film is an infectiously fun blend of special effects and comedy. Which makes it wonderful summer nonsense.