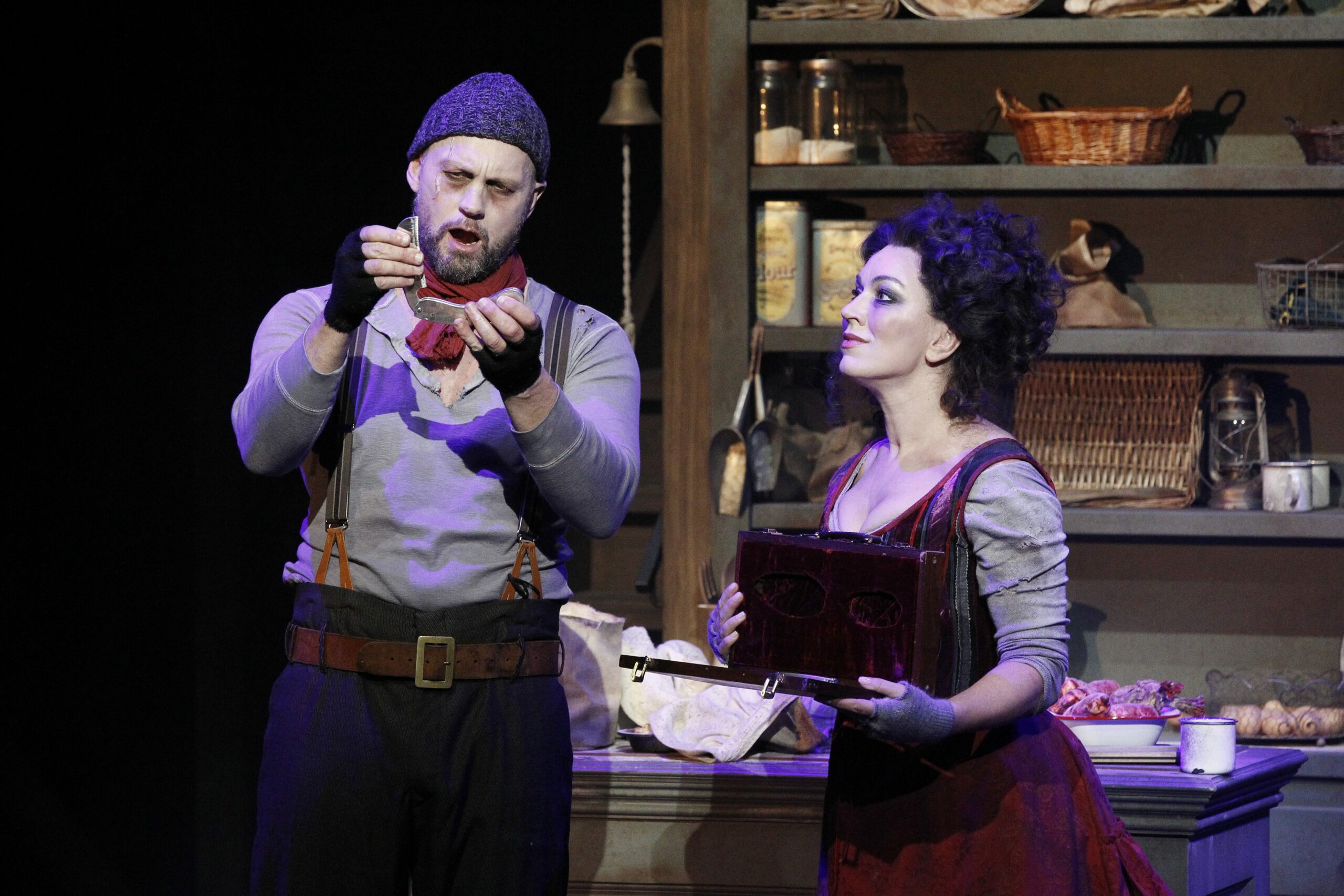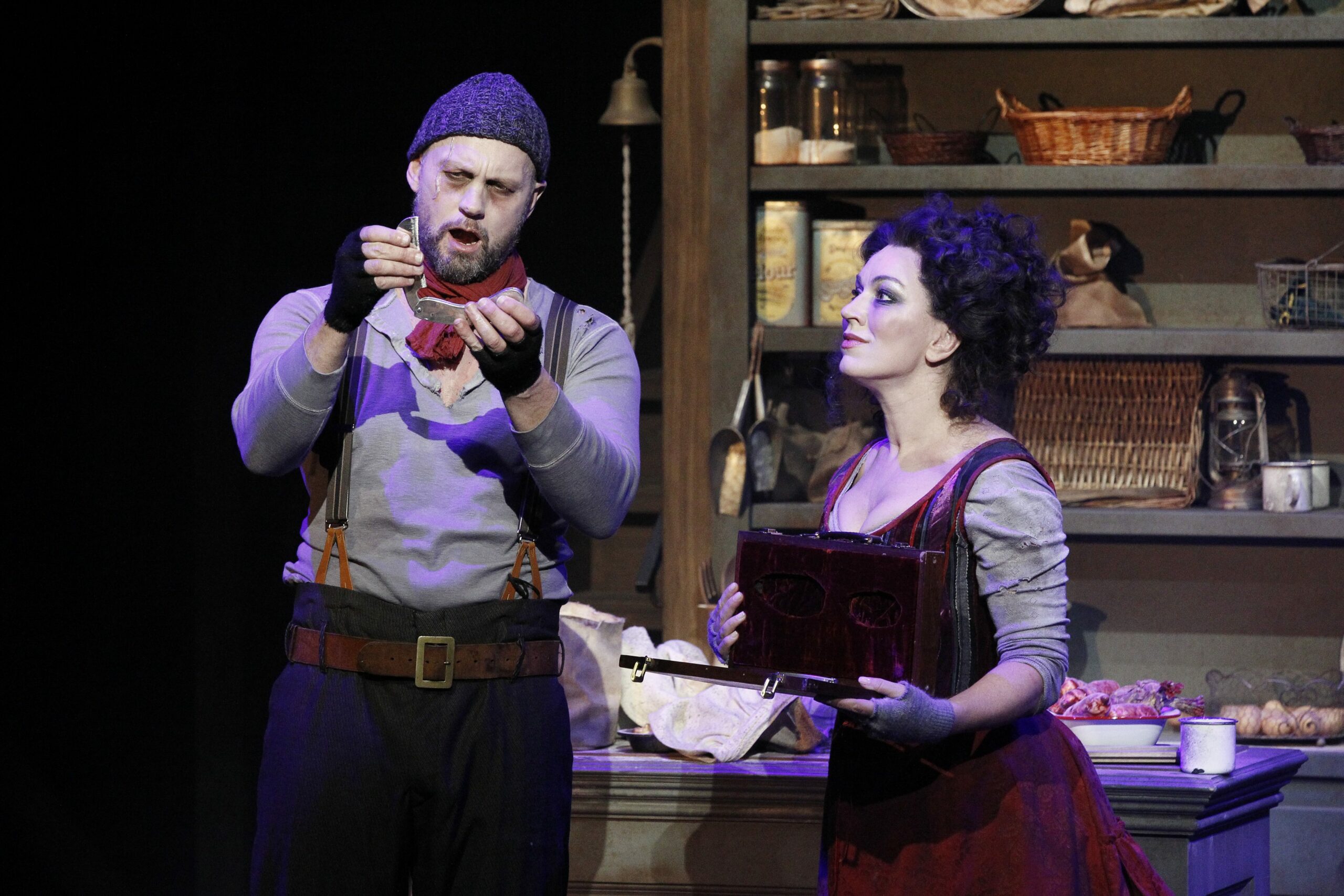 With music and lyrics by Stephen Sondheim and book by Hugh Wheeler, Sweeney Todd: The Demon Barber of Fleet Street has perplexed and delighted musical theatre audiences since its adaptation in 1979.
Gratuitously violent and frequently comical, a show which is best described as a musical horror of epic proportions invaded theatres to mixed reviews, with regular patrons sometimes writing the work off altogether.
It could be argued that it is actually these aspects which opera audiences once turned their noses up at that make Sweeney Todd one of the most enjoyable, universally recognised musical theatre shows of the past fifty years.
The New Zealand Opera's production of Sweeney Todd: The Demon Barber of Fleet Street, which opened at Auckland's Civic Theatre on Saturday 17 September, is one of the finest examples of musical horror graced upon New Zealand shores since The Woman in Black in 2007.
The story of injustice, revenge, and meat pies was presented upon a dusty and largely minimalistic set which allowed for smooth and hasty transition between scenes not often seen on the stage. A two-tiered cube encompassing both Lovett's Meat Pie Shop and Todd's Barbershop had the greatest utility. Each of the cube's four sides were exposed to the audience at points in the production: sometimes representing the back of the store, sometimes the wretched bake house, sometimes the facade.
The smooth transition of simply spinning the cube was almost unnoticeable and usually took place while the audience's attentions were somewhere else, or as the lights went down. This gave the grimy Victorian set a certain verisimilitude not often seen in an exaggerated play such as Sweeney Todd.
Multi-levelled aspects of set were also shown in the towering stairs flanking the versatile cube set piece, which were used for a multitude of purposes and plain enough to easily be imagined as Johanna's Victorian prison or Judge Turpin's bench.
In terms of performance, any high-brow opera aficionado who might scoff at the staging of Sweeney Todd would have to admit that the principal cast achieved distinction in their vocal prowess. With a difficult score that forced the performers to sing with extreme haste while maintaining a gruff London accent (I tip my hat to Lovett and Ragg for never faltering), the songs are noticeably demanding. The odd note was fumbled, particularly at the beginning of songs by soloists in the twelve-man ensemble, but the main characters were indeed without fault.
It is opera to invite along a new generation
of audiences, and brush away the lingering
snobbish and restrictive reputation of opera.
Teddy Tahu Rhodes' voice as Sweeney Todd banged through the Civic like a bass drum – so deep at first that it seemed somewhat comical, but in very little time came to suit the character with such precision that one couldn't imagine it being sung any other way. The depth of his voice set him apart from the other male singers on stage, confirming his titular role and speaking to the character's inner turmoil and dark history.
Rhodes played an impeccable Todd, however the highest applause of the night must be given to Antoinette Halloran in her role of Mrs. Lovett. One of Australia's best loved sopranos, Halloran showed exceptional stage presence, demanding audience attention whenever she graced the stage, and battling with difficult songs which often saw her change between spoken words to long, high notes in moments. Only a virtuoso of stage and song could have delivered this role's demanding vocal performance with no signs of stress.
A minor microphone malfunction during By the Sea might have spelled disaster for a less seasoned performer, but Halloran was able to take it in her stride, effortlessly increasing the volume of her unassisted voice until she could fix her microphone while remaining flawlessly in character.
An obvious highlight was both of these characters in their rendition of A Little Priest, which closed to riotous applause. Both actors dominated the space in which they moved in both voice and physicality, sharing intimacy felt by the audience, and comedy that had even the tails-clad opera veteran to my left giggling like a schoolboy.
Other notable cast members include Philip Rhodes as Judge Turpin who commanded a scene of self-flagellation with authenticity and a fair amount of humour, which stands as one of the highlights of this musical thriller that got the cut from the somewhat lacklustre Hollywood film. Amelia Berry's Johanna also showed exceptional vocal control, and Andrew Glover's Beadle Bamford was notably slimy, comical, and detestably well-performed.
The ensemble itself was powerful, with particular kudos being paid to the to the mezzo soprano whose voice could be picked from the bunch at any one time while simultaneously balancing the group. Haunting and evocative, the ensemble was assisted by the generous score played by select members of the Auckland Philharmonia Orchestra which sent shivers down the audience's spines.
The marriage of technical set utility, the cast's universal vocal expertise, and balance between the sensible and the comical have lifted this production of Sweeney Todd: The Demon Barber of Fleet Street above and beyond any of the year's musical performances. This is opera that is accessible and hellishly enjoyable – it is opera to invite along a new generation of audiences, and brush away the lingering snobbish and restrictive reputation of opera.
Sweeney Todd: The Demon Barber of Fleet Street is playing at Civic Theatre, Auckland, 17 to 24 September; St James Theatre, Wellington, 30 September to October 5; Isaac Theatre Royal, Christchurch, 12 to 15 October. For more information and to book tickets, visit the NZ Opera website.