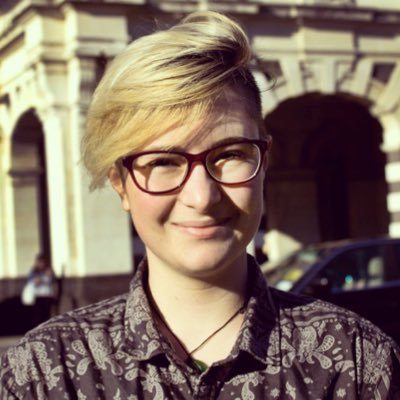 Scout Barbour-Evans, takatāpui individual and student at Otago Polytechnic, is out to make Dunedin a better place to live.
Although Scout could claim that being a student instantly qualifies them to be representative of a large proportion of Dunedin, ie the students (although attending Otago Polytechnic, Scout also works as a Queer Support intern for Otago University), they have been highly active in many other areas of the community, especially those of low income areas. For instance, they are a strong advocate and activist: running Stop the Cuts to Southern Mental Health, a member of the Real Meal Coalition, working behind the scenes on the campaign to rebuild Dunedin Hospital and supporting union actions. As Scout says, "people here know me!"
They are highly passionate about transport issues in Dunedin – wanting Dunedin City Council to take over the bus services from the Otago Regional Council. Frankly, it is under-delivering, especially with nowhere enough night buses (especially from the university and polytechnic), less-than-reliable service and lack of card top-up options. Unlike Auckland, cycle ways and electronic bus stop signs are practically non-existent, yet would decongest the roads and provide a more informative service to residents. Prioritising electronic transport – both public and civilian – is also on their wish list.
They also question the infrastructure of the city: Scout thinks that better wastewater management is needed, as well as an intense look at why CBD businesses are so transient. Another one of their ideas is to pedestrianise George Street, the arterial road in Dunedin, to make the CBD safer (even more so at night).
Having better systems in place (including buses and wastewater) will "mean South Dunedin will have room to develop and thrive".
Scout prefers to call themselves takatāpui as opposed to non-binary as their "gender and culture as Māori are very intrinsically linked in ways I'm still learning". Coming out around 17 was not really a big deal, with the Barbour-Evans clan being extremely understanding.
"I'm just me and I feel like I've existed as me forever, I'm a constant, and my gender isn't anything special to me. I'm just me. I wish more people could have the same experience with their gender identity, I'm definitely lucky."
If anything can sum up how Scout approaches their run for councillor and mayor – running for mayor at the same time as councillor drastically reduces advertising costs, though Scout would more than happily serve the city as mayor if elected – is that they want to improve life for everyone. They are studying a Certificate in Human Services, so they'll become a qualified mental health support worker by the end of the year, in addition to all the activism and volunteering they do around the community.
Voting is open right now for Dunedin, as well as all other local body elections, and forms must be returned to the electoral officer by noon on Monday 8 October. Scout Barbour-Evans is running for both mayor of Dunedin city, and Dunedin City Council.