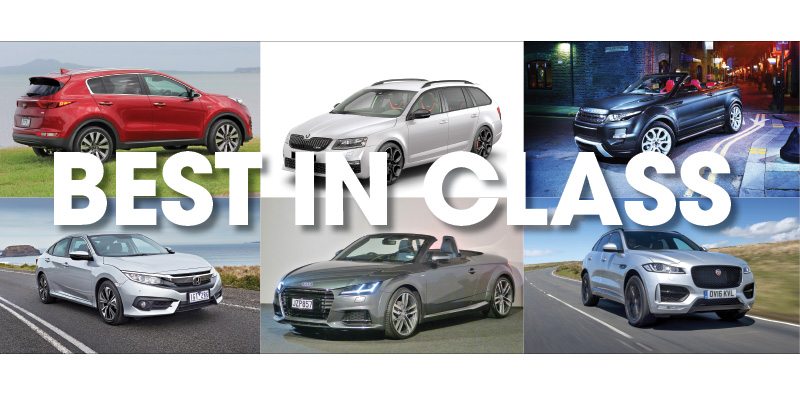 The annual express Best in Class feature for 2016 has highlighted what a great range of vehicles have become available for discerning drivers this year. express reviews and gives a gay perspective on six new models: two convertibles, two saloons and two SUVs. All of these vehicles are at, or near, the top of their class, whether that be in terms of value for money, appearance, performance or sheer desirability!
Kia Sportage 2.4 Ltd
Looking Good!
Vehicle supplied by Kia Motors (NZ) Ltd
Author: Richard Todd
The new Kia Sportage Ltd is one of the top-selling new vehicles in New Zealand right now. The heavily promoted base model at $29,990 plus on road costs (ORC), is perhaps the best value-for-money proposition available. It undercuts smaller cars such as the Mazda 3 and even some long in the tooth comparable SUV models such as Mitsubishi's ASX. 
But what is the considerably more expensive four-wheel drive Limited model like? At $45,990 plus ORC, it is competing in another class: where the excellent new Volkswagen Tiguan resides for instance.
First of all, the new Sportage is a good-looker for an SUV. Hints of butch outside –  a look which is carried through to the interior. The Limited version has a slightly larger engine and comes with a massive kit list, including heated leather seats, navigation, and various lane assist and parking aids. The automatic air-con, missing in the base model, is here too. Note, Apple Car Play is not included yet, but is a software upgrade that will become available later this year. However, the sound system is excellent.
Driving the Sportage is pleasant enough: the ride and noise levels are good. The quality of the interior, switchgear and controls is commendable too. But this is not entirely consistent with the other components, like the indicator stalk, for instance, which sounds quite downmarket. The warning that comes up on- screen every time you start off would also quickly irritate. The non-turbo engine is perhaps one of the less exciting features of the Sportage: it provides average performance and average consumption levels at 8.5L/100 km.
This model has almost all the toys you would ever want – and in this aspect it excels – but unless you must have 4WD, the base Sportage 2.0 model stands out in the value-for-money stakes. Go for that one and save yourself $16,000. You'll still be looking good!
Skoda Octavia RS 230
Limited Edition Rocketship!
Vehicle supplied by Giltrap Skoda, Newmarket
Author: Robert Adams
Cool Skoda is not something you hear everyday, but you should! The new limited-edition Octavia RS230 takes an already stunning model to new heights. The 4-cylinder 2.0L turbo engine has been tuned to put out 169kW (230hp), while still giving a combined fuel consumption of 6.4L/100km.
That's far from all: there is also an enhanced list of features, such as adaptive headlight beams that turn corners, and sports exhaust. Let alone the essential go-faster bling, including a black design package for trim and those big bad wheels with Pirelli P-Zero tyres.
The RS230 is young, stylish, fit and sexy – and costs much less than competitive models at a retail price of $55,990. It also has plenty of room inside and an enormous boot, so no compromising is necessary here. Indeed the interior is remarkable. Fine stitching on the full leather sports seats really hug you on bends and the central infotainment system is top notch and includes upgraded navigation.
Driving the Octavia RS230 is really surprising. You know it's fast, you know it looks good, but unless you drive it, you wouldn't know how much fun it is. When accelerating through a corner, the electronic sports differential distributes power evenly to the wheels with no torque steer. It feels so good! This is one of those rare cars where you can really enjoy long distance drives through twisty terrain – think motorbike country. 
The Octavia RS230 proves you can have your cake and eat it too. Only 50 are being imported to New Zealand, so form a queue here!
Audi TT Roadster
No Alternatives can Match!
Vehicle supplied by Giltrap Audi
Author: Martin Todd
It's hard to have favourites in life; perhaps, say, a favourite friend. In the case of the Audi TT, you will need to choose only one to join you on a sojourn. What they will be rewarded with is something truly special. 
The Audi TT in its original guise in 2004 was an instant style icon, much like the Ducati 916 will always be. What is immediate with this latest generation of TT is the interior's blend of class, quality, form and quite simply, pure sexiness. It won't be long before said favourite passenger friend gives you more than a telling wink. Looking around, its an incredible place to be. Surely nothing comes close to this at any price.
There is a minimalist approach to the overall dash area, coming alive with the ignition showing the futurist technology of the Audi Virtual Cockpit – which replaces the instrument dials with an adjustable LCD screen showing everything and anything via a relatively easy-to-use menu. Stereo, navigation, instrument dials, phone system, the lot. In addition, beautiful touches of integration include the climate control toggles snuggled within the intricately-styled air vents.
Although this tester is of the XL variety, it is possible to get comfortable with seat positioning, though bodies over 190 cm may start to become cramped. Dissing the trend of widening waistlines, the TT is built upon the current MQB vehicle platform (Modularer Querbaukasten, or modular transversal toolkit), which follows the typical strategy of automotive companies pushing large investment into a single chassis development for optimal results. Using large amounts of aluminium, the Audi TT has taken a serious diet. The effect of this is an Audi TT like never before: a true driving sports car. Lighter, leaner and faster!
Being a front-wheel drive car in this version, it may not put all its the power down in the sodden wet, but it has grip and poise aplenty in the dry. Sharp, accurate steering and a tight turn-in provide feedback as to what the front wheels are doing. This is a genuinely enthralling drive. 
It's time we talked about status. What would other people think? Do we care? Early small convertibles from the noughties had the Neanderthal term, hairdresser's car, applied. Thinking of this, if a hairdresser did own one of these, I'd say that they were both very professionally successful and also successful in their choice of car. The more angular profile of skin, the adaptation and use of the bigger brother's R8 styling has taken this car much deeper into the realms of desire, and all the more observed by the public. For this base model, quite possibly the pick of the TT bunch, optioned here at $109,000, blends cutting-edge style with refinement that no alternative can match.
If you haven't, make sure you read Part One as well.