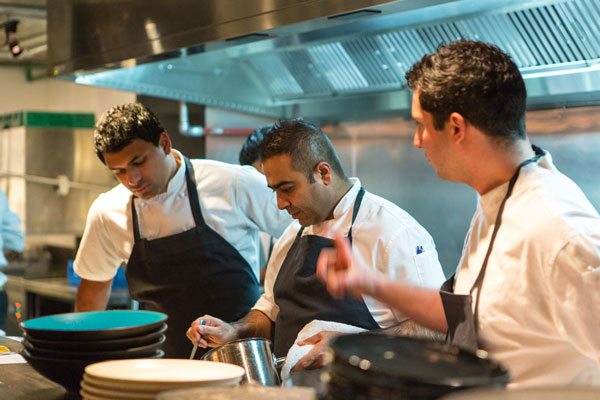 As part of our Luxe feature this month, we sent Amy Todd to eat her heart out.
Nothing says luxury more than a delicious degustation menu, paired with a stunning New Zealand wine-matching. And what better venue to indulge than at Metro's 2016 Restaurant of the Year?
So one squally, whatever-happened-to-spring evening, we were dropped off at the door of Cassia on the Melbourne-esque alleyway of Fort Lane.
The electric doors swished open to a sea of noise and pungent, spicy smells. The terrible weather dissolved behind us as the environment is that of a semi-underground bunker – the low ceilings accentuated the bustle of the staff and diners, giving a fun, busy and funky air.
This is quite different to Sid Sahrawat's other more pioneering and tranquil restaurant, Sidart, in Ponsonby. Sidart is known to those who enjoy the finest, most sophisticated food and atmosphere – it is on par, at least, with The French Café. So the slightly more unrefined space of Cassia was a surprise. However, our very tall maître d' was rather handsome and welcoming, and also had a rather lovely trait of folding his head slightly to one side so as not to hit the many lamps adorning the already low ceiling of the restaurant.
Our first stop has to be the rather unique cocktail menu: the highlight being the fusion of Indian and contemporary flavours, which is in fact, the premise of the food that this exemplary restaurant brings. Despite having visited India, and indeed spending some time enjoying cooking classes there, I must say I am no aficionado of the cuisine. However, trusting my earlier meanderings into Sahrawat's divine creations, I believed that the task at hand was mine to conquer.
The Cassia five-course tasting menu took our fancy mainly because it included a duck course, which for me is the height of luxury. It also had a great range of meats and flavours, including a vegetarian offering to start: roasted cauliflower and buffalo mozzarella, which was spiced slightly by a tomato kasundi. Very precise and moreish.
The tandoori fish, yoghurt, pickled cucumber and almonds reminded me of what most impresses me about Indian cuisine, which is not just the extreme amount of preparation involved in making each dish but also the myriad of ingredients – mostly spices, but also nuts, which are the essence of the flavours. In fact, my main issue with Indian food is that the heat of the chilli often overrides all the stunning flavours that are the underlying base of most of this cuisine.
Happily, Sahrawat has pulled back on the heat and therefore, perhaps for those of us who are not able to enjoy very hot chilli, each morsel tasted brings different notes and flavours to the tongue at different times; a melody in the mouth which is hard to accomplish.
The wines were beautifully paired with these stunning dishes – many were new to me, which is always a nice surprise. The spiced duck breast, carrot and cardamom puree, and pickled beetroot dish, along with the dessert of apple sorbet, brown sugar sponge, ginger and elderflower were the winners for me. In the meanwhile, my companion, who loves all things pig, was in awe of the free-range pork vindaloo and curry leaves, which melted in the mouth, along with a generous fatty crust.
It is always a pleasure to find a chef who can bring new ideas to the table. Sahrawat has certainly managed that here, bringing the best out of his native Indian cuisine and pairing it beautifully with lighter flavours and ingredients more readily found in New Zealand. At $130 per person, including wine pairing, and an ever-changing menu, I would certainly recommend a divine night at Cassia.