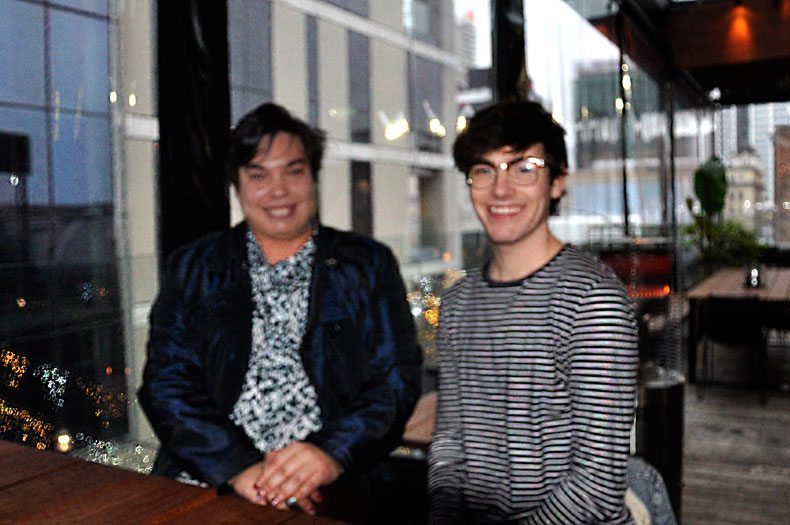 Sam Brooks is bringing back Riding in Cars with (Mostly Straight) Boys, this time with bestie Geordie Holibar (formerly of Shortland Street), and rising star, Tim Earl. I sat down with Brooks and Earl to talk about the play, and the intentions with the revival.
Firstly, the play is about Kyle (Earl), who's gay (if you hadn't figured that out already), and the play revolves around him confessing his love to his friends (all of whom are played by Holibar) while they're driving about. The play, as Brooks tells me, is based quite closely on Sam's life, it's "close enough to the facts", as he puts it.
What I wanted to know was if the play helped Brooks stop falling in love with straight guys, and he gave an enthusiastic nod. It wasn't even an emotional journey at all for him, as writing Riding in Cars helped him comprehend that this behaviour was "futile".
What's interesting about this is that there is one character the audience gets really close to – Kyle does step out and speak in monologues throughout – while the other actor is embodying all sorts of people. Talking to Earl, who recently finished his run as the lead in Curious Incident of the Dog in the Night-Time, he says that it's a big change having such a deep connection with one other actor, as opposed to the ensemble cast in Curious Incident.
The point of this play being brought back, though, is to reach rural youth who wouldn't necessarily be exposed to theatre, let alone queer-focussed theatre. As Brooks says, "all the gay plays tend to happen at the Basement [Theatre] or Q [Theatre]. They speak to the kinds of people who go to [these places]".
Brooks "wanted to talk to someone who isn't that specific brand of gay", that is, try to show rural youth that they are not alone.
Granted, none of the cast grew up in rural areas (unless if you count Holibar's Waiheke childhood), but they are all just as spurred-on to bring this out-of-the-box performance to out-of-the-way areas. It is this cause that has had Brooks breaking his back in organising absolutely everything.
What is rather extraordinary about this play is that it takes place entirely within a car – in this incarnation, Earl's silver Toyota starlet is the travelling set – and the audience is invited to just gather around in a motley fashion.
Earl was introduced to Brooks via mutual friends, and Earl found Kyle's characterisation absolutely compelling. Of course, the mutual admiration between the two is palpable, with Earl describing Brooks as "a young playwright who's done something that's all been so well-received".
Needless to say, Riding in Cars with (Mostly Straight) Boys will be a ripper.
Riding in Cars with (Mostly Straight) Boys premieres at The Basement Theatre on 7 November (koha, with no pre-booked tickets), followed by Whangarei on 8 and 9 November, Te Pou Theatre from 15 to 17 November, Unitec on 18 November, Mangere Arts Centre 19 to 22 November, Tapac from 9 to 11 December and The Pumphouse Theatre in Takapuna to finish from 13 to 16 December. Stay up-to-date with latest developments, and tickets on the Facebook page.
Further dates and locations will be added as they are announced.