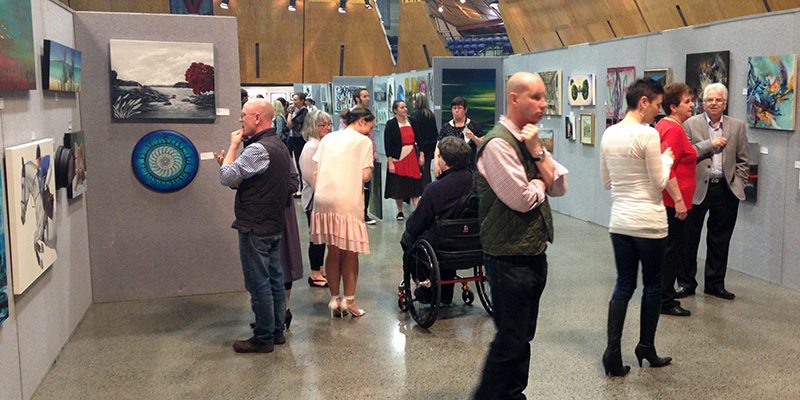 Another fabulous gala evening was had on Thursday night for the opening of AUT's Original Art Sale. Once the formalities were had and the wine glasses filled in the foyer, the generous crowd made their way around the abundance of art for sale in the stadium.
Predominantly paintings, (oil, acrylic and some watercolours) there was also a selection of photography, montage, mixed-media, charcoal and a few sculptural works on offer.
The Auckland Secondary School Art Awards were presented, with what I thought were some thoroughly mature and intense works from young students, indicating some of the names here will be ones to keep an eye out for.
As can be expected at this truly original event, there is such a comprehensive selection of works on offer that one's tastes really has to be accommodated in at least one of the pieces!
Over the years I have collected some sweet and memorable art at the market, and found some great Christmas and birthday presents also.
Unlike walking into many private galleries around New Zealand where the art can be well-known yet out of one's reach, here there is a real opportunity to buy and take home to appreciate everyday.
The idea is that many works adorn the walls and are marked with the title, artist and price. If there is one you must take home, then that's what you do! Pick it up off the wall (or usher over an attendant to do so) and meander up to the checkout, and off you go with art in tow!
A fair few pieces left the first evening which had me glowing green with envy, so make sure you get in to grasp the best pieces before others do! At prices around the median of about $500 (and going as low as $100) there is a good reason to visit this rather cool event only on this weekend. Check out some of the 1,200 artworks by more than 300 established and emerging New Zealand artists.
AUT University presents the Original Art Sale. Open on Friday 14 October from 10 am to 5 pm, Saturday 15 and Sunday 16 October from 10 am to 3 pm. Friday and Saturday has an entry fee of $15 for Adults and $10 for children (up to 16) and seniors. Sunday entrance and parking is free! Check out theoriginalartsale.co.nz for more information.