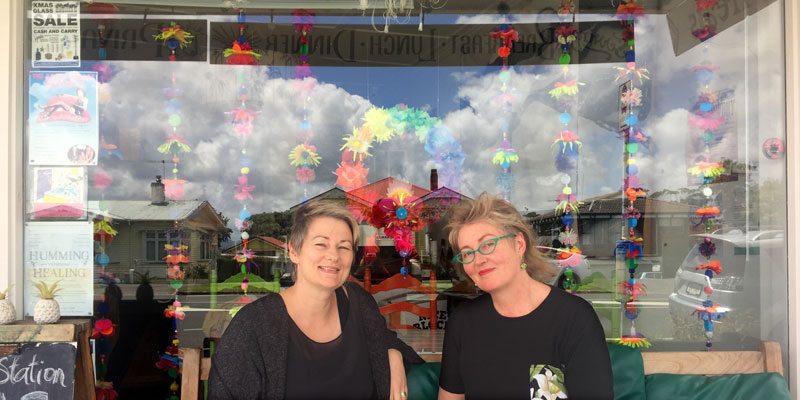 Christmas is almost upon us, and to celebrate, Garnet Station has decked out their window in rainbow garlands. Designed by Catherine Robertson, they are also available for purchase at the cafe, with $5 from each garland going towards OUTLineNZ.
Robertson, who works as a shoe designer by day, makes these garlands from recycled milk bottle tops, broken beads from op shops and other bits and bobs she can get her hands on. This has involved her snooping around cafes to collect their bottle tops, and she's also earned a reputation at her local op shops for buying shopping bags of broken beads and wool. Up-cycling and sustainability are close to her heart, and it shows in the creations in the window.
For Robertson, it really is a labour of love. Each garland takes an hour and a half to make, more if her toddler decides to 'help'. In addition to this, she likes to include a charity in her art projects: choosing OUTLineNZ was an easy choice after being a secondary school teacher.
The art has been garnering attention from the public, with New Zealand celebrity Peta Mathias buying four:
Garnet Station owner Verity George tells us that she spotted Robertson's work at a recent zine-making workshop they were holding. One of Robertson's garlands had been wrapped around the microphone stand by mutual friend Raewyn Alexander, and George was instantly keen to make contact to make it the cafe's display.
The display itself will stay up way past the new year, all through to the end of February so that it also coincides with Pride. After all, this is also a celebration of summer!
See the garlands at Garnet Station, 85 Garnet Road, Westmere, Auckland. They are available to purchase at $20 each, with $5 from each garland sold going to OUTLineNZ.