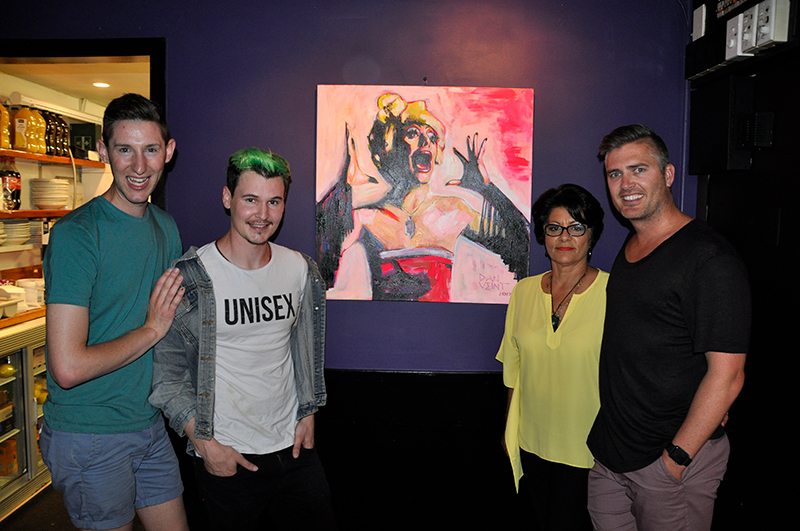 Caluzzi Unveils New Courtney Cartier Painting
Wednesday 22 February
Caluzzi Bar & Cabaret, 461 Karangahape Rd
Photos: Zakk d'Larté
20 years ago, Caluzzi was made what it is today by the much-loved drag queen Courtney Cartier who used to entertain diners when it was still a café. In October 2000, Cartier passed away, aged just 32, from lymphatic cancer after living with HIV and AIDS for some years. The Cartier Bereavement Charitable Trust was established in her memory by Karen Ritchie (Founder and Trustee Trust) and continues to support those in desperate need.
When previous owners Campbell Orr and Jade Turner handed over the reigns of Caluzzi last year, the photo of Cartier that famously hung above the restaurant was taken to a new home.
New owners Kita Mean and Anita Wigl'it took it upon themselves to bring a new legacy of Cartier to the venue in a very fabulous way. They commissioned local gay artist Dan Veint (also know as Drew Blood in drag) to paint a picture of Courtney so that she can continue to look over Caluzzi for many years to come.
The painting was unveiled at Caluzzi's regular Wednesday Random Club. The evening also featured the amazing talents of Ling Ling and the kitchen team, a double birthday celebration and the opportunity to donate to the Cartier Trust.