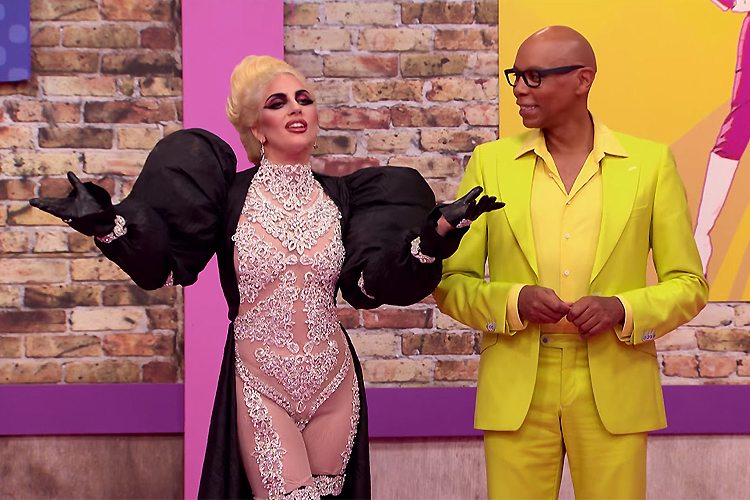 Don't be a drag, just be a queen!
This already victorious week for Lady Gaga has just got even more exciting. Coming off her extremely successful Super Bowl performance, Gaga announced that she'd be embarking on the Joanne World Tour in 2017 along with her unexpected duet with Metallica happening at the Grammys on Sunday.
And if she wasn't busy enough, as of this morning, she has taken to social media to announce that she will finally be making an appearance on the premiere of everyone's favourite guilty pleasure, RuPaul's Drag Race.
This isn't the first time that RuPaul and Gaga have collaborated, Ru appeared on the Thanksgiving special Lady Gaga and the Muppets Holiday Spectacular back in 2013, where the pair performed a duet of "Fashion!" together. Over the years, Lady Gaga has made no secret of her desire to appear on the long-running reality competition series and in August 2013, she even tweeted asking for a spot on the show:
Can I PLEASE be a judge on drag race! @RuPaul I started out in these club, these women taught me how to serve!

— xoxo, Joanne (@ladygaga) August 14, 2013
Logo TV, the show's home, says "the season nine premiere event features a shocking opening that will go down as one of the most jaw-dropping moments in Drag Race history".
And according to RuPaul himself, season nine will be "bigger, better and more twisted than ever".
"Thank you Logo for continuing to provide a powerful platform for these brave, gorgeous and creative souls to tell their stories," he adds, "they represent the hopes and dreams of all the outsiders around the world."
The 13 queens competing this season are: Aja (Brooklyn, NY), Alexis Michelle (New York, NY), Charlie Hides (London, UK), Eureka O'Hara (Johnson City, TN), Farrah Moan (Las Vegas, Nevada), Jaymes Mansfield (Madison, Wisconsin), Kimora Blac (Las Vegas, Nevada), Nina Bo'nina Brown (Atlanta, Georgia), Peppermint (New York, NY), Sasha Velour (Brooklyn, NY), Shea Coulee (Chicago, IL), Trinity Taylor (Orlando, FL), and Valentina (Los Angeles, CA).
Who else is as excited as the queens in the teaser trailer below? The series premieres on Logo in March.
The time has come! I'm joining the girls on the season premiere of @RuPaulsDragRace! #DontBeADrag #JustBeAQueen ???? pic.twitter.com/XzKcKapsgw

— xoxo, Joanne (@ladygaga) February 7, 2017