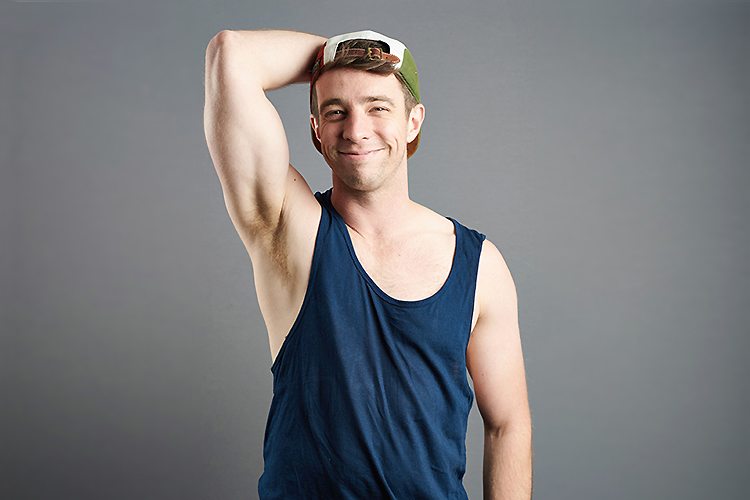 We chat with Eli Matthewson, the little gay rock star of New Zealand comedy, ahead of his show in the 2017 New Zealand International Comedy Festival.
Firstly, how did you come up with that magnificent title, The Year of Magical Fucking?
I read a bunch of stupid articles about how millennials are having less sex than their parents, and thought about how we need to remedy that. I guess I made this as sort of a prophetic title – I was hoping to have a year of magical fucking! Have I had one… I've certainly done some fucking! Not all of it has been magical. You'll have to come and see to find out.
Why do you think youth have been having less sex?
I think we are just inundated with so much stuff now and we're all struggling to keep up. You don't want to be the one person at the office who hasn't seen the latest episode of Riverdale, or heard the new Drake playlist, or watched the new viral video of a baby riding a cat, or whatever. We spend so much time with our screens and when we are done, we are too tired. I think particularly in the gay community we either scare each other off by opening a conversation with "You hung?" (who is this charming prince?) or we are too scared to say what we actually want. But I think we can change these stats, and that's what the show is all about!
Did you always want to be a comedian?
Nah, but I always wanted to be a performer. I used to want to be a serious Shakespeare actor. At one point I wanted to be a lawyer but just so I could do the big speeches in court. I think the job I fantasised about most when I was younger was winning X Factor, but I've seen now that it's not a sustainable career.
Who has been your biggest comedic inspiration?
All of the campy Disney characters who were gay long before this new Beauty and the Beast guy. I'm talking Genie, Ursula, Jafar, Scar, Hades, Mushu etc. My first favourite stand-up was Sarah Silverman – I watched her clips on repeat all through University. I'm also obsessed with Josh Thomas – his pretty much perfect show Please Like Me is up on Netflix and you should just stay home this weekend and watch it all.
What are you most excited about for the 2017 Comedy Fest?
Two of my best mates, Laura Daniel and Joseph Moore, are doing a full comedy pop concert – I've seen some of what they've got planned and they've totally blown the budget. They'll be doing some CRAZY stuff.
What reaction have you had so far from your show?
It was a major hit with a group of drunk school teachers who sat in the front row in Dunedin. So far one previous hook-up has seen it and he was pretty disappointed he didn't get a mention.
Do you have any pre-show rituals?
I'm very selective about the pre-show music – the stuff that's playing while the audience come in to take their seats. At what I'm doing in the lead up to going onstage is standing behind the curtain, performing full lip-sync routines just by myself to the sick tunes I've chosen. Last year it was Beyoncé's Hold Up. This year TBC.
We're excited to know, can you please tell us your coming out story?
I took so long! I came out when I was 21 a few weeks after I had some terrible sex with a girl (who also came out at the same time!) I told one of my BFFs after we went to see Piranha 3D at the movies, and then told my ex-girlfriend while we had fish and chips in a Christchurch playground. The most dramatic thing that happened was that my dad didn't talk to me for a full day but then after that he took me out for a pasta dinner with entrée and dessert!
Check out The Year of Magical Fucking in Auckland from 16 – 20 May at Basement Theatre. For tickets and more info, go to www.basementtheatre.co.nz.