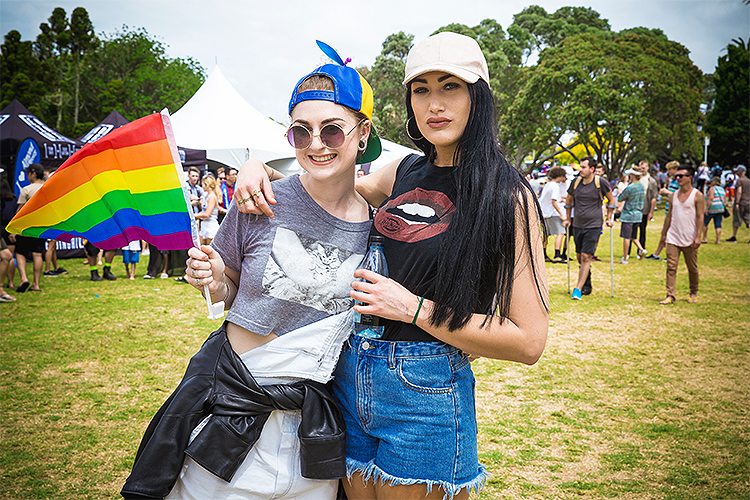 A new study done by GLAAD called Accelerating Acceptance has revealed that significantly more millennials identify as LGBT+ in comparison to older generations.
The report, conducted online in conjunction with Harris Poll, surveyed 2,037 U.S. adults aged 18+, and found that young people are significantly more likely to embrace a label outside of the heterosexual, cisgender majority than older generations.
Specifically, millennials (ages 18-34) are two-thirds (20% vs. 12%) more likely to identify as LGBT+ than Generation X (ages 35-51), and more than twice as likely (20% vs. 7%) than the Boomer Generation (ages 52-71).
Sarah Kate Ellis, GLAAD's President and CEO, told BuzzFeed News, "America is the most accepting that it has ever been. Having 20% of millennials identify as LGBT+ is pretty groundbreaking. What I want to see is that they continue to flourish and blossom as their true and authentic selves."
GLAAD also reported that young people are increasingly embracing a wider range of terms and identifying outside of traditional binaries such as 'gay/straight' and 'man/woman'. The survey also shows that 12% of millennials identify as transgender or gender non-conforming — two times the number of reported Generation X'ers (6%).
The report also examined how comfortable the general public is with the LGBT+ community and the results came in at a record high. Ellis thinks LGBT+ visibility and representation in media is helping people with acceptance of the community: "When someone knows a person who is LGBT+, whether it's in real life or onscreen, they are more likely to be accepting of them. It's important for people to see themselves reflected in the media."
Millennials grew up in an era with a heightened awareness of the world and we're searching for happiness that defies, or in many ways transcends, traditional notions of gender, love and our ever-evolving identities.
Even with the progress, there is still work to be done. We've already seen the Trump administration roll back LGBT+ rights and anti-discrimination laws, such as when POTUS lifted protections for transgender students in school bathrooms. Add to that the recent news that 20% of millennials who identify within the community won't even be counted on the 2020 census.
"As the administration begins to fulfill its pledges to move the country backwards, many are concerned about progress made in recent years for the LGBT+ community," says Ellis, "This report shows a remarkable new era of understanding and acceptance among young people – an inspiring indication of the future," says Ellis.
Though laws can be unwritten, hearts and minds in America have been changed for the better – and that is a reality less easily unraveled.
GLAAD noted that their latest study is quite noteworthy in the current political climate and highlights that their findings "point to a culture of complacency, wherein the non-LGBT public is under the false and potentially dangerous impression that the work for LGBT+ equality is done."
Check out the full report, here.