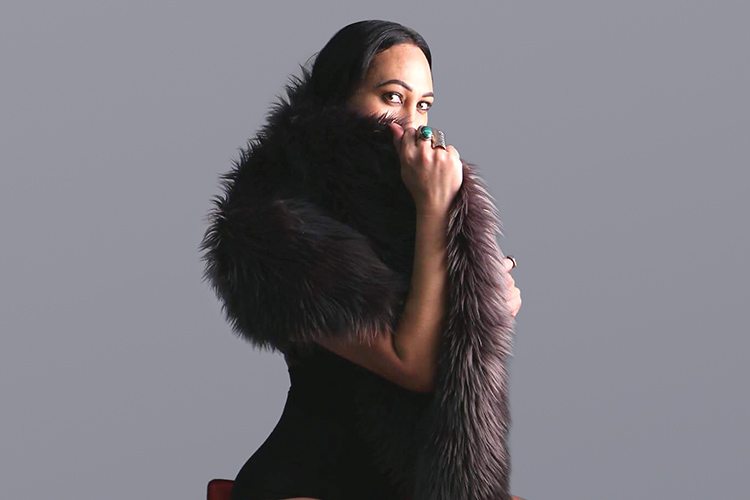 We chat with Ramon – producer, director, actress, singer-songwriter – ahead of the launch of her new reality show, Queens of Panguru.
What influenced your decision to join the cast of Queens of Panguru?
I took the idea of queens 'swapping their high heels for gumboots and returning home to reconnect with the whenua and whānau' to my dear friend and collaborator Mika, and through his company we pitched Queens of Panguru to Māori Television, and that's kind of how it all started.
I knew I wanted to be involved because I grew up urban and came back home predominantly for tangi. For a large portion of my life that was really my only means of whānau connection. As I got older, that just became unacceptable to me, and so I began my own journey around identity and a strong desire to understand my whakapapa kicked in.Taking part in QOP was just another way for me to explore that sense of connection. To be able to do that with my kwazins [cousins] and my whānau was the icing on the cake. As individuals, I know we all had our own reasons for being involved but collectively, we were so stoked to be doing it together. Not to mention we knew we would have a whole heap of fun!
How do you think the audience will find it? What messages do you want them to take away from it?
For Pride month, we decided to do a 10-day online activation before it goes to air on 22 March, where people who don't usually watch TV could watch it On Demand so that we'd get a good idea of who's watching and what kind of response there might be.
It went viral and people have been responding really positively and it's only been online for a short time. To have that kind of momentum straight out the gate means that people are finding their own story of identity and whānau connectedness reflected in the series which is really exciting. Of course there are pockets of comedy scattered throughout the series, because the kwazins are camp at times and the premise of the series means there's a ton of entertainment to it. But the guts of it lies in that shared connectedness between the kwazins, their whānau and community.
It's surprising how many people don't make it home for years and so this really highlights the importance of connection, acceptance and identity.
What importance and impact do you think it has by being on Māori Television?
Well first and foremost we are Māori – so communicating our perspective of what it's like to be Māori who also happen to be takatāpui and sharing our journey to a Māori audience was the purpose from the get-go. Maihi, Jay and I felt that was important to the kaupapa.
We are fortunate because we come from a whānau who have embraced and accepted us – our people are stepped in whakawhanaungatanga, manaakitanga and whakapapa. He tāngata, he tāngata, he tāngata – it is people, it is people, it is people. Having that as a core component of who we are as a people and where we come from has given us the courage to come home and strengthen those connections even more.
Without a doubt, in this series it is our whānau, whenua and community that really steal the show, which is just beautiful.
The reality is, many takatāpui don't have support and love from their whānau and community. They become disowned and are kicked out of their homes and some feel there is no other way, so suicide becomes the only option. We talk about this with our uncles and they talk about how important it is to accept our takatāpui. That korero just blew my mind and to have them, real cowboys say that to us, meant that it really is about being Māori first. He tāngata, he tāngata, he tāngata.
A lot of our young LGBT+ and taka-kids are hurting, suffering and dying and if we can show that love and acceptance is possible, hope is possible, support is possible and we can highlight that through the series then that is success for us.
What do you think about MTS' new era of Reality TV?
MTS, like any other network, has to keep up with the times and the era of reality tv doesn't seem to be slowing down any time too soon. Television itself is going through drastic changes – people aren't watching TV as much and online streaming is in. Content has to be more entertaining, engaging to a degree and reflective of what's happening globally. I think MTS understands this and are actively seeking content that showcase the reality format.
What surprised you the most about going on this seven-day adventure?
The thing is, I'm a city girl through and through. I knew that I would be challenged — especially with the more adventurous activities like pig hunting and horse riding — but I wanted to show that I wasn't a total pussy. Okay, so that was a complete failure, but I did it and that was important to me.
What did you favourite part about working on the show (especially working with two of your cousins and Mika!)
I love my kwazins Maihi and Jay and that bond strengthened more as a result of the show. My favourite part about working on the show was working with them and learning and laughing and sending each other up — which we did a lot — and discovering heaps of things together.
Mika and I have been friends for a long time and I knew that he would bring something unique and camp to the kaupapa. As a co-producer of the show, alongside the talented Nigel Snowden and Mika, it was so much fun to make and pull together. Stressful at times, but that's creation for you. Making TV certainly isn't as glamorous as people may think it is, but when you finish it and watch it for the first time and you're able to laugh and smile and feel a sense of pride and authenticity, there's no greater feeling.
As a storyteller, it's always been important to me to explore layers and to seek truth. But I'm also in this game because I know how important it is to me to share stories of the takatāpui community, the raw, the unfiltered the struggle the joy and the success.
Walking back to the marae from the pub bare foot with my kwazins at 3 am in the morning was a pretty special moment too!
Anything you didn't enjoy?
Let's face it – I suck at riding horses and I didn't enjoy that part much! I was tense and scared for most of the activities, and the camp part was is that my horse knew it so he fully took advantage of that! Horses are bloody smart. Too smart for my liking!
Queens of Panguru is part of Māori Television's new season launch, including a few other reality TV shows, going to air on 22 March.