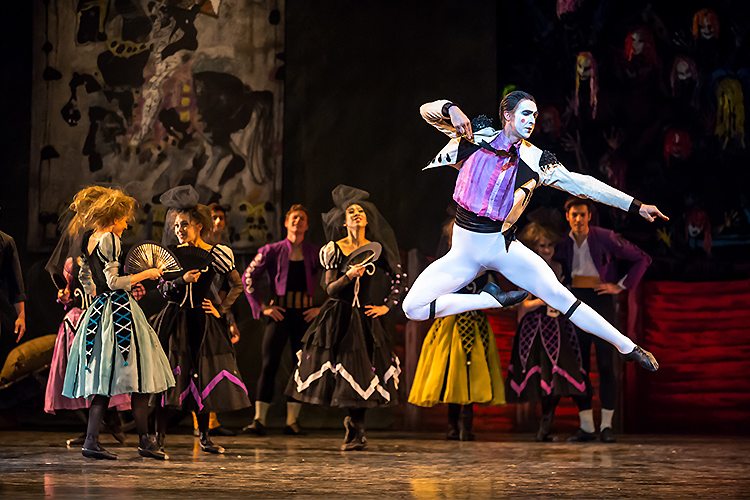 The 2017 New Zealand ballet season begins with an unprecedented showcase; for the first time, The Royal New Zealand Ballet will showcase two historic works from the renowned French choreographer, Roland Petit.
One of the standout choreographers of the 20th and 21st centuries, Petit is known for his unique adaptations and distinctive theatrical ballet choreographies. His résumé includes works he exclusively created for many of the greatest dancers of our time including Margot Fonteyn, Rudolf Nureyev, and Mikhail Baryshnikov, plus collaborations with artistic icons such as Picasso, Orson Welles, and Yves Saint Laurent, to name just a few.
RNZB will perform the explosive and emotional classics, Carmen and L'Arlésienne, both of which were famously choreographed by Petit and set to the powerful music of composer George Bizet; a symbiotic partnership that guarantees a night of high emotion and inspiration.
Carmen was created by Petit and his company, Les Ballets de Paris, in London on 21 February 1949 and has become known as Petit's signature work, ensuring it a spot in the repertoire of ballet companies around the world.
The piece brilliantly incorporates multiple dance styles to create a striking admixture of classical ballet, mime, and Spanish-style dance, among others.
Petit eschewed balletic tradition and adapted Bizet's opera into a high-energy 45-minute piece set over five scenes. The ballet piece follows the tumultuous love affair between Carmen and Don José who meet when Don José is sent to arrest Carmen after she starts a fight. Entranced by her beauty, Don José invites Carmen to the tavern and falls for her when she dances for him.
They spend the night together and in order to prove his love to Carmen and ensure her passion for him, Don José kills a man. However, Carmen's love is fleeting and she leaves him for the enticing toreador, breaking Don José's heart and inspiring his revenge.
The piece reaches the emotional apex when the estranged lovers meet again in the bullring and Don José seizes the opportunity to guarantee Carmen will never love another man by stabbing her to death.
L'Arlésienne is another well-known work of Petit's, created in 1974 for his own company, the Ballet Nationale de Marseilles. The piece is in typical Petit fashion with enticing and emotional plot twists, all culminating in a grand gesture of love and passion to the death.
The story is set in the south of France and follows Frederi, a youthful bridegroom who unwittingly falls in love with a woman he once saw in the city of Arles. The audience is never introduced to this mysterious dame and begs to question whether or not she even exists.
Frederi's love for his fiancée, Vivette, is tainted by the idea of this forbidden fruit. Ultimately, the idea of this woman haunts Frederi to the point of madness, causing him to lose his senses and sacrifice his life for this love he will never have.
Roland Petit's Carmen with L'Arlesienne will be performed from February 16 – 1 April around New Zealand. For locations and tickets, visit www.rnzb.org.nz.
Article | Jordan Hallas