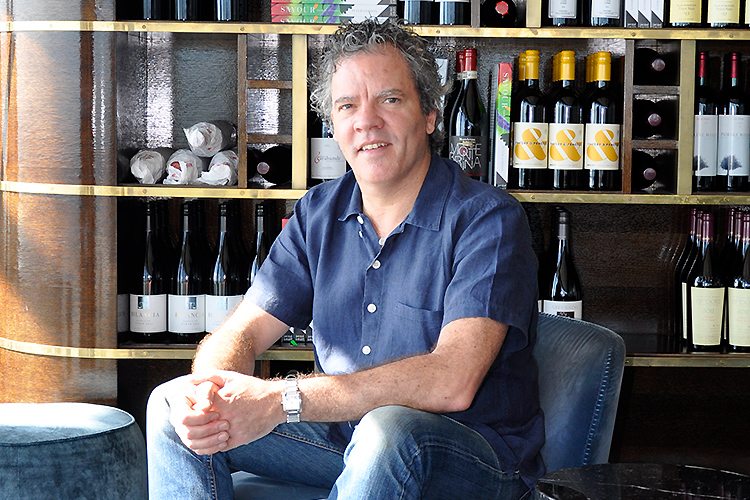 With our restaurant issue coinciding with food fusion master and world renowned Kiwi chef Peter Gordon – the mastermind behind The Sugar Club and Bellota, located at SKYCITY in Auckland – arriving in New Zealand, it seemed only fitting that we arranged an interview to talk about his favourite places this summer and how he keeps himself sane amidst his double life.
What would your recommendation be for those of us who want to go somewhere for a more casual dining experience?
I know it's a SKYCITY one but I would say Depot would be where I would go. I try not to plug the things we are involved in, but I've been to Depot twice since I've been here this time and it's just great. Really good fresh food, great service, great coffee and I love the vibe!
And for those looking for a more formal dining experience?
Cocoro – the Japanese restaurant on Brown Street in Ponsonby. It's beautiful Japanese food done really well with a great sake menu. And then I love The French Café, Meredith's, Sidart and I am also excited to try Pasture which is a reasonably new place in Parnell which sounds really cool. It's all about fermentation and they have a small degustation menu.
Where is your go to if you're on the run or want to grab something to take home and blob on the couch with?
I'd have to say Mexico on Ponsonby Road. I went there the other night and it was great. It was both really super quick and delicious!
Any hot spots for after-work drinks?
I don't really do that! When I finish here, I tend to go back to my room which I know sounds really boring!
We all love to spoil ourselves occasionally. Where is a good spot to satisfy our guilty pleasures?
I've had some pretty good dessert at Meredith's but you can't really go in just for dessert, you have to go in and have Michael's whole menu – which isn't a bad thing! I love Orphans Kitchen though too. I would go there for a nice and pretty dessert.
When you find yourself at home – whichever country that may be – what do you find yourself whipping up in the kitchen?
Usually it would be something veggie-based and probably some fish – say some miso-baked aubergines, a light fish coconut curry, some freekeh. If we're talking dessert, let's go some berries, meringue, cream – yum!
For those of us mere mortals who are learning our way around a cookbook, what should our five pantry essentials be?
Miso-paste, olive oil, lemons (to some of our readers this may not be a pantry item but if it's good enough for Peter Gordon's pantry, it's good enough for ours!), ginger, cumin seeds.
In the last year, have you noticed any emerging food trends that you think might be set to take the culinary world by storm?
Within restaurants, I think there are still a lot of people looking at bottling and fermenting and pickling you know, the things our grandparents use to do. People are looking at things that will improve their health without having to be super healthy so they want healthy ingredients; they want free range, organic – when they can afford it.
They want a well-balanced diet which is lots of veggies, not too much fatty stuff, good quality protein so yeah I'd say the trends would be that; more so than being able to see a big culinary scene evolving or anything like that.
In England, there's quite a lot of really good Turkish food kicking off. Both this year and at the end of last year, there seems to be some really good Turkish and Venetian restaurants happening.
I have been involved in a few restaurants in Turkey and I'm doing a big dinner in Venice in a few months time so it would appear that I'm quite on trend – how fabulous!
But yes, I think it's good quality ingredients, better diets; and that actually leads to experimenting with flavours. You know, if you're trying to do something with cauliflower, it opens itself up to ginger and coriander and cumin seeds, lemongrass etc, so I think as people refine what they are eating, they will probably become a bit more experimental.
When it comes to juggling your domestic life and your business life, do you manage to find a good balance or is it a constant struggle?
It's tricky and the domestic life needs to have more time off and the work life needs to have less work but that's the thing that everyone who works like this says — they need to get the balance right and I just can't seem to get it right either.
Even if I'm on holiday, I'm working and its very rare that I would have more than two days off where I wasn't dealing with 150 emails a day.
I'll be 54 soon, so I can remember the first coloured television coming in and the first digital watch – even the first calculator my friend bought to school! His father had brought it over from Australia and it cost hundreds of dollars and I remember that it had to be plugged into the wall and we were in awe like, oh my God, how does that work?!
So I am of that generation where we weren't use to such a high level of connectivity. Initially it was great, but now I just look forward to a great big silicone chip melt down and it fries the whole world's technology and we will all be left to pickle and ferment things while writing letters to each other and making phone calls on a landline.
With travelling a lot, mainly between New Zealand and England, where would you consider home to be?
New Zealand as my home country, and London Fields as my home suburb. For me this is the spiritual home and London is the physical home so yeah, I feel very comfortable in both places.
Gordon also notes his excitement of being in New Zealand at this time of year because of Pride – commenting how amazing it is that our little country is progressing forward so fast in terms of accepting everyone in the Rainbow community and the importance of creating events that both shed light on the issues, and celebrate those dealing with them.
Article | Chanel Clark