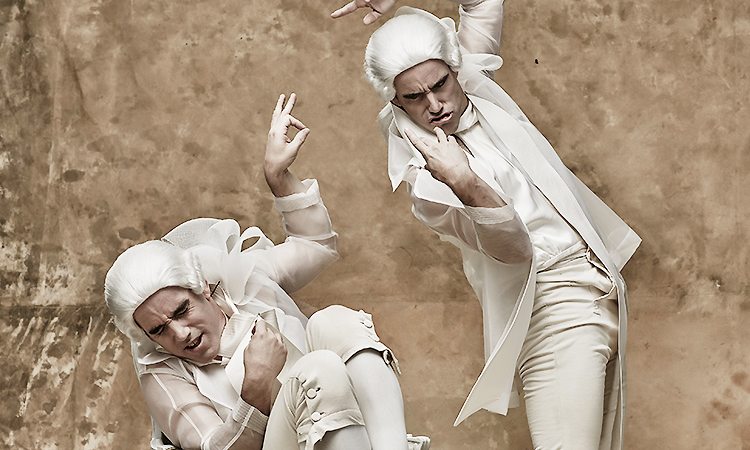 Oliver Hall reviews ATC's Amadeus, a theatrical beast with plenty of sting in it's tale.
---
As the curtain rose on the opening night of ATC's latest offering, you realize how far the company have come since the milestone achievement of making Auckland's new waterfront theatre their home.
Previously using Auckland University's (now defunct) Maidment Theatre as their base, the company produced some innovative sets, but were often restricted by limited space.
As Amadeus opens with the mutterings of the Michael Hurst-portrayed protagonist; Salieri seems to be sitting in a suspended cloud in the heavens of the stage.
As light begins to bathe the production, it becomes clear this perceived-cloud is in fact a mountain of scrunched up papers covered in musical notes from early drafts of operas and classical arrangements. These pour down from the walls and cover the entire stage, cluttering platforms and peaks where performers will emerge and musicians will play. It is the most breathtaking set ATC have ever created and to see it is worth the ticket price alone.
The story sees moral court musician Salieri meet young upstart composer Mozart (Ross McCormack) and make the heart-breaking realization that Mozart bares a talent he can only dream of. Ambitious and lacking Salieri's inhibitions, Mozart has the prospects to create a life and career Salieri could have only dreamed of. So, in a character development reminiscent of Breaking Bad's Walter White, Salieri's turns to the dark side and focuses his efforts on sabotaging Mozart's every step.
The fire and brimstone of Salieri's wrath is broken up with live performances of excerpts from Mozart's masterpieces and cracking efforts from the ensemble cast. Stand-outs include Brian Coll, who adds a sparkle of colourful camp as the flamboyant King Joseph, and a divine performance from Morgana O'Reilly, who gives soul to Mozart's wife Constanze, an innocent caught in Salieri's crossfire.
The production however rests heavily on Hurst's Salieri and his brooding rage. His performance feels weighty and dark and is balanced perfectly by McCormack's dancing, pompous Mozart and Madison Nonoa's elegant embodiment of both men's muse, Katerina Cavalieri.
For Director Oliver Driver, the production is a hell of an achievement. He teams, once again, with Musical Director Leon Radojkovic (Jesus Christ Superstar) and once again the two put a modern take on a forgotten classic, which will appeal to ticket buyers of a broad age range.
If ATC's Creative Director Colin McColl should ever step down from his post, surely it is work like this that will make Driver a top contender for the crown.
Amadeus will be performed at the ASB Waterfront Theatre until 20 May. Tickets from www.atc.co.nz