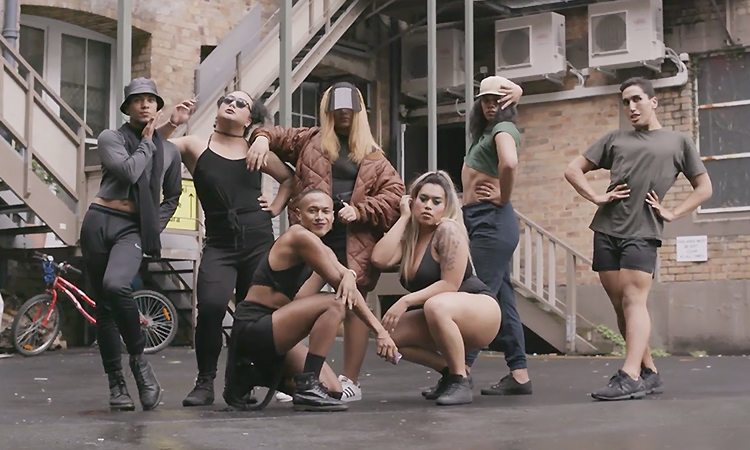 VICE has just launched Zealandia, a New Zealand-focused online documentary series described as "looking beyond the stereotypical pillars of the New Zealand identity to present an honest view of the country".
In the first episode, FAFSWAG: Auckland's Underground Vogue Scene, VICE spent a week with some of the breakout stars of the LGBT+ Pacific Arts Collective FAFSWAG to understand how their personal journeys intersected with a dance movement that originated in 1980s Harlem.
---
For a growing community of young, queer artists in Auckland, the vogue scene is a place of expression and sanctuary. The episode explores the deep cultural, social and political significance of FAFSWAG's performative dance and avant-garde aesthetic.
"For some of these young people, this is the only space where they get to interpret their identity where there are no consequences."
FAFSWAG are very much aware of the discrimination LGBT+ Māori and Pasifika youth can face, on multiple fronts. Members of the scene are able to reconnect with both their identities and communities through art, dance, performance and friendship. This powerful, creative outlet plays an important role in transforming their lives.
FAFSWAG: Auckland's Underground Vogue Scene wanders into one of the vogue balls, and the theatre production FEMSLICK, put on by the collective during the Auckland Pride Festival.
Starting in underground venues in South Auckland, FAFSWAG have taken their vogueing into mainstream consciousness and moved them into central city venues like The Basement, Artspace and Family Bar. They are now passing the phenomenon on to the wider queer community who have seized it, not just as a form of expression, but as a lifestyle.
Online editor of VICE, Frances Morton, says: "Anyone who has been to a FAFSWAG Vogue Ball in Auckland knows the thrill, the power and incredibly inclusive energy you feel at their events. Their live-loud philosophy is not only transforming the lives of people in the community, it's changing wider society. VICE NZ is excited to be bringing this story to the screen, as the first in our series focused on New Zealand."
"We know so many people who want to get involved in the scene, but they don't live loud like us. Us doing it, and breaking all of those stereotypes and stigmas and barriers, encourages young people to start flourishing in their authentic selves."
VICE head of marketing and business development, David Benge, says the aim of launching the new series is to tell local stories that aren't necessarily given the attention they deserve.
"As the office here in New Zealand gets bigger, we're investing time and resources into telling stories that matter to New Zealanders through the Vice lens," he says. "There's no one else in New Zealand that tells those stories in the way we do."
Zealandia will follow compelling characters in unconventional settings in an attempt to uncover the less mainstream aspects of the Kiwi experience.
At this stage, VICE has no set number of shows planned for the series but the team are in the planning stages and are about to shoot the second episode. For now, you can check out the first episode below: