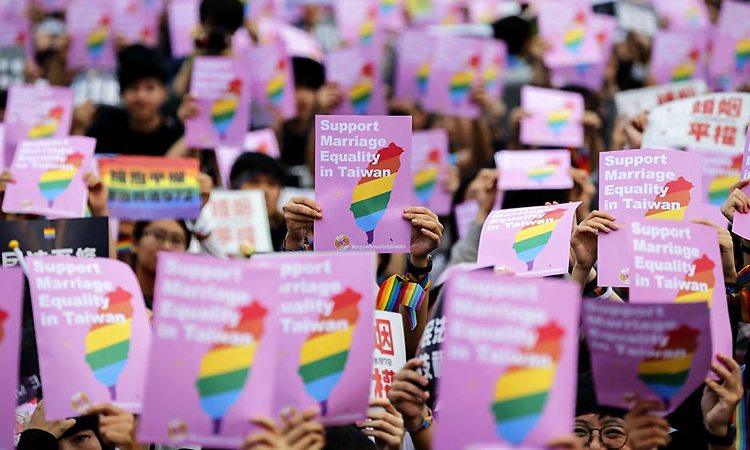 Taiwan's constitutional court has ruled in favour of gay marriage – a landmark decision that paves the way for the island to become the first place in Asia where there are largely socially conservative attitudes to legalise same sex unions.
---
The court, known as the Judicial Yuan, said current marriage laws were "in violation of both the people'€s freedom of marriage […] and the people'€s right to equality".
It gave parliament, called the Legislative Yuan, two years to amend existing laws, or pass new ones that allow same-sex marriage.
"If relevant laws are not amended or enacted within the said two years, two persons of the same sex who intend to create the said permanent union shall be allowed to have their marriage registration effectuated."
Which basically means that even if the Legislative Yuan does not make the change within two years, same-sex couples could register to marry regardless.
In a press release following the ruling, the Judicial Yuan said that disallowing two people of the same sex to marry is "incompatible with the spirit and meaning of the right to equality" as protected by Taiwan's constitution.
A panel of 14 grand justices made the ruling – a majority of 10 was needed. Only two judges objected.
LGBT+ rights activists had harboured high hopes that their years of campaigning for same-sex marriage would win the court's backing.
Hundreds of supporters of same-sex marriage gathered in the street next to the island's parliament to celebrate the decision, holding colourful umbrellas to ward off a drizzle.
"This ruling has made me very happy," said Chi Chia-wei, a veteran gay rights activist who had petitioned the court to take up the issue.
"We feel that this is a huge success for the LGBT+ and marriage equality movement in Taiwan," said Wayne Lin, an activist who runs an LGBT+ hotline in Taiwan.
Tsai Ing-wen, Taiwan's first female president, expressed support for same-sex marriage before her election in 2016. "In the face of love, everyone is equal," she said in a Facebook video during their 2015 Pride Parade.
"I support marriage equality. Every person should be able to look for love freely, and freely seek their own happiness."
The island has a large LGBT+ community and its annual gay pride is the biggest in Asia, but the issue of marriage equality has divided Taiwanese society, with thousands turning out in recent months to protest both for and against marriage equality.