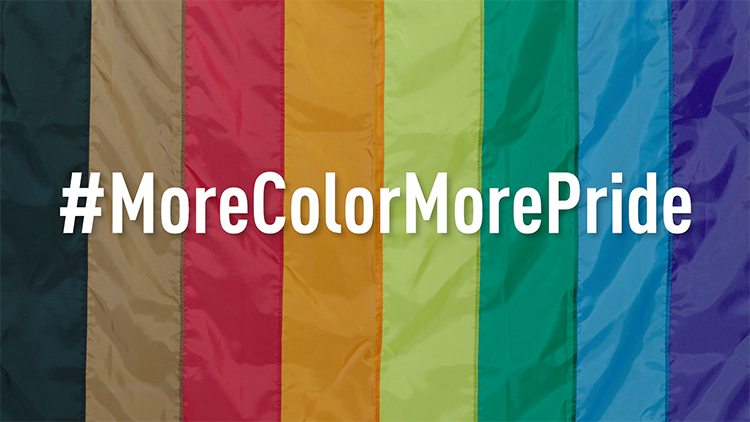 In celebration of Pride Month, the city of Philadelphia has revamped Gilbert Baker's iconic Pride flag. The six colours we've come to associate with it remain intact, but the flag now includes two new stripes: black and brown.
---
The events of Pride Month seem to have extra meaning this year: among other things, it's the one year anniversary of the tragedy at Pulse Nightclub in Orlando.
What seems to be more important than ever, is to recognise that Pride Month is not just about celebrating, it's also about raising awareness for issues that affect different members of our community.
Gilbert Baker's original flag, designed in 1978, contained eight colours, however due to the lack of availability of turquoise and hot pink dyes, they were removed, so the now-famous flag consists of six.
However, this week Philadelphia has brought back the eight colourful stripes again — this time with the addition of black and brown.
According to a statement on the website for More Color More Pride, the organisation behind the additional colours, the new flag looks to be more inclusive of LGBT+ individuals of colour, who are often left out of mainstream queer discussion.
"To fuel this important conversation, we've expanded the colours of the flag to include black and brown," the statement reads. "It may seem like a small step. But together we can make big strides toward a truly inclusive community."
They believe a lot of progress has been made within the LGBT+ movement since Baker designed the initial rainbow flag, and we should now reflect this progress. They also believe there's also a lot more that can be done — specifically when it comes to acknowledging people of colour within the community.
"An iconic symbol of LGBT+ unity. So much has happened since then. A lot of good, but there's more we can do."
The new flag was designed by Tierney, an advertising agency in Philadelphia, in collaboration with the city's Office of LGBT+ Affairs. This is the first time there has been a major modification to the original rainbow flag by an official institution that highlights racial diversity, and it's a wonderful step forward for representation.
The black and brown stripes on the new flag are meant to bring attention to injustice that queer people of colour face both within and outside of the LGBT+ community, and recognise ways people can make the community more inclusive.
Twelve transgender people of colour have been murdered in the United States so far this year. Media continually whitewashes the LGBT+ community and sometimes even rewrites history to make gay, white men the heroes. Gay men of colour face racism on online dating apps. LGBT+ youths of colour are at disproportionate risk for homelessness, bullying, and sexual harassment.
There's another need to come together as one unified community — 79% of LGBT+ murder victims last year were POC (People of Colour) or Hispanic, according to U.S. News and World Report.
A video on the site says, "The rainbow flag is the single most recognisable icon for the LBGT+ community. It's a symbol for everyone to rally around. Yet communities across the country are divided. People of colour have been marginalised, ignored, and even intentionally excluded. We say that we're inclusive. We celebrate it. Now it's time to go further. To broaden the horizons of our community. To change our iconic symbol. It's just a start, but it's a start."
Pretty cool to be in the first city to add black and brown stripe to pride flag for purposeful LGBTQ inclusion. #morecolormorepride #philly pic.twitter.com/ShFbSKRPPn

— itsonlyzach (@itsonlyzach) June 8, 2017
For Amber Hikes, Philadelphia's director of LGBT+ affairs, this new version of the flag means a lot. 'Seeing an image like this flag instills so much pride in me as a queer black woman,' she said. 'When I see the flag, I feel like I see myself.'
Hikes continues, "To me, this flag says: "We see you. We honour you. We celebrate you. You're not just a part of us. You are us."
"The black and brown stripes are an inclusionary way to highlight black and brown LGBT+ members within our community. I think the new flag is a great step for the city to show the world that they're working toward fully supporting all members of our community."
The updated flag was raised over city hall in Philadelphia on 8 June. Learn more about it in More Color, More Pride's video below: