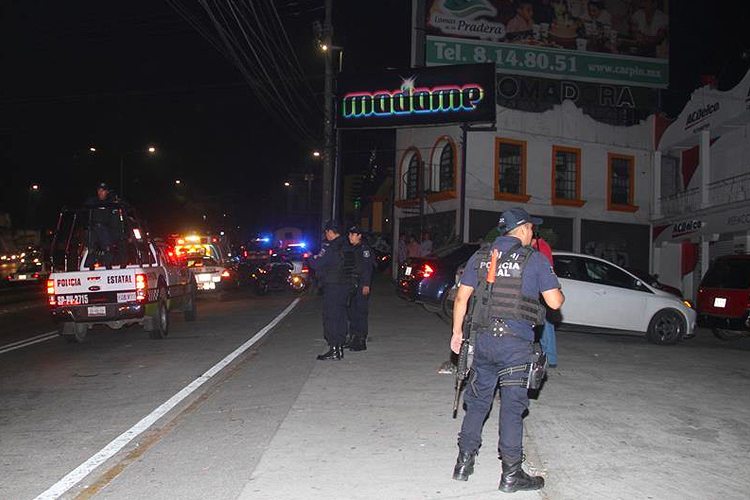 A little over a year ago, members of the queer community were enjoying a night out in a gay club, much like any other week, when their lives changed forever.
---
As gun fire sprayed through the club while they danced, many ducked for cover and others fled. Some were injured, others weren't so lucky and lost their lives.
According to a staff member working on the night of the shooting, there were around 400 people in the club at the time of the shooting.
While the events that unfolded that evening took place on the other side of the globe, a world away from our South Pacific nation, here in New Zealand we take note of tragedies that unfold in the international community. Except when we don't.
This is a story that may sound familiar to you, but no, I'm not talking about Orlando.
The ILGA (International Lesbian, Gay, Bisexual, Trans and Intersex Association) notes that last year, "at least two massacres in gay bars were recorded", Orlando and Xalapa. Chances are, you don't remember the latter.
On 22 May 2016, three gunmen entered La Madame, a gay club in Xalapa, Mexico and fired into the crowd.
The number killed varies somewhat, the official number being seven people but witnesses believe it was well over 15. A number of others suffered injuries. In Mexico, this variation in numbers is not uncommon.
At the time of the shooting, a reporter based in Xalapa told Spanish-language outlet Regeneración that "there were many more [victims] than what the government says, obviously".
The motive for the shooting in Xalapa is unclear, many say the shooting was drug-related. However, when innocent lives are lost, the motive is not the thing we should be placing the most emphasis on.
A 20-year-old was arrested without a warrant for the shooting the following day and pled guilty, however both he and his family claimed the authorities forced a confession from him using torture. He said the authorities threatened to kill him and his family. It is not uncommon for authorities to act quickly in finding a suspect following an event like this.
Reports about the mass shooting vary somewhat, as is often the case in Mexico, a nation with the highest number of journalists murdered in the world.
Security footage outside La Madame shows three men fleeing the scene. There are countless images of the destruction and loss of life from inside the club.
On 24 May, the names of six of the deceased were published in Spanish-language Mexican outlet, Noreste. They are:
Cristian Pacheco, 31
Lucas Gustavo Hernández Ruiz, 22
Alexis Jiménez Suárez, 21
Francisco Javier Marín Hernández, 21
Isaac Nathanael
Luis Donaldo Rivera Calderón, 20
The shooting took place three weeks before the shooting in Orlando. and yet went largely unreported in the English-language media. The English-language media outlet Remezcla, with offices in Mexico City, Brooklyn and Los Angeles, was one of the very first to report in English about the shooting and call out the global media for ignoring it.
I reported extensively on the shooting in Xalapa when it first came across my radar, just after news broke of the shooting in Orlando.
One local in Xalapa, whose friend was in La Madame as the shooting took place, says the queer and gender diverse community there "lives in fear".
There are no federal provisions in Mexico aggravating penalties for crimes motivated by the victim's sexual orientation.
With initial reports only in Spanish, this would have meant in the early stages not all outlets would have been aware of the shooting, what is concerning thought, is that as the story started to slowly emerge in English-language media, it was almost completely ignored by the mainstream media. I even reached out to mainstream media here in New Zealand who chose to turn a blind eye.
A number of news outlets in Mexico updated their reports on the Xalapa shooting following the shooting in Orlando and questioned why the two events received different responses. They weren't the only one's to do so.
While the world mourned for Orlando, there was no #PrayForXalapa flooding our social media feeds.
While millions of dollars were raised for victims and family members of those in Orlando, to the best of my knowledge, those in Xalapa, situated in a developing country, didn't receive any help from global fundraising efforts.
The OneOrlando fund raised over $27.4 million. Equality Florida, over $9 million, with 120,000 donations from over 120 countries. The Pulse Tragedy Community Fund raised half a million. The list goes on.
Here in New Zealand, candlelight vigils and fundraisers were held for Orlando — at least seven across Auckland and Wellington — and while it is important to come together as communities who face similar oppression because of sexuality and gender identity, there seems to be a bit of picking and choosing of when to apply this definition of community. Even when event organisers were made aware of the shooting in Xalapa, it appears none chose to extend their event to mourn both Orlando and Xalapa .
Tributes one year later are no different. You may have noticed as you scrolled through your Facebook feed this week, countless articles relating to the anniversary of the Orlando shooting. How many have you seen remembering those who died in Xalapa?
The silence speaks volumes. Take note. Do some lives in the queer and gender diverse communities count more than others?