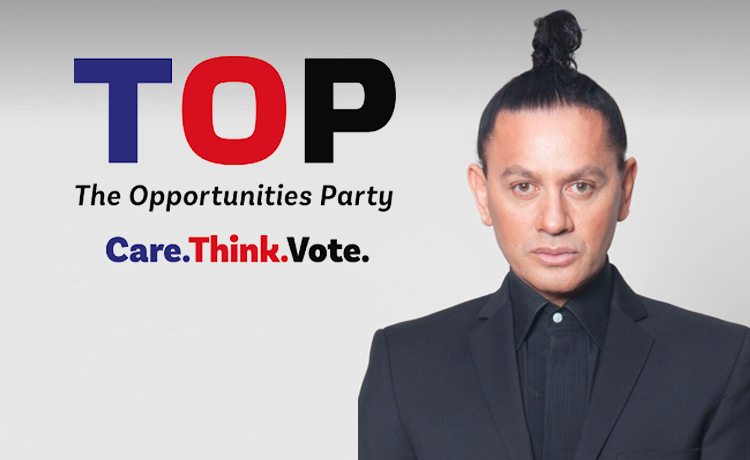 Activist, performer, community worker and fashionista, Mika X (also know as Mika Haka), has been confirmed as The Opportunities Party candidate for the Auckland Central Electorate.
---
Mika announced yesterday that he is standing in Auckland Central, and will go up against Nikki Kaye in September's election.
Having spent years on the front line, working and helping youth through his own foundation, Mika Haka Foundation, Mika sees The Opportunities Party as a kindred soul in his quest to unashamedly promote opportunities for young people of all ages and differences.
Mika was born in Te Wai Pounamu and became a Māori breakdance pioneer. He has performed for Prince Charles at Holyrood Palace and wowed audiences at an astonishing ten Edinburgh Festivals — cementing his place as a Kiwi icon.
Today, Mika enjoys an enviable reputation as an accomplished artist, television and film producer. His work spans stage, film, television, music, performance art, dance, fashion, cabaret, and gay and Māori rights activism. His CV includes appearances in the Oscar-winning film The Piano, Shortland Street, and Mika Haka Kids.
He has released seven albums and ten television shows for digital networks. With one foot poised in the past, Mika is always looking towards the future.
Mika says that he considers Auckland to be the birthplace of the arts and the cultural heartbeat of New Zealand. He sees TOP's policies as enabling all people to follow their creative dreams and aspirations.
"Young people are our future and to protect that future we must provide opportunities for their talents, abilities and skills to flourish."
"I've been approached before about getting into politics with other parties," he says, "But they all wanted to use my profile, rather than genuinely allow me to have a voice. Gareth Morgan is totally different; he understands the challenges facing young New Zealanders and is listening to their concerns."
Party leader, Dr Gareth Morgan, says Mika will be instrumental in communicating TOP's solutions to the serious issues facing young New Zealanders, "We have a ground breaking new policy for youth to announce in about a month and Mika will be a big part of taking that message of hope to a group of New Zealanders who have been left disadvantaged and disenfranchised by the establishment parties.
Earlier this year, Mika worked with comedian Mike King on a suicide prevention project called Aroha'17.
Auckland Central has been held by National MP Nikki Kaye since 2008. Labour's candidate is employment lawyer Helen White who is standing after Jacinda Ardern ran in, and won, the Mt Albert by-election in February.