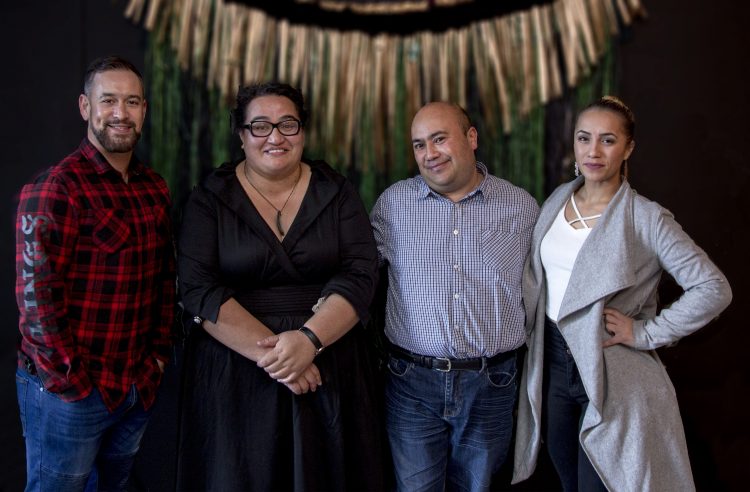 Now in its third year, Te Pou Theatre's Kōanga Festival gathers together the community for a celebration of new stories and storytellers, in association with Going West Festival.
---
Two incredible and openly gay artists are taking part in Te Pou's brand new innovative development programme for Māori playwrights, part of Kōanga Festival which launches this Friday – Aroha Awarau and Jason Te Mete. With funding from Creative New Zealand, Aroha and Jason, alongside two other Māori playwrights, have been able to workshop their original scripts, modelled from a successful indigenous developmental works programme in Australia.
In an intensely personal show, Aroha Awarau has submitted his new work Provocation for the programme, an exploration of the unjust provocation defence strategy that saw those using the defence literally get away with murder as their charges were downgraded to manslaughter.
Also known as the 'gay panic' defence, the story follows two gay men murdered by their younger lovers who successfully used the provocation defence, relying on a homophobic jury and society.
Writing a gay play using his voice and experience as an openly gay artist with a deeply emotional story, this work will be true to Aroha's timely and poignant style.
Presenting his debut work as a playwright Jason Te Mete has created an important bilingual work which aims to shed light on youth depression and suicide titled Little Black Bitch.
Bringing together contemporary dance and haka fusion with a live Aotearoa roots soundtrack, the show provides a platform to have an open korero about the contemporary epidemic in our community, particularly for Māori males.
The piece will be a vivacious lively work that seamlessly integrates music, movement, and script to tell this powerful story.
Presented across two evenings, the four works in development will be performed with two double-bill readings in the Whakarongo Mai evening sessions on Wednesday 6th and Wednesday 13th September. Te Pou, Auckland's Māori Home of Theatre, hosts the Kōanga Festival: Friday 1 – Sunday 17 September.
Kōanga FESTIVAL 2017
Friday 1 – Sunday 17 September
Te Pou Theatre – Auckland's Māori Home of Theatre
44A Portage Road (Entrance off McWhirter Place), New Lynn, Auckland
Hinepau
Saturday 2 September, 2pm
Performance in Te Reo Māori by from Takirua and Capital E, adapted from the classic children's book by Gavin Bishop and first published in 1993.
Koha entry
Whakarongo Mai – Playwright Development Readings
Wednesday 6 & 13 September, 6.30pm
Readings of the works developed in the Kōanga Festival programme with local and international dramaturg work shopping. Double Bill performances with two new works on show each night. Join us for a kai and korero as we celebrate these new Māori playwrights
$10, Tickets available from https://www.iticket.co.nz/events/2017/sep/whakarongo-mai
Peter Paka Paratene – A night of story, song and verse with Rawiri Paratene
Thursday 7 – Saturday 9 September, 7.30pm
Ask me anything. Join Rawiri Paratene for the premiere of his first solo show as he shares yarns, poetry, and song (some of his own, others of his choosing) in a whimsical and insightful but ever joyous performance.
$20 – 25, Tickets available from https://www.iticket.co.nz/events/2017/sep/peter-paka-paratene
Whānau Day
Sunday 10 September, 10am – 4pm
A fun filled day celebrating storytelling from around the globe with theatre performances, story readings, face painting, market stalls, children's games and competitions. Nau mai haere mai!
Check out www.tepoutheatre.nz for the full schedule.
Free event
The Maori Sidesteps – Auckland Debut as part of Going West Festival
Thursday 14 – Saturday 16 September, 7pm
Following an outstanding Wellington Season, Going West is proud to present, in partnership with Te Pou, the Auckland premier of the highly contemporary and slightly naughty Māori Show Band – The Māori Sidesteps! Inspired by the humour and music of Prince Tui Teka, Billy T James and also their contemporaries The Modern Māori Quartet, The Māori Side steps will present music that is fun, witty, satirical with a sing a long flavour fused with character comedy and hilarious banter.
$15 – 25, Tickets available from https://www.iticket.co.nz/events/2017/sep/the-maori-sidesteps