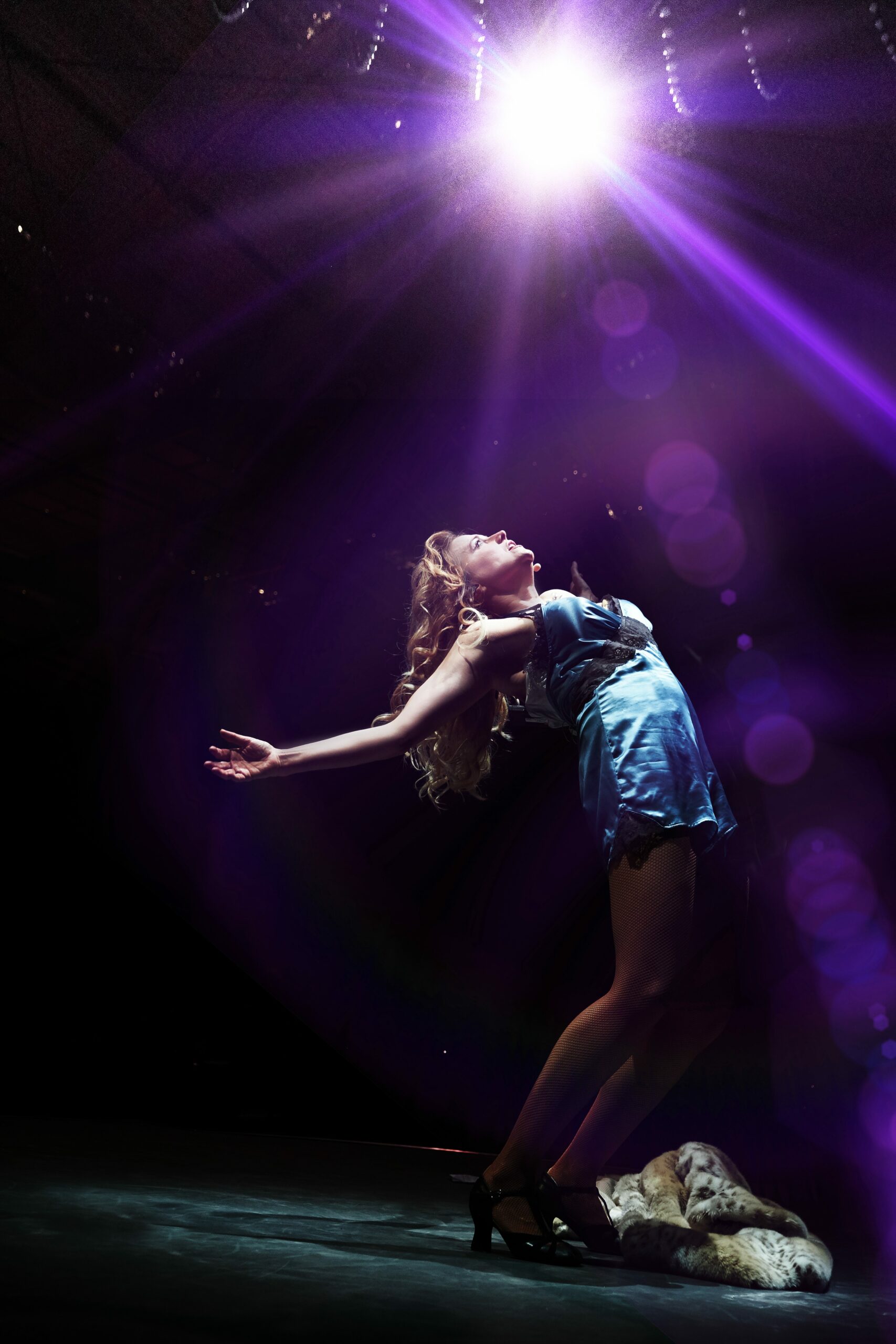 Lucy Lawless is somewhat of a goddess in the LGBT+ community, even the mention of her name is enough to make people swoon.
Our favourite warrior princess and fierce ally is back, taking to the stage as the sexy, hedonistic lesbian in Pleasuredome; an immersive musical theatre experience bringing New York's West End to Auckland's very own West.
This is much more than a stage production. Prepare to be taken on a journey back to the 1980s, with a full streetscape complete with food vendors, a bar and fully functional arcade games. Expect drag queens, passion, drugs and the 80s power ballads you probably grew up with.
It's a "Luscious, queer fable," says Lucy, who's at home, taking a much-needed day to rest before hitting the stage again this evening as Sappho,"A notorious lesbian nightclub diva, with a nasty cocaine habit and she's a bit of a horn-dog because that's what cocaine does to her, she's just unstoppable."
She assures me, on the face of it, she and Sappho don't have anything in common.
"It's a lot of fun…I'm very blessed to have this role."
If you're a fan of the powerhouse 80s, Pleasuredome is definitely the show for you, Lucy tells me Bruce Springsteen's I'm on Fire really goes off each night, as does I'm Every Woman – who doesn't love a Whitney Houston power ballad.
Personally, she says she's a real sucker for tracks like True by Spandau Ballet.
With a cast including Moses Mackay of Sol3 Mio and Vince Harder of Lion King fame, this is a stage that is home to some incredible talent.
"I don't know that I've ever been with a team more good-hearted or talented than this one. It's very special, something magical has happened with this casting," says Lucy.
Pleasuredome tells the very queer story of desire, greed and the power of love set in a time when being out was anincredibly brave act, when the HIV/AIDS epidemic had devastated New York and when cocaine was the drug of choice.
Today, as parts of the world push forward with LGBT+ rights and acceptance, the other half of the world seems to be going backwards. After ten years in the making, it made sense to bring it to the public now.
"The time is right, the time is now," says Lucy.
She says with all of the pressure placed on LGBT+ people to 'get back in the damn hole where they came from', she and the rest of the cast gathered for a chat about the importance of the show.
"This is activism guys, this is not us singing pretty songs and being sassy, this is activism, this is the front line."

"That excites me much more than doing a fabulous piece of art, I could not care less unless it's activism. I have to do this. There is such an imperative inside me to do this."
We chat about the state of the world, about the rise of intolerance and hate towards anyone who is seen as different.
Lucy tells me the other reason to do the show is that we need a party, some razzle-dazzle and some joy in our lives.
Playing a hedonistic lesbian diva who fully embraces her sexuality may seem a world away from the subtly queer warrior princess, Xena.
"The only reason Xena couldn't [embrace her sexuality] is because it was subtext and it was the television of the times," Lucy tells me when I ask if she feels there is a difference between playing an out character compared with a closeted one.
"We did a show that gay people could see themselves in if they chose to but you didn't have to be gay to see yourself."
As much as the LGBT+ communities have always embraced Xena – and I'm sure in some cases to the point of obsession – Lucy says she always felt like New Zealanders generally shied away from her.
"New Zealanders are much more fond of Xena now than they used to be, at least that's what it seems like to me.
"New Zealanders all seemed a bit embarrassed about it, that was my perception, or maybe I was just reading their reserve wrong, maybe they were just shy about expressing things but I always felt like New Zealand didn't really care for Xena.
"New Zealand used to have that tall poppy thing, I think we're growing out of it actually and there seems to be much more warmth for it now than there ever was before."
Lucy is accustomed to the spotlight, but it's not necessarily because she throws herself into it. She tells me, in true Kiwi fashion, that if no one steps up to get the job done, she'll do it herself.
Media coverage of her latest action for Greenpeace, dropping into Arctic waters to protest Norwegian oil drilling company Statoil, is just an example of this – her passion is infectious.
"I was just in the Arctic, where the summers are nearly 20 weeks longer than they used to be – half a year longer than they used to be!
"That's terrifying." she tells me.
As a Climate Ambassador for Greenpeace, Lucy has found herself on a number of protest actions out at sea.
"I think there's something that is part of a trait in me that if nobody else will do the dirty work, I will."
"I'm not somebody who cares to lead very much, I don't want to be a leader, but if nobody else will do something that needs doing, including unblocking the toilet, I'll do it."
Climate change is something that, when hearing about it for the first time as a ten-year-old, just made sense.
"Earth is a closed system, its a big, beautiful, complex one, but it's a closed system.
"It made sense to me back then that if we're spewing out too much waste, whether it's Co2 or whatever else, we're eventually going to run out of what we need and we'll have nothing to eat but flippin' raw carbonate, nothing to breathe but Co2."
Years later she saw the devastating impact of climate change when she found herself stuck in Hurricane Katrina.
"We evacuated the day of landfall and it was such a terrifying, drawn-out event…I just never, ever want to be in that situation again, I don't want my kids to be in that situation, I don't want your kids to be in that situation, it's horrible.
"Unfortunately, the way we are consuming energy is causing those kinds of events – and worse – to happen in other parts of the world now."
She says sadly, she thinks it will take a disaster here in New Zealand for the wider public and the government to take climate change seriously.
"We're going to be stuck on the top of Mount Cook, the lot of us, and we're going to have billions of Australians heading to our shores looking for a glass of water. When that place gets three degrees hotter, it's gonna burn. They're coming here, they're not going north to Indonesia…
"Get fucking real New Zealand – our emissions matter."
It would be hard to argue with Lucy's concern, you can hear it in her tone of voice, her words act as a warning.
"… people in New Zealand are going to have to die before they open their eyes and go 'we absolutely have to get rid of all the people in government who are numbing us to the truth about climate change'.
So just how is she feeling when I speak to her two days after election night?
"Disgusted."
"I think [the National Party] will do the bare minimum to greenwash, to say, 'oh look how teal we are'," she tells me.
She's heard the Young Nats want to have a climate committee and to move towards carbon zero, much like Generation Zero, which she says sounds great but she wonders if they are being used by the likes of Steven Joyce to mobilise young people.
"Unfortunately, they have bolstered the old guard who does not give a fig about the environment. I think National's policies, as they currently stand, are as black as coal, and as murky as our rivers."
What would she say to a Young Nat who has a passion for the environment?
"If they're authentic about it, great, but you're going to have to chop out all of that deadwood at the top because they are very close to, or one day will be, branded climate criminals."
She says the very same week same-sex marriage was being ratified under National, they took away the right of people like her, to protest, passing the controversial Anadarko Amendment which increased the limits on protests at sea.
"While everybody was going 'yay, we're so socially liberal, we've got gay marriage in New Zealand now', they were pulling back rights to peaceful protest," she says.
With the preliminary election day results showing National with 46 percent of the votes, Lucy says she voted with the environment in mind, but that's not to say that she's stuck in an echo chamber.
"I live in a fully blue area, my best friend is a dyed in the wool National girl, her husband is, my family are Nats, they're not bad people but I don't understand why these good, intelligent people are supporting a party which has no respect for the environment."
"I'm a climate voter, I abhor everything they do, all of their crimes against the environment and their business practice, which are essentially crimes against the environment…"
It's easy to feel overwhelmed by the weight of the task at hand, but Lucy says there are also some very simple changes you can make if you're passionate about the environment and just don't know where to start, including getting rid of plastic bags, eating less dairy or meat and buying local.
"You can vote, vote with your dollar. Everything you buy is like a vote, it signals the market. Today I bought cricket bread. Now the idea of eating cricket is vaguely disgusting to me, but I'm going to do it. If I like it I'll buy it again because I want to signal a market and I'm told it's the way of the future. Not good for vegans of course but I'm not a vegan so I'm going to try cricket bread!
Lucy says she's also proud of people for actually just showing up and protesting.
"Showing up to something really matters and it's a beautiful feeling when your actions are in line with your beliefs – it's a really good feeling to be part of something decent.
"Mazel tov to everybody who gets off their arses and walks the talk."
---
Lucy Lawless appears in Pleasuredome which is being performed in a specially set up warehouse site on Patiki Road. When you purchase your tickets the exact address will be given. The show runs from 28 September to 5 November 2017 and Tickets are on sale now via Ticketek.