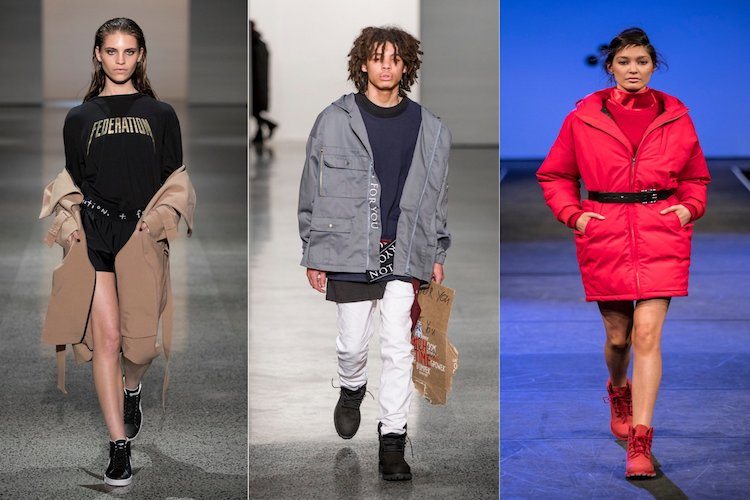 New Zealand Fashion is looking to the future as kiwi designer's unique take on our best non-conformist fashion was showcased at 2017's shows. Express's Zakk d'Larté was there and tells of his front row experience.
---
The busiest week in fashion is done and dusted and what a week it was! New Zealand Fashion Week is an integral platform that celebrates both emerging and established designers and gives them an opportunity to showcase their labels to a wider audience. Now in its 17th year, it's showing no signs of slowing down. This was my fifth NZFW experience and was certainly the most exhilarating one yet.
Sci-fi and futuristic fashion were definitely key trends throughout the week, florals – both bold and delicate – were popping up in just about every show, vintage prints were a clear favourite and colours came back stronger than ever; this time with a focus on bright reds, mustard and millennial pink!
Androgyny was also very prominent this year with a diverse range of models including NZ's first transgender model, Manahou Mackay.
A very fashionable crowd swarmed into the Viaduct Events Centre on Monday night for the opening party, which was a lavish event attended by the likes of founder Dame Pieter Stewart, Auckland Mayor Phil Goff, Labour Party leader Jacinda Ardern and Auckland Central MP Nikki Kaye, along with various international guests, media, designers and VIPs.
I can't talk about every show from the week, but here were some of my personal highlights.
Kicking off the week was Zambesi, who were named this year's Mercedes-Benz Presents designer. Well-known to carve their own path rather than conform to trends, the brand showcased a high-energy and electric show featuring androgynous suiting, futuristic metallic racing suits and (unexpectedly) injections of bright yellow. With 49 outfits and 26 models, they were the only label to send their creations down the runway on Monday and started the week with a bang.
The New Generation Show is always an exciting opportunity to see fresh Kiwi talent and often marks the debut of young labels who every-so-often go on to become household names. There's something thrilling about watching emerging brands be given a big platform like this and seeing what they do with it. A personal stand out was NOT FOR YOU – a Wellington-based grunge, street-style label – who rounded out the show with utilitarian menswear pieces. His models held cardboard signs featuring scrawled statistics on the state of homelessness in NZ, timed well with the current election fever. Judging by the waves already created, founder Jerome Taylor could certainly take over the New Zealand fashion industry by storm and I couldn't be more excited for him.
After our interview with Adrian Hailwood in our August issue and his spellbinding show last year, I was very excited to see his presentation and he did not disappoint. The designer's favourite bomber and motorcycle jackets were back and added an edge to stunning dresses. Embracing femininity, he impressed with classic silhouettes that skim the body in just the right way and perfectly flatter the female form. Also featured were sequins, metallic dresses, floor-skimming gowns and faux-fur.
Federation's collection, Gentle Savages, had me wanting to hand over my money right there and then. The edginess of streetwear meeting high-end designer clothing in an effortless combination of comfort, quality and creativity. The soundtrack, which included Prodigy's Firestarter, DJ Dan Aux live on the decks and a performance from Kings halfway through, was stellar and set the tone.
Always a highlight, Stolen Girlfriends Club is THE show you want to see and, unsurprisingly, their AW18 collection, Safer Than Heaven, was spectacular. Offsite as usual, they took over a Grey Lynn warehouse with a 1,000-strong audience. The collection was packed full of attitude, juxtaposing punky androgynous-chic and a sexy nod to the '90s. The diverse cast of models popped through sheet-plastic walls before being torn down entirely to reveal a live performance by Dunedin band Death and the Maiden.
Jason Lingard's show Chaos was not your typical runway show. Contemporary dancers in black masks fluidly moved to disconnected staccato music as the genderless monochromatic pieces draped over their bodies. The performance drew out an army of cameras and phones and directed attention to the billowy garments themselves, rather than the people under them.
Celebrating its 20-year anniversary in style, Huffer took over Spark Arena, closing NZFW in front of more than 2,000 people. Leather cowboy boots, Akubra-styled hats, double denim and plaid gave this collection an effortlessly cool '90s western feel. After the show, the stadium transformed from runway to rave as the backdrop lifted to reveal DJ P-Money and then the party started. A perfect ode to two decades done well.
Special mention goes to Kathryn Wilson whose Come Fly With Me-themed show (which executed the '60s air hostess aesthetic to perfection) was complimented by the perfect runway soundtrack: Toxic by Britney Spears which, of course, got all the gays going!
Photo | © Michael Ng / nzfashionweek.com