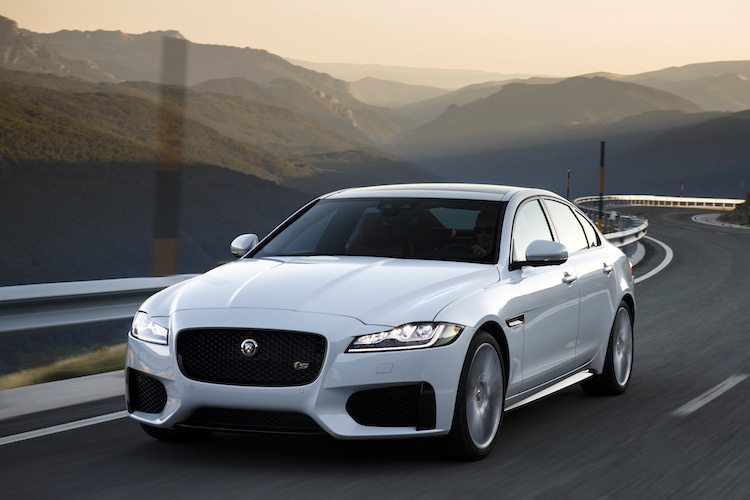 In our annual motoring feature, leading manufacturers and dealers put forward their contenders for the challenge of best in class. express reviews and gives a gay perspective on this new model. The vehicle is at, or near, the top of its class, whether that be in terms of value for money, appearance, performance or sheer desirability!
---
The legend continues!
I have to declare that I am a long-time Jaguar nut. It all started when the wealthy farmers used to come into my little farming town on Friday nights. They were flush with cash from the wool boom of the 1950's and drove the most amazing cars, from Mercedes Limos to fastback Nash's, Buick Straight Eights and beautiful Jaguars. The Galpin's would arrive in one of their Jaguars at dusk and always park opposite my dad's shop. Mrs Galpin would drive, one week their two-toned Mk VIII, next week their stunning XK140 hardtop. The town's gossiping housewives had plenty to talk about with this high heel-wearing statuesque blonde (a Melania Trump of her time) – but I was in love and I was only ten years old!
The love affair continued and when I was lucky enough to get my own bucket of cash after a business buy-out 30 years later, I too headed straight into the Jaguar dealer and ordered a new XJ6 Sovereign – in the UK where I was based. It did not handle the salt used on the roads too well and by the time I got it back to NZ the underside was covered in rust. Later I bought a new NZ sourced Jaguar, by then owned by Ford, and it had a much higher build quality. That was the last Jaguar saloon I drove until we at Express were given the opportunity to test the new XF.
So the new XF had for me big shoes to fill! Would it live up to the legend? Would it give that unique Jaguar experience – Grace, Space, Pace.
I am happy to report that it meets – indeed it exceeds – all the benchmarks that have made Jaguar such a desirable marque. The XF is the mid-sized Jaguar saloon, between the smaller XE and the larger XJ. Nowadays of course there is also the remarkable F-Pace SUV as well as the F-Type. The XF model tested is the 2018 model SD, a 3-litre diesel which has the most incredible power delivery I have ever experienced. With 700nm it could pull a train. And of course get quickly away from the crime scene – much more quickly than Arthur Daley ever did in those old British TV shows. So that's a double tick for pace!
Space is not bad – but you don't buy a Jaguar to haul the distant relatives around. Indeed one trademark of the marque is the cosy cabin which is maintained in the XF. The dash has an Italian Riva boat style wrap around panel which goes into the doors and is very elegant. The central screen is large and controls most functions. Navigation is of course included. The sound system is great and the seats are both comfortable and supportive with a mix of leather and suede. Full leather is an option. For me the interior was a bit gloomy with all-black upholstery and headlining so go for brighter colours if that is your preference. The unique transmission selector – a rotary switch which emerges from the central tunnel – is quickly mastered.
Once I electrically lowered the steering wheel and extended the reach the XF can be set up like a boy racer. This is a real fun car to drive as you can get a great commanding driving position. And with that power and top level sports suspension "its all go!"
So how about grace? This is a classy looking vehicle and benefits from not being as quirky looking as the previous XF or indeed the larger XJ. Looking at it from some angles it looks terrific. The fit and finish is top notch and a credit to the current owners of Jaguar – the giant TATA Group. The S version tested has extra sporty bits, including a heads up display, but for me at least I would be very tempted by the more sedate versions which come in well under $100,000 and include full leather seats, while still giving that unique Jaguar experience. A sort of country doctor's car….just like the 1968 240 I also had….but that is another story!
I'm still in love!
Vehicle supplied by Jaguar New Zealand