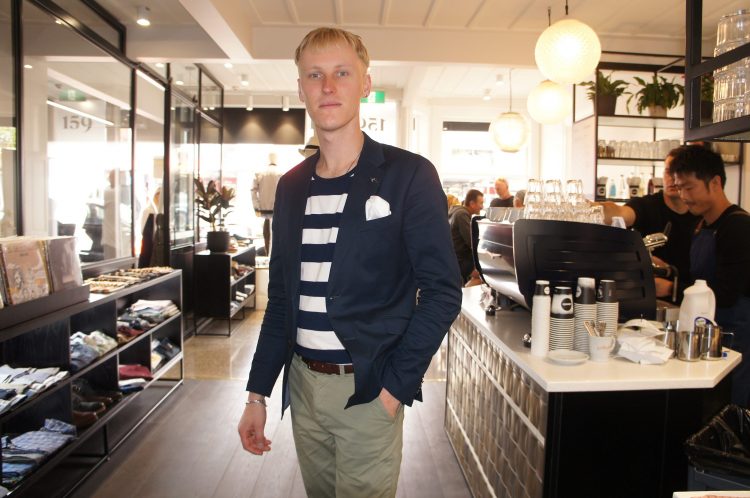 The secret sauce to Ponsonby's new Good Company style hub is combining the magic of food, fashion and grooming in one bespoke experience.
---
Set in the heart of Ponsonby near Angelsea Street, Good Company features Archie's Café brewing Atomic Coffee, created by Mr Toms' James Ace and Bert Haines, the Barkers' Groom Room tending to traditional barbering, and the Barkers Guide Shop providing boutique men's clothing along with Barkers stylist and shop manager, Ryan Lightfoot.
Ryan says Good Company exemplifies Ponsonby life, "Ponsonby clients are lifestyle people. It's a cool area to live, everyone loves barista coffee, the latest barber cut and style, and with fashion, we're bringing the three together."
The gist of the Barkers Guide Shop, says Lightfoot, is customers get a one-on-one service to create their look. But there's a twist.
"This concept store is the first of its kind in New Zealand where we integrate our online store with touch screens and iPads, and it's bringing some extra excitement to Ponsonby. But instead of customers taking their purchases away with them, they're delivered free the next day – anywhere in New Zealand."
"We've found that the first time people come into the store, they're expecting to buy things, so they buy it and take it away. But the next time they come in, they're making the most of our next day delivery service."
Ryan says the response since doors opened a month ago has been "hugely" positive. "Our customers love seeing all the styles on one rack from our curated collection and just seeing one of everything rather than a whole lot of different versions. They don't get as overwhelmed as they do with a massive store. When they see it all on one rack, it makes it a lot simpler to make a choice. And we have a separate space for choosing suits, which they love."
Asked why free delivery is a selling point, Lightfoot is enthusiastic.
"This area is perfect for the delivery option because people are either working, and don't want to go back to the office where people will know that they've been shopping, or they're going out for dinner, or just been out for Sunday brunch and have a day of walking ahead, and they don't want to carry bags around. Ponsonby is also a tourist destination with many visitors who live outside the area – or indeed Auckland."
Lightfoot sees the concept working well in Queenstown, among other places.
"People are often on weekends away and sometimes just have overnight bags, so this would be perfect for sending their purchases to wherever they are from the next day."
Lightfoot adds the product lines will be "constantly changing" with new clothing deliveries daily, and a fortnightly seasonal drop.
Looking towards summer, Lightfoot buzzes about the potential of Good Company.
"We have plans for hosting people on the new deck out the back plus setting summer hours that extend into the early evening so people can make the most of their Ponsonby experience."
Lightfoot adds that the Good Company fit-out by Tailor and design director Adrian Nancekivell, which has restored the unique charm of the century-old villa, has been praised and embraced by locals.
Find Good Company which includes Archie's café, Barkers Groom Room and Barkers Guide Shop at 159 Ponsonby Road, Ponsonby Auckland.