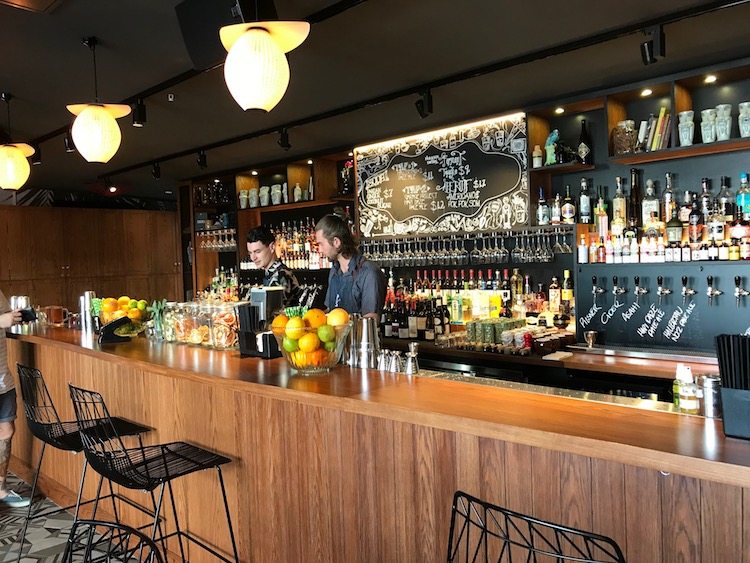 ALEXIA SANTAMARIA is the co-author of popular blog www.cheapeats.co.nz, the Auckland guide to eating great food without going bankrupt.
---
For those New Year's health resolutions
If you ate all the turkey, ham, potatoes, gravy, chips, scorched almonds and pav and drank like there was an alcohol shortage this festive season, you may want to make the acquaintance of recently opened Cali Press in the city.
They serve everything virtuous – cold pressed juices, smoothies, tonic shots, salads, superfood bowls. And the bonus is it's really close to Les Mills so you might also spot some gorgeous gym go-ers post workout.
Cali Press, 2 Graham Street, Auckland Central
www.calipress.co.nz
Kiwi Kai in the city
Opportunities to experience real New Zealand food are limited on a day-to-day basis in Auckland, but the Tamaki Herenga Waka Festival is a great chance to try some fantastic Kiwi kai.
Lalele Organic is creating a kawakawa sorbet and the Puha and Pakeha food truck will be serving up smoked kahawai and watercress salad with saffron and orange vinaigrette and a modern māori twist on the classic Reuben sandwich, which sounds heavenly.
There will also be stalls with mussel fritters, whitebait fritters, smoked tuna and eel, seafood chowder, gluten-free crumbed scallops, steamed mussel pots, half-shell oysters, hot hāngi, fried bread, boil-up, fresh fruit, drinking coconuts, ice-cream in pineapple and watermelon, and kina shots. Bring it on, we say.
Tamaki Herenga Waka Festival, 27-29 January, Viaduct Events Centre and Viaduct Harbour
www.aucklandnz.com/tamaki-herenga-waka-festival
New Eden Noodles
The dumplings and noodles at Eden Noodles in Dominion road would have to be hot contenders for our favourite dish in Auckland.
This is why we are so excited they have recently opened a second branch in Albany where they will be serving up all their Sichuan favourites for Shore siders.
If fresh, hot (and very affordable) dumplings, noodles, soups, wontons, rice dishes, and Chinese 'burgers' sound like you, get there fast.
Their dumplings in spicy sauce are actually life changing.
Eden Noodles, Shop 3, 14 Corinthian Drive, Albany
RESTAURANT REVIEW
The Parasol & Swing Company
7/204 Quay St, Viaduct Harbour, Auckland, 1010
The Parasol & Swing Company had only been open a few days when I visited last month so I was wondering whether it might be a bit empty. Not so, it seems – everybody is loving a bit of rooftop action in Auckland these days and the outside bar upstairs was full by midday on Thursday.
The waitress who served me was super friendly and extremely helpful with menu choices. Parasol's menu revolves around casual food – Burgers and Waffles – but also has some pretty great sides to share as well. A girl can only eat so much on her own, so I went for the Crayfish Waffle and the Tuna Ceviche in the name of research.
I loved every mouthful of the ceviche with its fresher-than-fresh chunks of raw tuna scattered with a great combination of green apple, onion, coriander and intermittent blobs of wasabi mayo. The balance of textures and flavours was spot on. The Crayfish Waffle was nice too with a sencha savoury waffle (meaning it had a green hue, but not off-puttingly so) and a familiar combo of crayfish, lettuce, Marie Rose sauce, wasabi mayo, lemon and garlic butter – very reminiscent of a poshed-up prawn cocktail or lobster roll, only better. The flavours worked well together but I found the waffle itself a little dry for my liking. I did have to wonder whether that had anything to do with the 28 degree heat outside, it was hot enough to dry things out pretty quickly and may have tasted different if I'd eaten it indoors.
I'd be really keen to come back and try one of the burgers, or some of the sharing plates like Jalapeno Poppers, Fried Chicken or Miso and Yuzu Aioli slaw. The bar is absolutely gorgeous and it's not hard to see how this place will be a go-to for cocktails and fun on balmy Auckland summer nights.