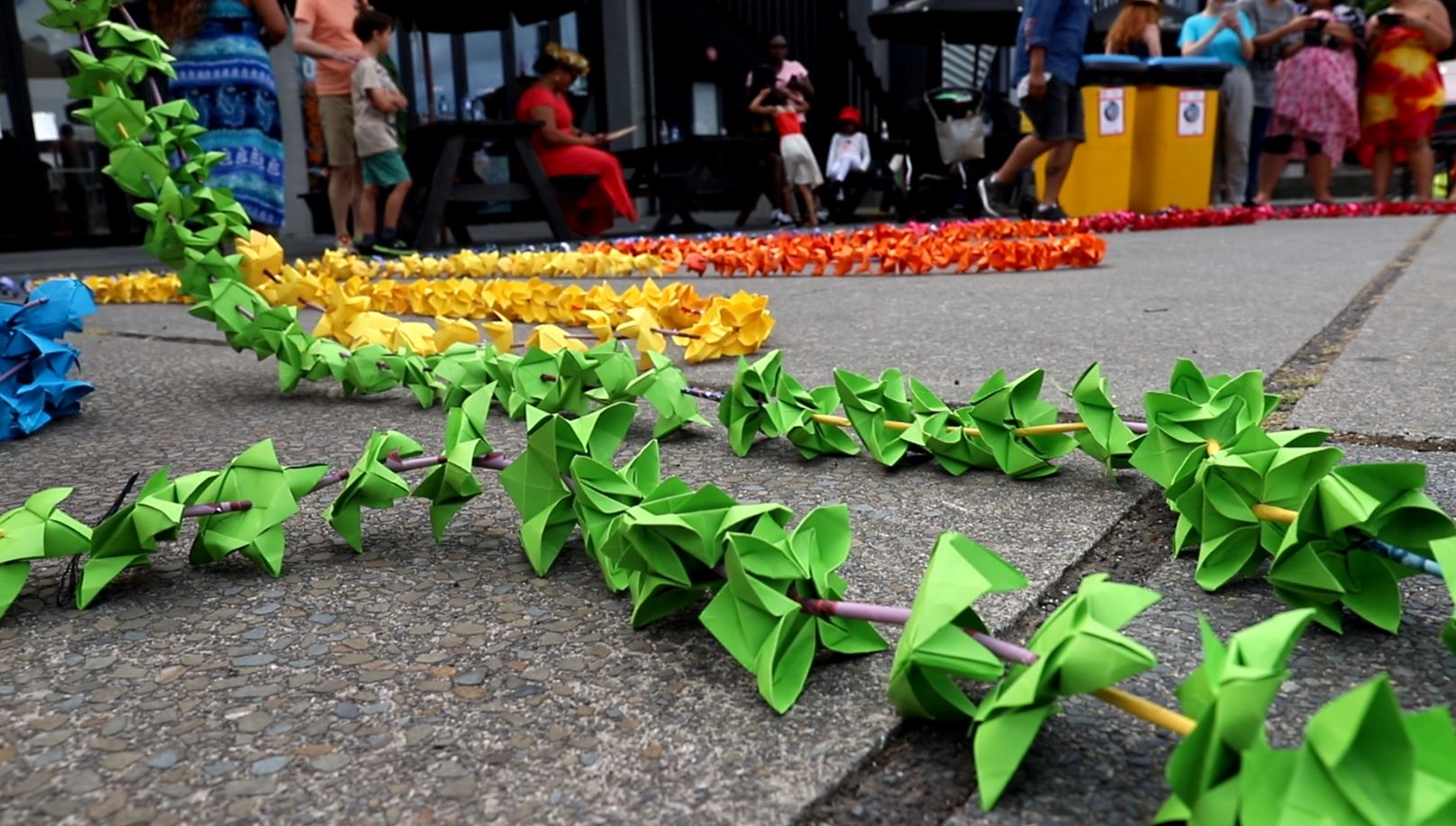 On Saturday, January 20th, a Rainbow Pasefika stall was held as part of the Wellington Pasifika Festival. Led by DJ PANDA 44 Productions and supported by local community, the event was the first of its kind. Those who attended helped to create the 'world's longest rainbow lei' which they presented on stage in front of thousands of festival-goers. Rex Paget, Kassie Hartendorp and Rachel O'Neill share their reflections on a different kind of pride.
LGBTQIA+ visibility can go beyond being a response to those parts of our cultures that forget, make marginal or remember us in limiting ways. Events that support us to see ourselves as we are, as we exist, help us to value ourselves here and now, who we have been and want to be. We Exist, We Belong was an opportunity to get together with familiar and new faces to mahi on a gift—a lei folded, threaded, glued and joined into an offering of time, companionship and stories about holiday swim spots, new discoveries in the whakapapa, books, rent hikes, old problems and new dreams.
All of this made visible our belief in ourselves and each other, to live as we are and want to be. Remembering what we give each other everyday beyond what we fear, forget, buy and sell (pink dollar included), is a pleasure and wonder because sometimes it's easy to underestimate everything that's in our hands already when going about our ordinary business/survival. Leilani I'iga Pua a.k.a DJ Panda is the guiding force of We Exist, We Belong, developing and realising the kaupapa with collaborators and friends. I always hear people comment how comfortable, relaxed and welcome they feel at events that Leilani is behind. I'm one of them. Not only is there a clear kaupapa that guides the shared experience, there is support and attention given to how to care for connections and conversations, thoughts and actions made and inspired by the experience when back in the ordinary flow of life.
In between some laughs, gluey fingers and a swim, I thought about my kaupapa as a Pākehā queer storytelling nut (I identify strongly with the peanut). My work is to look unflinchingly at my culture, Pākehā culture, while acknowledging that Aotearoa is a Māori place, an indigenous place in Moana Nui a Kiwa, where there are traditions of storytelling innovation thousands upon thousands of years in flow. I'm interested in stories that reflect shared histories in Aotearoa. The numerous responsibilities there include acknowledging my own lens and decentering an idea of 'the' storytelling narrative, a 'the' that overwhelmingly privileges Pākehā experience. With each project, I look at where this kaupapa flourishes and flails at any point in the process. We Exist, We Belong as part of Wellington Pasifika Festival got me reflecting on what I can't do alone, what mahi and emotional labour I can do, and how learning helps me appreciate the living matrix in (front of) us, growing, thriving and, yeah, DJ-ing.
When backlit by afternoon sun, the capillaries of life force that keep the staunch succulent in my bathroom flourishing miraculously year in year out are temporarily visible. Rainbow Pasefika: We Exist, We Belong was like being gifted a lei of light, or being draped in a part of the longest lei of light in the world, that helped me see some of the LGBTQIA+ life forces keeping our communities in Te Whanganui-ā- Tara strong, nurtured, aware, hopeful and connected.
Rachel O'Neill is a filmmaker, writer and artist based in Te Whanganui-ā- Tara, Aotearoa.
In part two of Rainbow Pasefika: We Exist, We Belong, Rex Paget and Kassie Hartendorp share their reflections.