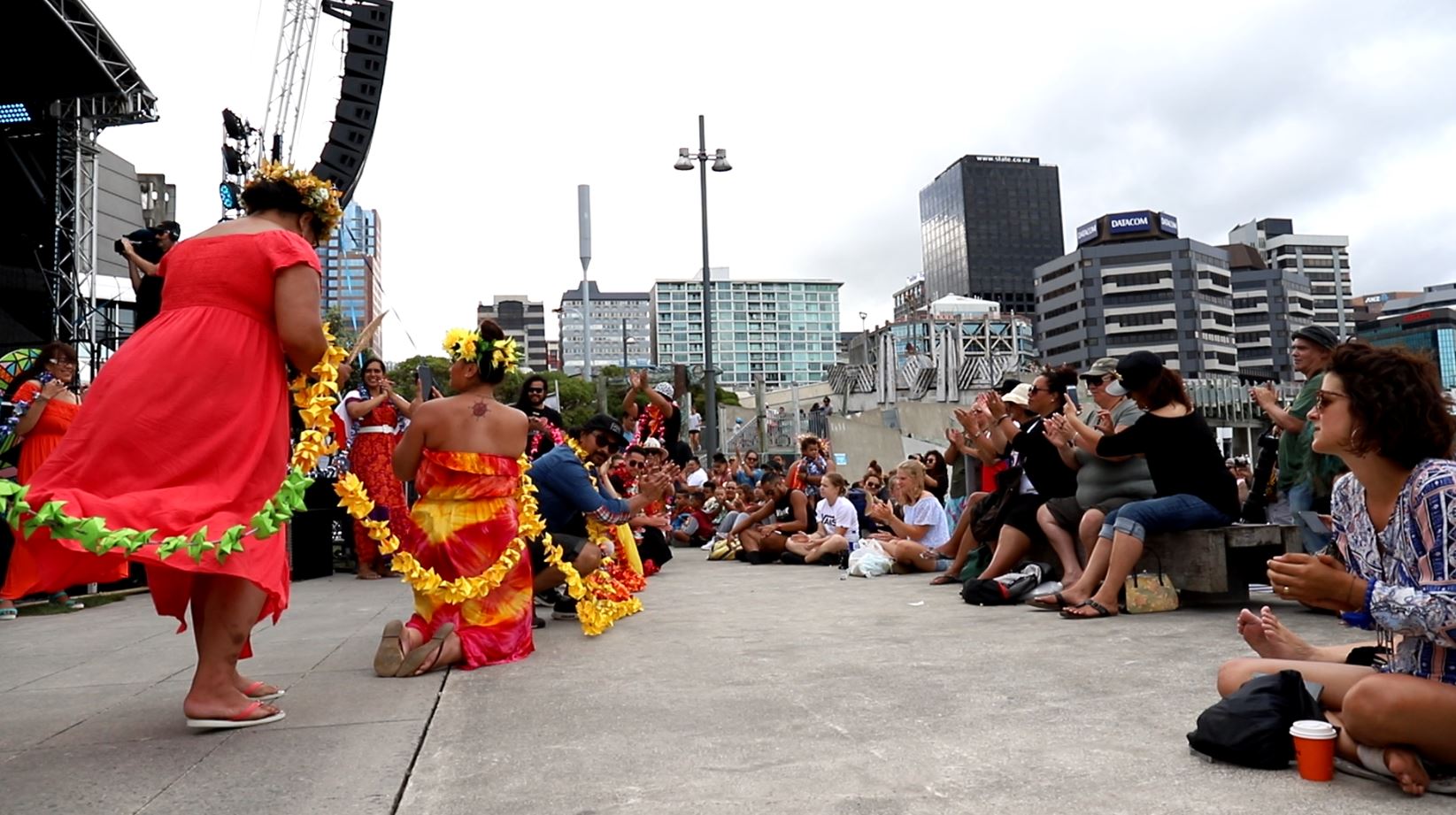 On Saturday, January 20th, a Rainbow Pasefika stall was held as part of the Wellington Pasifika Festival. Led by DJ PANDA 44 Productions and supported by local community, the event was the first of its kind. Those who attended helped to create the 'world's longest rainbow lei' which they presented on stage in front of thousands of festival-goers. Rex Paget, Kassie Hartendorp and Rachel O'Neill share their reflections on a different kind of pride.
Stuck to the side of the stall, over-seeing everything, lies Tagaloa. This is where it all begins, this is where creation is born, as people start threading origami flowers into lei. I am thinking about the process of things, and what needed to happen to make Rainbow Pasefika – We Exist, We Belong possible. Birthed from the brain of DJ Panda, this has been a long time coming, to be able to stand on the landscapes of silence together and be seen, be heard. To those who walked before us, and made it easier for us to speak today.
A piece of paper takes thirty folds from a single hand, to transform it into one origami flower. To make eight hundred flowers requires twenty-four thousand folds. One person could press all twenty-thousand folds if they know how to line up paper ends and follow simple patterns. But it wouldn't be the same without the company of many hands – reaching for the multi-coloured paper as laughter and chatter rises and falls like a summer high tide.
While the sun eases up, and all of the flowers had been folded and threaded, we delicately pick up the paper foliage. We gently drape ourselves in rainbow flowers and begin the journey towards the stage. Anyone who has transported a giant paper lei will know that this act takes great care and patience. If the people at the front move too quickly, or the people at the back too slowly, the thread will break. It is the gentle art of moving together.
This is the beauty of us as a people, we find strength when we are working together. This is the beauty of us as a people, when we collectively move, something powerful takes place. It can be a loud thunderous echo, or on days like this, a strong, joyous presence, with our feet planted firmly on the hot concrete, and our bodies adorned with our ancestors. The crowd is tentative as we gaze back at them and I choose to believe that they are re-learning to recognise us, just as we have done for ourselves.
I always thought of myself as a bit of a black sheep, a bit of an outsider, always trying to find my footing of belonging. But as I sat in the blistering hot sun, stringing together a couple of lei, I am reminded this is bigger than me. Sharing quiet conversations about who we are, where we come from, what we want to see. I am one wave in a sea of collective change, contribution, and process. That coming home and feeling whole doesn't always look like what you think it will. Sometimes it looks like three tables full of rainbow coloured lei, and a group of people moving together to make sure we are seen too.
Rex Paget and Kassie Hartendorp (Ngati Raukawa) are writers and activists in Te Whanganui-ā-Tara, Aotearoa.