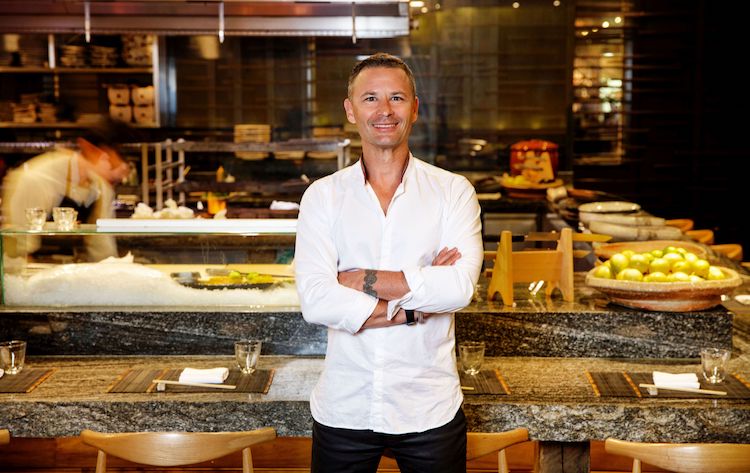 Nic Watt's name is synonymous with great Auckland food, despite him being more famous internationally than he was locally just five years ago. Watt was born in Australia, but grew up in New Zealand and started his culinary dream in a busy Auckland restaurant when he was just a cocky 18 year old. Over two decades later he has worked in some of the most incredible kitchens in the world and opened five different restaurants in four different countries. He's well and truly made his mark on the global culinary stage and came home five years ago to where it all began, to share his talent with us lucky Aucklanders.
---
He is involved with two restaurants in the Auckland area but his first eatery in New Zealand was Masu, now an Auckland icon for high end modern Japanese Cuisine. "It's funny, in my role, as Global Chief Operating Officer for Roka Group in London, I opened branches in Hong Kong, London and cities in the United States. But the first night of Masu was far more nerve racking than any of that – bringing everything back home is something totally different."
He needn't have worried since Masu has been wildly successful from the get go, winning a Restaurant of the Year award in its first year and regularly being hailed one of Auckland's best places to eat. The restaurant is named after the Masu box, a square wooden box used to ration rice in Japan during the feudal period. Today they are used for drinking sake and the tradition is to put a guest's cup into a Masu box and pour till the sake overflows into the box symbolising abundance, prosperity, good will – essentially giving more than people expect.
And that basically sums up Watt's ethos when it comes to the restaurant experience. "We're all about overdelivering. We understand Auckland has a lot of great places to eat, so when people choose us we are honoured and want to give them the best experience possible." He's not kidding – the chopsticks are lined up by laser with military precision; the ice for the shochu is hand-sawn from a huge de-oxygenated block so it doesn't dilute the beverage; the service is impeccable and the food is magnificent. "Fumi Nakatani is one of the best in the business and is Restaurant Manager of Masu. Everything is made from scratch with the best ingredients available. We would most certainly not be the success we are, without him at the helm."
But this level of perfection does not mean it's an intimidating place to dine. "No one at Masu cares if your sake or wine perfectly matches your food, or whether you come in for two small plates and a sparkling water, a huge business lunch or a three hour family celebration. Right from the start, we wanted Masu to be high-end food prepared with skill and passion, but without being formal or austere. We want people to eat well, but have fun too."
You see these approachable, and often quite kiwi touches, all through Masu. "I still smile when people order an L&P [Lemon and Pineapple Shochu]. We even had a special retro bottle made! And we welcome kids too, we even have cool origami kits for them. I love seeing families at our Sunday Nichiyo brunch. The adults love the rolling brunch style and the kids love the 'okosama' bento boxes and having free reign of the private dining room so their parents can eat in peace. As a Dad of two kids myself, I wanted to create somewhere where children would be happy, but would still be a fantastic experience for a romantic couple or business people, with kids far from their mind!
And he certainly has achieved just that. Masu is a great place to dine, no matter who you are. We're very glad Nic decided to come back to our shores – the Auckland dining scene is definitely better off for it.