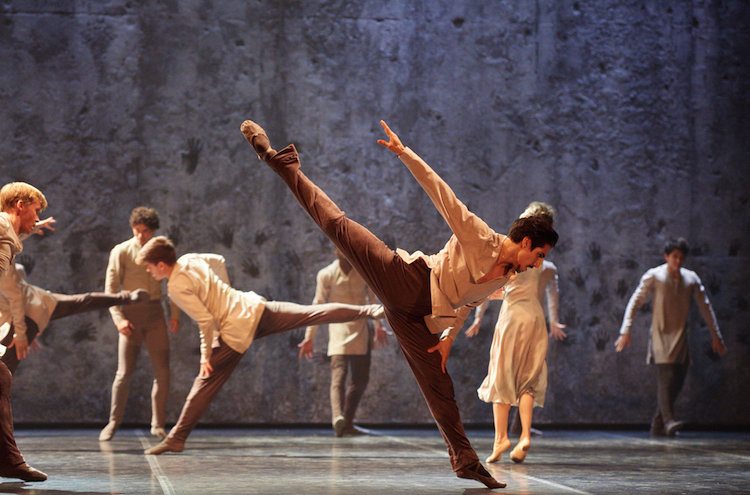 Ballet teacher and former assistant to Candy Lane, Georgette Jackson, is wowed by the English National Ballet's edgy new interpretation of a beloved classic.
---
I was rather sour and disappointed, almost unimpressed when I heard that Giselle had been re-invented for our modern-day era.
But as time went by, and more snippets were teased by the English National Ballet, I was only disappointed in my rash judgement. You see it's hard for a trained classical dancer, like myself, to think of the iconic 'Giselle' as anything else. And as disappointed as I initially thought I'd be, this soon turned to devastation when I realised that everyone should see this ballet, but not everyone will get the chance.
The opening chords were haunting. "This is going to be wild" I thought to myself. Had I known it would be as cinematic as it was, I'd have booked tickets for every single night.
Akram Khan's choreography took an evolutionary journey that was seamlessly performed by the artists. In Act I we are introduced to poverty and despair. Set in a downtrodden industrial factory, where workers and garment makers have been outcast and forced onto the streets. The story remains romantic, and sees migrant worker Giselle, in a senseless love affair with Albretch. As every great love story goes, He is from a place of luxury and wealth, but Giselle is not. Violence and betrayal play their part as the two worlds collide, and in magnificent fashion, we meet those responsible for such crimes against humanity. You guessed it…. Albretch's family.
Passion seeped off the stage and made its way into the audience as Giselle, played by Erina Takahashi, danced through love and death. I couldn't imagine another soloist playing the role. She was flawless and poised, yet unexpected and irrational. Another stand out performer was Oscar Chacon, who played 'Hilarion'. Hilarion is trapped by his love for Giselle and his guardian role over all migrant workers. Pulled into a love triangle, Hilarion is forced to confront Albretch, with disastrous results. Oscar Chacon was an unbelievable performer and his athleticism was outstanding.
This contemporary ballet story made me feel deeply, it made me sit up in my chair and hold my breath. Audible gasps from the audience, could be heard as the set changed to reveal bold, dramatic scenes. I believe when Akram fashioned this ballet, He created it to make you feel things you thought you had hidden away. Stubborn moments of silence, as the dancers used their voices and bodies to create a loud atmosphere, were surprising. The cast moved in ways I had never seen before. Akram's choreography felt futuristic, and he created a visual masterpiece worthy of the many awards Giselle has won. I loved the tempo changes and I became obsessed with the lighting and rotating set pieces.
The set consisted of just one wall; one looming, dark, and punishing wall. It's ability to rotate at high pace, or to slowly push cast members from downstage to upstage and back again, was breath-taking. In Act II the wall allows the living to interact with the dead and we meet the 'Wilis'. Female ghosts of factory workers, who seek revenge on those who have wronged them. What was interesting to me, in Akram's version of Giselle, is the Wilis carry bamboo stick weapons and attack their victims with brutality. I enjoyed watching their ghostly bodies float across the stage, spilling fear into the audience and sending shivers down my spine. A doomed story with dire consequences sounds foul and depressing, but I can assure you this was the most beautiful ballet I have ever seen. Giselle, Albretch and Hilarion intertwine beautifully, with Auckland's Philharmonia Orchestra for a night you'll never forget.
English National Ballet performs Akram Khan's Giselle this weekend at the Aotea Centre, Saturday 2pm and 7.30pm, Sunday 5pm, as part of the Auckland Arts Festival. Book tickets at aaf.co.nz.