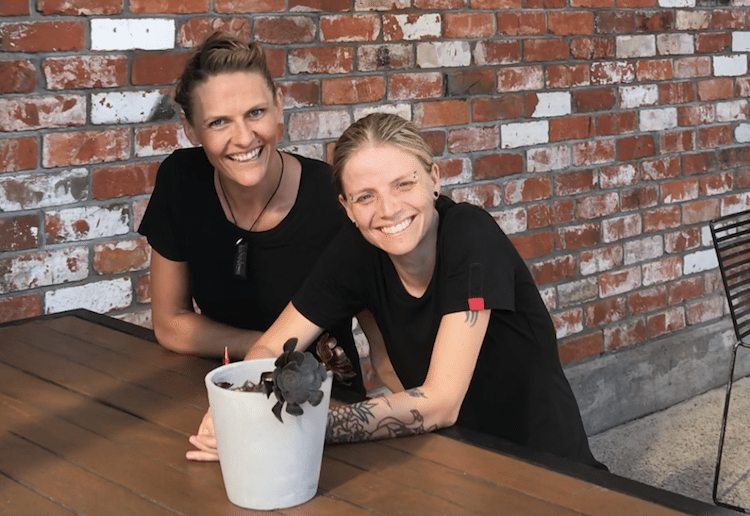 Sade Hopkins moved to the UK in 2001 and found herself broke, sleeping at a mate's house and eating all of their food. A trial shift at a UK wagamama, suggested by a friend who was working there, would become the beginning of her 17 years (and counting) with the company.
---
It just so happened that her partner, Kim Workman, was also working at wagamama in the UK at the same time, although the two didn't actually meet until they both ended back in the land of the long white cloud, working at the same wagamama branch.
Fast forward a few years and they are now co-owners of wagamama New Lynn.
Some say the restaurant business is a hard, but rewarding game and during her time as a restaurant owner Sade says she's learnt that if you look after your staff, they will look after you.
"We have a very tight team here and we all work well together, we love the crew.
"The rewards are those awesomely busy nights. I love working those, the restaurant has its own vibe, everyone has their job to do and customers are having an awesome time. its just such a high to work those."
wagamama is about introducing people to new and interesting flavours in a way that isn't going to scare them away.
"We don't adapt our dishes to the NZ palate as such, more we train our staff how to talk our customers through our menu so we can find a dish that will suit ANY palate," she tells me.
Their love a food is no surprise – when growing up, both Sade and Kim's parents owned businesses in the food industry.
"Kim loves cooking and learnt a lot from her mum," says Sade. "I love eating the food Kim cooks, it works well for us!
"Plus working for wagamama for so long I think I have become addicted to the food. If I'm away for even a week, I crave noodles and need to get a fix.
It wasn't always that way though, "I was such a fussy eater, that when I started with wagamama at 18 years old I ate plain noodles and soy sauce for my staff meals. But slowly I made my way through the menu and I'm way more adventurous now."
She even tried jelly fish once in Thailand… although that's not something she'll ever do again.
wagamama will leave you walking away feeling nourished and there's no hidden ingredients – the food's cooked in an open kitchen and served straight to you.
"Kim and I have lived off this food for years, we may not be able to get to the gym, but at least we can look after ourselves by eating healthy.
"Our produce comes in fresh and free range. It's becoming more and more important to know what's in your food. So not only do we have an emphasis on healthy food, we make sure we know where our product comes from."
The couple own chicken farms so they know their chickens are treated well, the eggs in their noodles are free range and they've just stopped using plastic straws – doing their bit to contribute to a cleaner New Zealand.
Their passion for wagamama is evident and for those wondering what to order, Kim's favourite is hands-down the Koumi Lamb. In fact, she's so passionate about the dish she even once talked a vegetarian into ordering one.