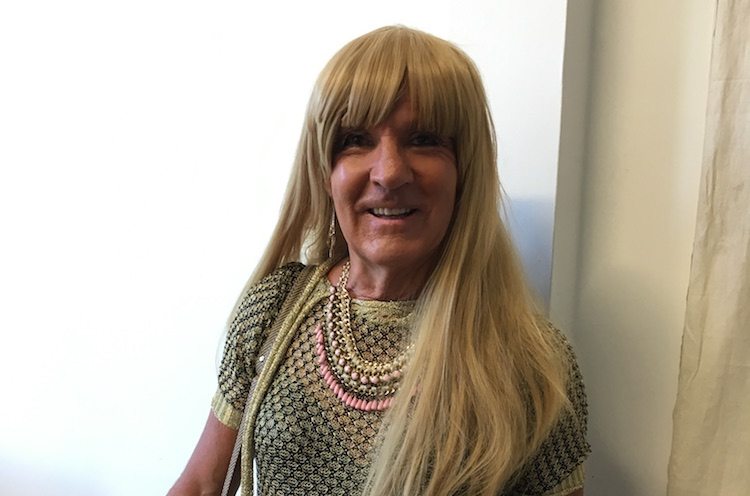 Tim Owen fails hopelessly at keeping control of the conversation when chatting with vociferous Melanie Payne about the objectives of her Diverse Care Group in Whangarei.
---
Aucklanders call it Northland, but many LGBT+ folk call it home.
When settling in New Zealand sixteen years ago, trans woman Melanie Payne chose Whangarei for its beauty and isolation. What soon became apparent to her was Northland's lack of infrastructure for supporting the growing number of LGBT+ people, or Alphabeters as I prefer to call us for simplicity, and so as not to leave off a letter by mistake. (Personally, and this is not necessarily the opinion of express or Melanie Payne, I feel the more letters we add, the greater the divide between us at a time when we should be striving for unity and inclusion, not separation.)
With just one district health board based in Whangarei to support the entire area, resources are spread thin to cover the district. In October 2017, Melanie formed a peer network group called the Diverse Care Group (DCG) to address the issues and raise awareness of the plight of the non-binary sector of the area. The group is currently comprised of 21 professionals from all backgrounds who contribute their time and skills to the group. Amongst these are GPs, mental health professionals and nurses.
A big objective of the DCG is to improve communication and networking amongst professional throughout the greater area to create a better understanding of each other's special interests and skills. Regular meetings are held which are well attended by professionals and caregivers to meet others in the community. United, they will be better equipped to serve the diverse population.
Some practitioners may have a particular interest in a specific component of their work, which has given rise to the acronym GPwSI, pronounced gypsie. This stands for GPs with Special Interests. Whilst a GP may not officially register for special interests within their field, they become known within the community for their skill at dealing with specific types of work. This type of information is typical of what might be shared at the DCG meetings.
"At our meetings, it's common to have representatives in the same profession from organisations based just a few kilometres apart who have never heard of each other," says Melanie. "Our goal is to get these people talking, to create a supportive and coordinated network across Northland."
Her motivation for starting the DCG stems from an obvious requirement for intervention, as well as a few personal experiences which shaped her outlook as a trans woman. Her close friendship with Peter Taylor was the most significant of these, pushing her towards a role in advocacy and education.
Briar Bentley, transgender community leader and human rights advocate, particularly for Northland, became Melanie's friend and confidante until her death in 2016. This connection, coupled with a health scare of her own, gave Melanie the push she needed to re-evaluate her goals.
Based in Whangarei, the DCG set out from the beginning to better the lives of people in the greater Northlands area, not just their home base. The group has been well-received by healthcare providers in Dargaville and Kawakawa, who in turn are networking to expand coverage.
Areas like Uretiti are becoming very popular with us Alphabeters, some just for a week of camping but many as a place to settle away from the hustle of the big city. With the LGBT+ population growing exponentially each year, infrastructure to support them, which was already lacking, is falling further behind.
Patronage of non-binary friendly/owned restaurants and bars, such as The Old Stone Butter Factory, has increased substantially over the past few years. The Butter Factory recently expanded to increase their capacity from 80 to 390 guests, with live entertainment twenty nights a month. This is a good indication of how our community up north has grown.
Obviously, budgetary constraints and distribution of funds based on population sees most funding go to more populous areas, and Melanie and her group are doing their best to close the gap from a community standpoint. One such example is the Ending HIV campaign, which did not reach Northland.
A major part of the drive for awareness by the DCG is the distribution of express magazine, which Melanie, high heels and all, delivers personally each month. The group is seeking permission to distribute to a wider audience, including schools and libraries. Already, the number of copies distributed has risen substantially since the DCG started five months ago.
Another endeavour on the go is the Diverse Venture Project, where youngsters get to explore their sexuality in a safe, carefree, by-invitation-only setting, hosted by various establishments in the community.
The first of these, aimed at teenagers in the 14 and 18 age-bracket, is to take place in April. Hosted by a popular fashion shop, these youngsters will be able to experiment with women's clothing and accessories, exploring their sexuality and challenging gender-norms with assistance and advice from staff and members of the DCG.
For safety and anonymity reasons, these events will not be advertised, and invitations will only be extended in person, so these young people can feel assured that everybody is there to have fun and possibly gain some self-awareness, and awareness of the needs of others.
Following on from that, similar events will be hosted at a health and skin care shop and a hairdressing salon, to further explore the creativity of gender-non-conformity.
The DCG is also considering approaching Alphabet-friendly public businesses, primarily restaurants and bars, to change the signage on their restrooms to use gender-neutral terms. Surely all we need to know upon entering a restroom is will we be required to sit or stand?
With the DCG still in its infancy, we've no doubt that they are destined to grow exponentially and achieve their goal of being Northlands wide, with the support of Express, the community and many other organisations, both hetero-normative and diverse.
As James says in their song Laid, let's mess around with gender roles.
The Diverse Care Group can be contacted by email at thirdgenderwhg@gmail.com