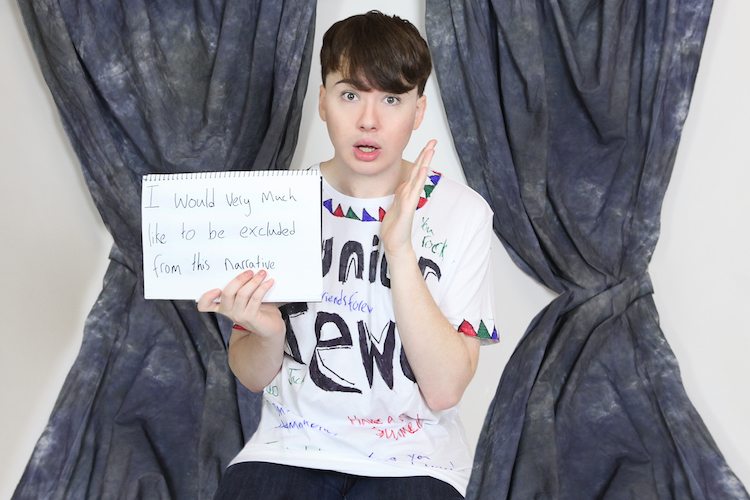 At 22, James Malcolm is one of NZ's youngest and gayest comedic hopes. His controversial stand-up shows, where he gives unapologetically detailed accounts of his man on man sexual exploits, have seen him bag a Billy T Award nomination for the second time and we hope 2018 will be his year!
He talks to express' Oliver Hall about growing up, giving head and getting on Grindr at Disneyland.
---
Tell us about your childhood and what it was like for you growing up?
I grew up in Wellington, which is mostly just what I tell people so that I don't have to admit that I actually grew up in Lower Hutt. My parents owned Lollipop's Playland for the majority of my childhood, so that was like kid heaven and allowed for a hearty amount of experimentation with other boys at the top of the tube slides. I went to Naenae Intermediate, which sounds scary, but I don't think they even knew what a gay boy was which really worked in my favour, because I didn't get beaten up at school that much because everyone just thought I was special needs. My family has always been super supportive of me, which is obviously a massive blessing not afforded to everyone in our community. You don't really have to come out when the first album you save up to buy with your own money as a kid is the soundtrack to High School Musical 2.
Did you always want to be famous or were you simply trying to meet your hero Miley Cyrus?
Let's be real for a second. If I wanted to meet Miley Cyrus, becoming a controversial semi-known stand-up comedian in New Zealand would be a really shocking strategy for that. I want to become famous, because I'm an extrovert with an insatiable appetite for attention. My goals are more to become Suzanne Paul's gay best friend and start a celebrity feud with Caito Potatoe.
Have you met Miley yet?
I haven't met her yet, although maybe she's a massive reader of Express and this will be the ice breaker I need.
In your latest show Fameless, you talk about blow jobs and explain while the idea of giving someone head really turns you on, but you're down there, you get quite bored. Do you think most people feel this way?
I suspect that they do and just no one wants to talk about it. There's really nothing interesting to do down there at all. I often find myself fading out completely and just thinking about what I need to pick up from the supermarket on the way home.
Do you have any top blow job tips you would like to share with express' readers?
I remember back in the Cleo (magazine) days I read about this thing called a hummer, which is basically where you hum while giving a guy head. Ever since then I've been on a mission to find the perfect song to hum. The Climb by Miley Cyrus has a lot of feeling so it can be quite intense, but it's just too slow. I've found people generally struggle to maintain an erection while you hum Call Me Maybe, but I've found Bad Decisions by Ariana Grande is the best option just from BPM alone, plus the message of the song usually applies to the situation. Oh! And another hot tip: if their penis is bigger than yours and you feel self-conscious, you can just fill your mouth up with crushed ice right before he enters that saliva cave and bam! Problem solved!
In Fameless, you also talk about your mother's dildo collection. Have you inherited her passion for sex toys?
Look, I really think sex toy fetishes are a rich person's game. I'm a struggling artist and we all have 5 sex toys biologically attached to each hand, so I've had to make do with those. I have made one big splurge and that was on a rainbow coloured dildo. I call it my pride and joy! Every day is the Pride Festival when you have a rainbow dildo!
What is the most outrageous sexual experience you've had that you've talked about in one of your shows?
Well I don't want to give too much away, because you really have to come to my show and see for yourself – but I will say it involves two Disneyland employees, a foot fetish and staff discount on all Disneyland merchandise for life. If you're ever at Disneyland hit up Grindr, every single male employee is on there and they're all bored out of their mind checking tweenagers' seatbelts.
What's the most outrageous sexual experience you've had that you have not talked about on stage?
I am honest to a fault and half the time when I'm having a questionable sexual encounter in my head I'm like "well, at least you can write a joke about this" – so nothing is off the table really. I have a joke about the first time I gave a blowjob, it was to a guy in hospital cos I'm like a really good person. Very giving. Anyways I had to cut the ending of the story on stage, because the nurse walked in on us in the midst of everything and it just sounds so much like something that would happen in a raunchy sit-com that I've never been able to convince an audience that it really happened, but it did.
How will you celebrate if you win the Billy T award this year?
Oh if I win, I'm going to get messy wasted. I'm a crier so there will definitely be lots of tears and drunkenly hugging people telling them they're the best and I couldn't have done it without them, even though I definitely could of. The award ceremony is at SkyCity, so there's a pretty good chance I'll go nuts and put all of my prize money on red in honour of Taylor Swift's 4th album. If I lose I'm going to push (fellow nominee) Melanie Bracewell off the stage, so it's really a win-win situation either way.
James Malcolm's Fameless plays as part of the New Zealand International Comedy Festival with Best Foods Mayo from 1 to 5 May at Te Auaha in Wellington and 15 to 19 May at Q Theatre in Auckland. Book at comedyfestival.co.nz