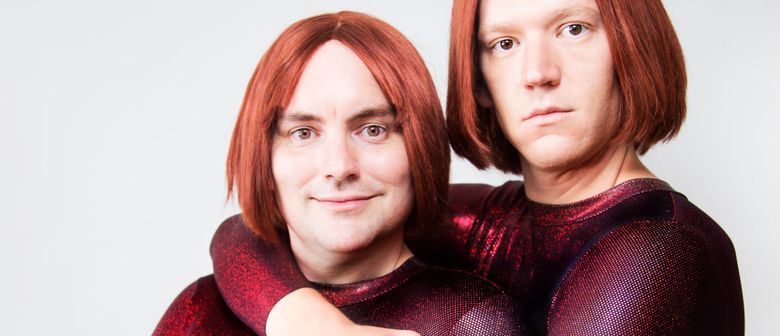 Oliver Hall runs through upcoming events and shows not already highlighted in express for this month.
---
The Dynamic Duos
Any regular readers of this column will know how besotted I am with Chris Parker & Tom Sainsbury. This NZ International Comedy Fest they return as a pair, with sketch show Giggling Gerties (the picture says it all) and as solo stand ups with Sainsbury's mock life coaching seminar Self-Helped and Parker's exploration of masculinity, Camp Binch. If his previous work No Dancing in The Good is anything to go by, Parker likes to add a deeper, more thoughtful tone to his solo work.
Other duos shaking things up include Laura Daniel x Joseph Moore – Two Hearts: Restart the Hearts, that combines comedy with chart-worthy pop tunes and glitzy production. Their Billy T nomination is well deserved, Daniel's humour particularly is rife with gay sensibility. Sticking with musical comedy, The Fan Brigade return with new show Feminazi Bitches – expect seriously smart and funny lyrics, beautifully harmonised over acoustic guitars.
Rainbow Rib Ticklers
It's so great to see such a smorgasbord of LGBT+ talent performing at the comedy festival they include: witty Aussie Rhy Nicholson's new show Seminal, express favourite Eli Matthewson who contemplates changing the world in An Inconvenient Poof and star of web series Shorty Street Scandal James Malcolm's Mildly Wild. Urzilla Carlson also returns with her show Loser – a title that highlights Carlson's uncanny ability to blunt and rude yet warm and charming in the same breath.
I'm super intrigued to see award-winning South Island comedian Ray Shipley bring gender identity and trans issues to the forefront of a stand-up show with He & She, and Leon Wadham's solo sketch show Giddy. Wadham starred in the critically-acclaimed Milky Bits and was memorably sinister in Pitchfork Disney; Giddy promises to serve up irreverence with a dark side.
Queens of the Game
My biggest regret of last year's comedy festival was not seeing Australian Tessa Waters. Everyone who went raved and luckily, she returns this year with Fully Sik a show combining dance, sketch and physical theatre and I won't be making the mistake of missing her again. On the flipside, my favourite performance from last year's festival was Rose Matafeo (a talent who needs no introduction). Her shows improve every year so I'm excited for her new work Horndog!
Last year's Billy T winner Angella Dravid returns with her show Barceloner. Known for her appearances on Jono & Ben, Dravid's stand up work is event better! Hilarious material, delivered timidly with a plodding pace that allows the darker subplots of her jokes to really catch you off guard. Next level shit!
One of the highlights of last year's Fringe festival, you won't find a bad review of Johanna Cosgrove's one woman show Aunty out there. A tour de force retelling of the family reunion from hell.
Guys I Wrestle With
Billy T and Fred award winner Rhys Mathewson returns with The Clumsy Tango. Some of you may have caught Rhys hosting the Pride Festival comedy night and Billy T Jams recently – he was brilliantly funny at both so this Tango should be a treat.
Like Parker + Sainsbury, trio Frickin Dangerous Bro (Pax Assadi, James Roque and Jermaine Ross) will combine for their new 'woke' show Humble, before breaking out for solo shows. Both Pax's show (Brown Famous) and James' show (Legal Alien) explores racial themes, as Pax discusses being celebrity but only in 'neighbourhoods where brown people live', while James focuses on feeling like an immigrant even when you were born here. Roque's critically acclaimed 2017 show focused on his porn addiction and included inviting his therapist up on stage, so I'm expecting innovative things from Legal Alien!
For tickets and times and dates in your city visit: comedyfestival.co.nz.