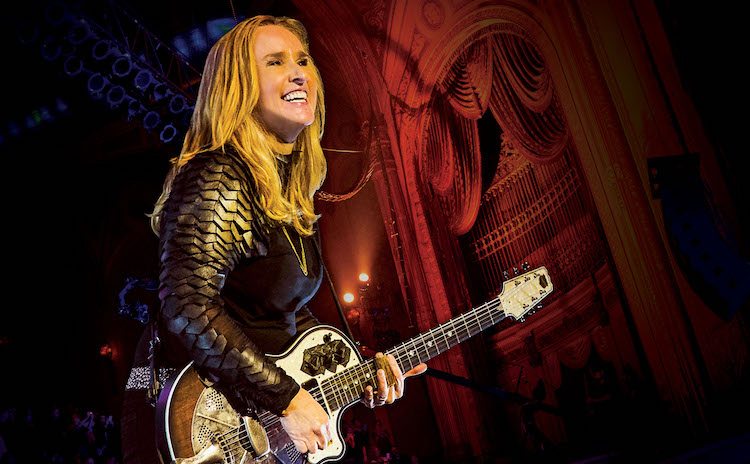 Melissa Etheridge and Sheryl Crow drew an adoring capacity crown to Auckland's Trust Arena
---
An 80% female crowd gathered for a night of rock royalty as Sheryl Crow and Melissa Etheridge delivered the hit filled sets that Etheridge had promised express they would.
The delightful Crow kicked off the night warming up the crowd with her catalogue of killer hits. Opening with Everyday is a Winding Road, followed by the uber cool A Change Will Do You Good, the bubbly All I Wanna Do and the classic My Favourite Mistake!
She ended as strong as she began with enduring anthem If It Makes You Happy, the bright Soak Up the Sun before being joined onstage by Etheridge (whom the crowd gave a hero's welcome) for a cover of The Allman Brothers Band's Midnight Rider.
Etheridge began her set on the drums, beating out the intro to Your Little Secret, before handing over the sticks and taking the lead mic with a gorgeous black electric guitar. She changed guitars every couple of songs, each was more gorgeous than the next – these were instruments fit for a multi-Grammy winner.
The crowd lept to their feet for No Souvenirs, which was followed by Don't You Need, which really showcased Etheridge's voice in all it's raspy perfection, and was finished with an epic guitar solo where Etheridge truly made her strings sing.
As wonderful as Sheryl had been – I Want to Come Over proved who the majority of the crowd had come to see and more importantly sing-along to. Etheridge's set felt perfectly paced with pop classics Come to my Window and I'm the Only One showcasing her rock legend status. A post-selfie performance of Bring Me Some Water and an encore of Like the Way I Do ended the night on a standing ovation.
Melissa Etheridge and Sheryl Crow will play Wellington's TSB Arena Thursday April 12. Tickets from Ticketmaster.