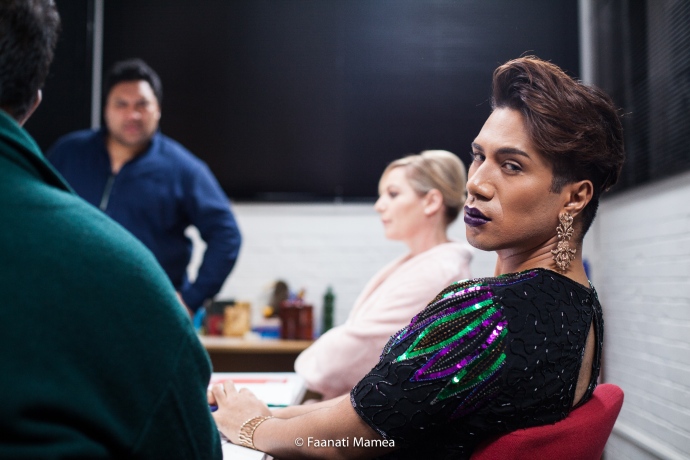 Actor Paul Fagamalo talks to express about growing up in South Auckland, identifying as fa'afafine and starring in Maori TV's Tongue Tied.
On Tongue Tied Paul Fagamalo plays Pristina is a strong-willed Samoan fa'afafine who is wanting to learn more Te Reo. Born and raised in Mangere, he tells us about his life growing up.
"I was bought up in the church, and so it was such a huge aspect of my life – as it would be for most first generation Pacific Islanders born in New Zealand. It forms part of your identity from such a young age, so being 'different' within that community in itself is a hard thing for a young person to comprehend fully."
Being 'different' meant Paul had to mature quickly and learn to ignore the labels others put on him. "I got teased quite a bit growing up through primary school and intermediate, but I knew I had to develop a thick skin; also being the second eldest in a household of five kids with both your parents working, you have to grow up quite fast – which thankfully I did." He tells us.
While embracing his prolific feminine side, Paul measures his gender identity on a scale – an attitude he believes is rooted in his Pacific heritage. "In western terms, I identify as a gay man, but within a Pacific context, I think I would be somewhat of a fa'afafine. Growing up in the Sāmoan culture, there is no word for 'gay', so being a fa'afafine becomes synonymous with the term gay, faggot, homo – the list goes on. I personally would put myself on that spectrum of fa'afafine – which itself means 'in the manner of a woman'. Whilst I don't feel those notions of wanting to become a woman that a few of my dear friends do, I do feel and have always had a certain femininity and affinity towards things that are more feminine." An affinity Paul channelled into a career in professional theatre, performing Pacific characters and stories that reflect parts of his own life experiences.
Pristina is not the first fa'afafine character Paul has portrayed. With the Kila Kokonut Krew, he invented and workshopped a fa'afafine 'mother hen' character called Misilei, for musical The Factory that toured Australia and the Edinburgh Fringe Festival in 2014. He calls the role one of his 'proudest moments'.
"It's one of my favourite roles because when my cousin came to watch one of our shows in Brisbane, they brought my Great Uncle, who was one of the pioneering Pacific drag artists in Sydney during the 70's right through to the early 2000's. This was the first time we had met officially as he moved to Australia before I was born, and it was almost like looking into a mirror. I was able to reconnect with him and find out that I come from a long line of performers and artists, and for me, that validated my chosen form of artistic expression."
That artistic expression can be seen on Tongue Tied a sit-com with a story that revolves around a diverse group of Aucklanders attending Te Reo classes. Paul hopes the show will leave viewers with a sense of national pride. "As kiwis, we should be really proud of our national indigenous language. [Tongue Tied] is timely with the debate (and need) for more of the Reo being taught in schools – I hope it shows that no matter where you come from and what your age or circumstances are, you can learn the language."
express highly recommends checking out Tongue Tied on Maori TV On Demand. www.maoritelevision.com