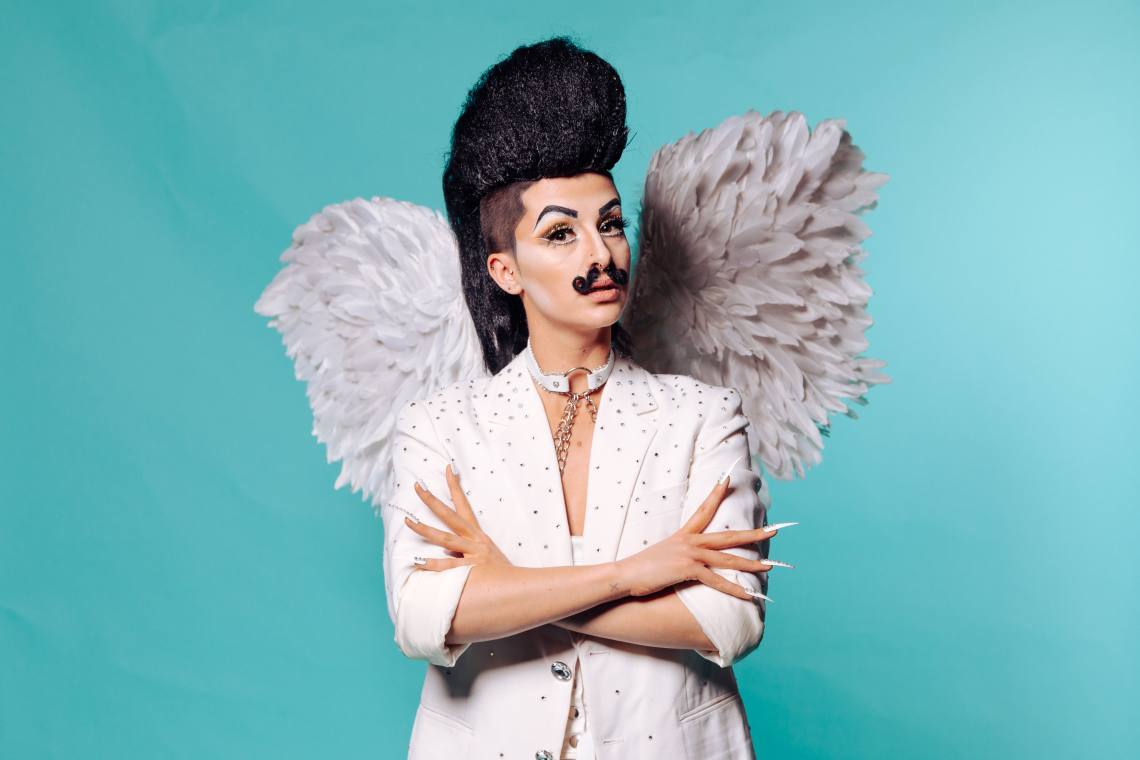 Nine fierce and fabulous drag-stars are out to win the title of the ultimate 'drag-star'!
Hugo Grrrl is 27 years old from Wellington.
Hugo is our drag king of the competition and drag is his full-time job. With a Charlie Chaplin inspired aesthetic, his comedy extends outside of drag, organising events such as the Pun Battle championship – aka the ultimate dad joke showdown.

Tell us about your character? Who are they?
An adorable hairy little gentleman, bound to leave you with a smile on your face and a bit of glitter in your hair! He's a genuine alter-ego, all his little mannerisms very organically fell out of me during one hell of a gender identity crisis three years ago. And the rest is history.
Have you got a hidden talent? If so, what is it?
I can juggle a little bit! I'm low key my dream to one day be a circus clown touring with a big top (who doesn't love a big top) so I'm hoping it'll come in handy.
What can't you live without make-up product wise?
Spirit gum! Go through mountains of it to stick my damn facial hair on. The stuff reeks and having to put it directly under my nose most days is special kind of torture, but you can't beat that hold!
How long does it take you to get ready – going full drag?
I can do a basic face pretty quickly, maybe 45 minutes? But I like to allow two hours for wig, nails, dressing, and taping my chest – the drag king equivalent of tucking is taping your tits under your armpits with industrial electrical tape to create the illusion of a male chest! The things we do for drag. Not a pretty process but the result is quite amazing.
If you were going to be famous for a catch-phrase, what would it be?
At the end of every show at home, I say 'eat your vegetables, fuck the patriarchy, tell your friends you love them', because it's a cute sign-off but also because it's legitimately good life advice.
Why do you think you've got what it takes to win House of Drag?
I just feel so lucky to be included as the only drag king, I already feel like I've won the cosmic lottery! I really do believe I could do well in this competition, I'm obsessively in love with drag, it's my job and my life and I hope it's enough to see me to the end of the competition. I just hope I do my drag king brothers proud.
The first two episodes House of Drag launch today on TVNZ OnDemand, with episodes released weekly at midday.