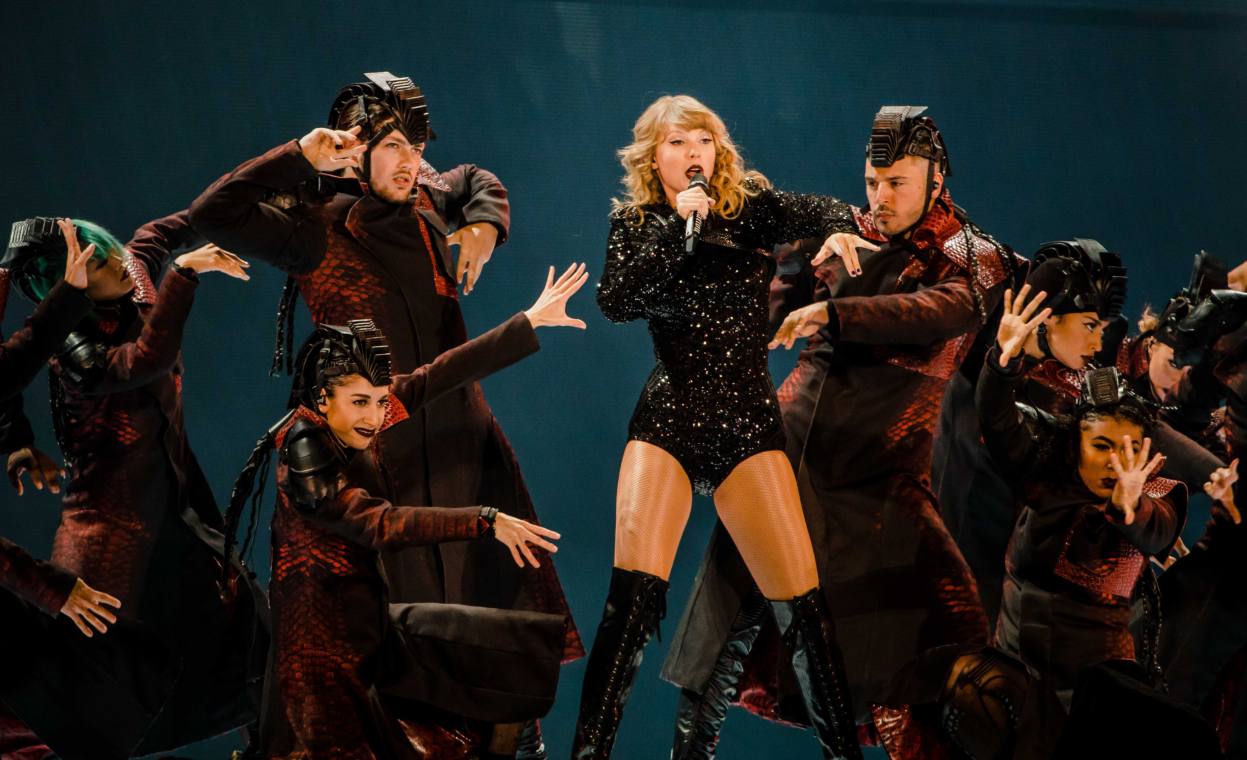 Express is stageside for 2018's biggest pop concert.
Her Herstory:
Popstars generally fall into two categories: celebrities who can sing, and genuine artists. Taylor Swift it definitely the latter. Her rise to fame is well documented. The young country singer-songwriter with a penchant for befriending and dating other celebrities; who's worldwide success became too big for her genre.
Swift dipped her toes into pop music on her fourth studio album Red, collaborating with legendary producer Max Martin (Baby One More Time), they created gems like the dubstep-tinged 'Trouble' and there was no looking back.
Her live performances at the time were theatrical and production-heavy, but it was clear she was still learning the stage presence required of her new genre.
From a singer-songwriter perspective it was clear she had mastered the pop-transition when she returned to the studio and recorded her Grammy-winning album of the year 1989, which spawned massive hits 'Shake It Off' and 'Blank Space'.
All eyes were on her for the 1989 world tour which sadly didn't stop in New Zealand. A critical and commercial success the neon-lit spectacle was an ingeniously modern take on eighties style and pop-culture's nostalgic yearnings. Swift herself had stepped up her live game, a better dancer and singer who had learned to project her craft to the larger audiences she was drawing, now she ranked as the world's biggest pop star. However, she still, wisely, avoided complicated choreography and often spent proportions of songs strutting around the stage pointing at fans. You could tell she was eager to evolve into a full pop messiah; it was just going to take a little more time.
But in the pop world what goes up must come down and following hyped-up feuds with Katy Perry, Kanya West and Kim Kardashian, Swift herself would admit in her lyrics her reputation had, "never been worse." Ever the artist – she used this as inspiration for her next album Reputation – a polished Urban music-influenced record that shone the spotlight on her public persona.
Taylor also kept a lower profile and focused on learning to perform like the pop dancing queen she knew she could become.
Choreographer Tyce Diorio (known for his work with Jennifer Lopez) brought some Beyonceesque booty-swinging to the video for the first single 'Look What You Made Me Do' which would dictate the slick style and confident pace of Taylor's new moves for her new era.
So it was announced that The Reputation tour would stop in New Zealand for just one night – we knew we would be seeing Swift in her prime.
Last Night:
As we stroll up to the intimidatingly large stage at Auckland's Mt Smart you realise what a massive deal this tour is. The largest staging of any concert that has ever come to New Zealand. The LED screens that back the stage stand storeys high and stretch out onto the full length of the stage's floor. The stage is a huge and X-shape with three 'snake pits' around the indents of the X, each filled with uberfans that occupy the only standing areas in the stadium and this for the biggest party of the year, we were standing stage left!
To start the party for her, Taylor selected local heroes Broods and the ever dependable Charlie XCX. But last night in Auckland seemed like something had gone wrong. Kicking off half an hour later than scheduled it was the excellent Charlie XCX who opened first (the reverse to Australian leg) and was followed by Broods. Lead singer Georgia was clearly agitated as she worked on stage and after warming into her performance left the stage crying at the end of her set. Perhaps it was performing in the rain which started to fall just minutes before they came on stage and did not cease till about halfway through Taylor's show.
Mirroring the 1989 tour – audience members were given light-up up wristbands all synced to flash perfectly in time with the music and each other – leading the capacity packed arena to light up whatever colour best suited the mood of the song.
Taylor opens with big bombastic numbers the bass-heavy 'Ready For It' and 'Did Something Bad' and shows off all her production's bells and whistles – these include thunderous fireworks, smoke cannons and flamethrowers. Talk about starting the proceedings with a bang!
In addressing the crowd for the first time she talks about how magical she finds performing in a rain-soaked show, though later confesses that since she has been playing these wet shows, she gets colds all the time!
As the smoke canons, final billow wafts over the stage and she begins a crowd-pleasing medley of 'Style', 'Love Story' and 'You Belong With Me' before a video intro takes us into big choreography number 'Look What You Made Me Do'.
The stage floor's LED's fill with slithering snakes as dynamic drums kick in and Taylor declares, "No I don't like you," the ultimate middle finger to anyone hoping the sweet blonde country girl might back down.
A giant serpent, the symbol of what she has become by daring to bite back raises from the stage – menacing and fierce; the perfect emblem of the pop princess who seems more confident than ever owning every step of her career and media persona as she raps portions of 'End Game'.
From the unique view of the side-stage Snake Pit, I find myself more aware than I have ever been at a concert of the hundreds of people running around and ensuring a logistical success. As her colony work at great neck pace, the Queen Bee strips everything back to perform recent single 'Delicate' under a stadium-wide purple hue. The performance is the polar opposite of its follow-up 'Shake It Off'.
The X-stage and the audience wristbands glow in neon-multi colours, as Taylor 'explores' Mt Smart stadium, and finds herself at a cleared 'B-stage' area on the floor at the back of the stadium – dancing around snake statues that can also launch fireworks from their heads. She shares the singing of her iconic single with Broods lead-singer Georgia and Charlie XCX.
Things chill out again as she picks up a guitar to perform 'Dancing With Out Hands Tied' with her acoustic guitar before she introduces the exciting 'mystery song' segment where she performs a different song on each tour date. "This song always makes me think of New Zealand… we shot the video here," she announces to a huge audience obviation.
What follows is a stunning solo performance of Out of the Woods as Taylor truly showcases the young singer-songwriter that had record companies fighting to sign her. She connects with every lyric and her underrated voice stirs with emotion – for this writer it was the highlight of the night.
How does one follow up such a perfect moment? Well if your Taylor Swift you initiate a singalong of perhaps your greatest song to date – 'Blank Space' which highlights Tay-Tay is just as confident dancing on her own as she is with a large pack of backing dancers.
She returns to the man stage for 'Dress', and drama-starter Bad Blood – which feels more anthemic than ever as it blends into 'Should Have Said No' and LED panels to move and connect revealing band members, dancers and at times Taylor performing in and around them on the futuristic feeling scaffold construction.
'Don't Blame Me' continues this moody segment of the show as the dancers march in military unison and the stage lights up in whites, greys and blues to resemble a futuristic industrial fortress – crowned with flamethrowers – of course!
To finally highlight that she can do it all. Taylor sits at a piano that looks like it's made from marble for 'Long Live' and 'New Years Day' and manages to make a capacity packed 40,000-strong stadium, somehow feel intimate.
But this is not how a Taylor Swift stadium show is going to end! Tay Tay completes things with her true signature: the breakup song; as she mashes 'We are Never Ever Getting Back Together' and 'This is Why We Can't Have Nice Things.'
The final fireworks fly and burst and Taylor exits – smiling, looking exhausted, yet very satisfied.
For an artist whose talent in the studio once dwarfed her stage presence, she has come a long way and that only seems to have been achieved through hard work and determination.
Who knows what the next step will be from the only female artist to have ever won a 'Best Album' Grammy twice. But if it is as exciting as her last two reinventions and demonstrates further growth – I just can't wait!
And I fairly sure I know 40,000 others who all feel the same way!
Article | Oliver Hall.
Photo | Sean Finney.