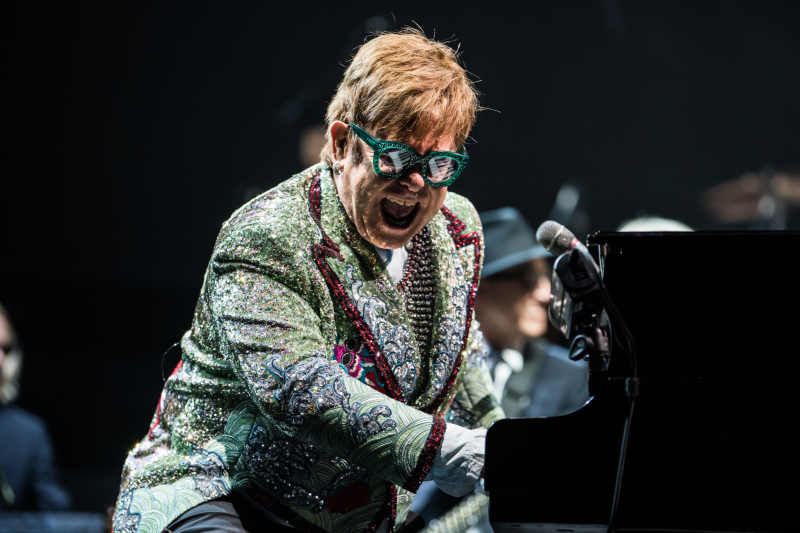 As Elton's final tour dates sell out all over NZ; Oliver Hall speaks to the stars of his upcoming biopic Rocketman, a kiwi super fan and listens in to the man himself to find why we are still all queuing up to see Elton John live.
Elton John's Farewell Yellow Brick Road tour will not touch down in NZ until February next year, yet all 170,000 tickets sold out in a matter of hours. Elton has been touring for fifty years and says this will be the last time.
"I'm so lucky to have the most loyal fans. Record sales go up and down, but concerts have been a constant stream and always sold out! So I have to thank those fans which is why I'm doing 300 concerts [worldwide] and going to every city I possibly can, to say thank you and goodbye!
"I'm not going stop writing and I'm not going to stop recording but I am going to stop 'schlepping'. I've done 4000 shows and been to so many countries, I don't need to go there again, I need to be with my children."
He says he will spend his free time focusing on his family, listing his priorities with a smile: "Be with my boys and enjoy my home and my husband!"
At the end of May, the much-anticipated biopic of Elton's life Rocketman will be released into NZ cinemas. It stars Taron Egerton (Eddie the Eagle) as Elton. Talking to express' London correspondent, the 29-year-old says like many of his generation, he first became aware of Elton John when the Lion King was released. "I watched it over and over again," he tells express. "He's been ever-present in my life since then. I got his Greatest Hits album when I was 12. My stepdad and I used to sing I Guess That's Why They Call It The Blues in the car.
Then I sang Your Song as my audition piece which got me into drama school… and now I play him!"
Taron's co-stars Richard Madden (Game of Thrones) and Jamie Bell (Billy Elliott) are both just as in awe as Egerton.
"My parents were big fans so I feel like I've always known and loved Elton's music," says Madden, who plays Elton's lover/manager John Reid in Rocketman, adding, "we still listen to his songs forty years on. Now that's a living legend!"
Jamie Bell, who plays Elton's co-writer Bernie Taupin in Rocketman, tells express he has always felt connected to John.
"I had a karaoke machine as a kid, and Candle In The Wind was on there. I just remember reading the lyrics and thinking this is such a sensitive piece. 'I loved you and they all got you wrong from this kid in the 22nd row.' I remember always feeling saddened by it and I didn't even know who Norma Jean was.
"I met him at the Cannes film festival for the premiere of Billy Elliott and he was just weeping [following the movie's screening], he was really moved by it, just as I had been by his music – I think the story rang true with his own father. (Elton went on to write the music for Billy Elliott the musical.) That was the first time I'd met anyone really famous and we've been tethered together since!"
For kiwi super fan Cassie Roma, who has an illustration of Elton tattooed on her arm it isn't just about his music but who John is a person. "The work he has done for others, in terms of raising awareness and funds to combat the AIDS epidemic, has floored me. Not only can the man write a soundtrack to a life – he saves lives!"
Photo | Ben Gibson.