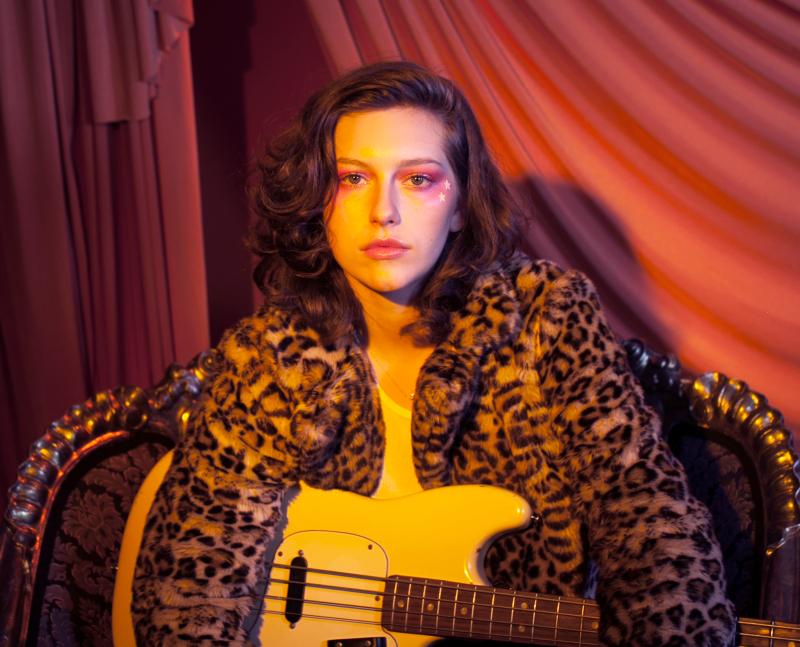 King Princess Talks To Kelly Geater About Music, Representing The Rainbow Community And Playing The Oppression Olympics.
King Princess is an artist owning her sexuality, gloriously growing bolder on with each release. Her lyrics are littered with queer references, from the inferred, in break-out track 1950 – a tribute to the lesbian love-story The Price Of Salt which inspired the film Carol – to the declarative on Pussy Is God which opens, explicitly: 'Your pussy is God and I love it.'
Pointedly focused on being honest about who she is, King Princess is making music for the LGBTQIA+ community who come out in force to support her.
"I'm always pleasantly surprised by the communities. Not just lesbians but trans-masc people, trans-femme people, gay men, gender queer kids – it's so lovely to see a diverse gay community represented. I'm still at that point where it's the die-hards, and the die-hards are the gays."
She's incredibly aware of how quickly she's become a role model to her ever-growing fanbase, and it's not a job she takes lightly.
"I admittedly am still learning, I identify as both gay and genderqueer and I still don't know how to be a good genderqueer person yet."
Part of a pop music scene brimming with artists vocal about their queer identities, she knows first-hand the impact of having someone in the public eye validating your identity can have.
"I feel like the representation we had was such a fraction, such a diet version, of what we have now. And yet it was still so important to us. That was enough for me to figure out how to be proud of myself… Every gay and queer person knows what it feels like to cling on to a piece of media that was important to you."
Speaking about her debut album, which is due in 2019 at an as yet undefined point, she's creating a body of work that's more expansive. Tapping into more influences and bringing in authentic perspectives that aren't necessarily hers; King Princess intends to give a platform to people that represent a wider community than what she can do alone – something she sees as very important.
"I hope that I can chaperone stories that are respectively not mine, where I can be a storyteller and still respect those different experiences. It's not about claiming someone else's story, but more about creating a narrative, creating a lane."
It's a big endeavour for someone with only six officially released songs, plus two covers, but while her career has exploded seemingly overnight, she's been hard at work for a long time. A singer, songwriter, multi-instrumentalist, and producer, there's not a single element of a King Princess track that doesn't come from the artist herself.
"It's my process, the whole thing, I literally make everything, I play all the instruments. There is no part of making music or production that I'm not a part of, I sit there and give the commands if I'm not doing it myself. At the end of the day, no shot is called without me."
She's also full of praise for the people who have been behind her every step of the way.
"I write all my music with two white straight cis dudes and they are the best writers and people and advocates I've ever met. If I could bring that message to the world it's that there are good ones, because there are! These men love me and they are good at listening and they are good at writing music and it has never, for one second, been like 'Is that too gay?'"
She also speaks commandingly of the responsibility she feels to be unapologetically herself, in a charged political climate. Specifically referencing the Trump administration set on stripping rights in her home country, her comments could also easily reflect the divides in Auckland's queer community.
"There's a lot of negativity within the gay community right now… We're attacking each other on the internet, we're policing each other in how we fucking talk, we're attacking each other's experience and playing the Oppression Olympics, and it's just like – guys! That's what they want! [They] want us to be disenfranchised because we're weak if not unified and we're yelling at each other, and fucking tearing each other down. That's not what we're about… It's really frustrating to me to see a lot of misplaced anger towards each other."
It's this attitude that she brings into her music, and particularly to her live shows, a space where both the artist and her fans can be unashamedly themselves. Being able to create a safe space for other queer kids is something she sees as a privilege, all she really wants to do with her time as an artist.
"If my personality, my honesty, is something that's providing the type of representation that makes kids not want to die, then deal. Fucking deal. It's a no brainer. It's not about me, really!"
Following the success of 1950 and Pussy Is God, King Princess has recently released her latest work titled I Know, featuring Fiona Apple. Connect with King Princess at kingprincess.com