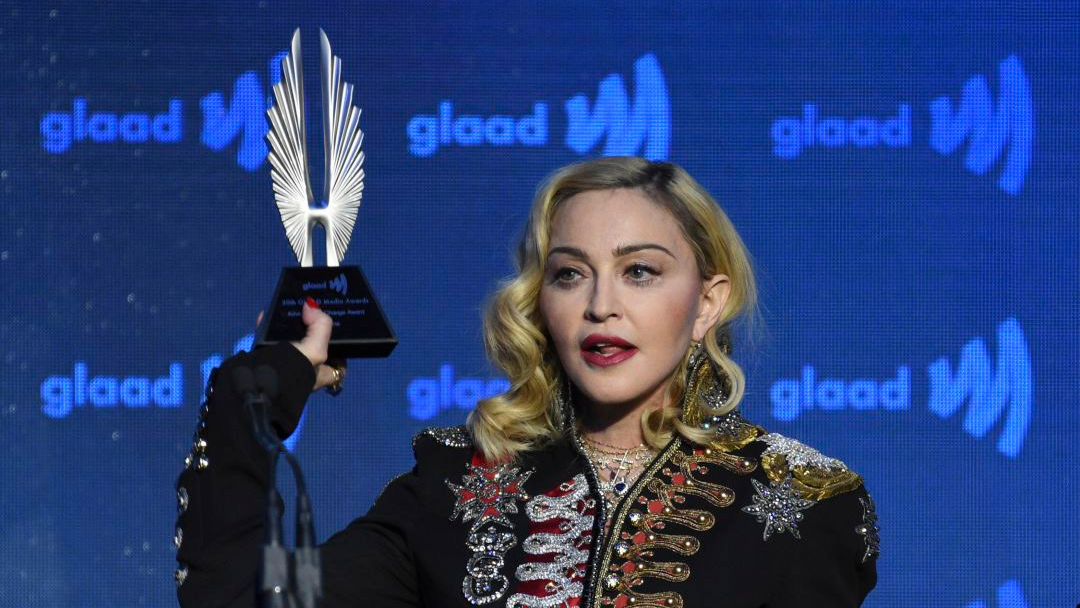 Madonna has paid tribute to the friends she lost to AIDS during her emotional speech at the GLAAD Media Awards in New York City.
The Queen of Pop who was receiving the Advocate for Change Award for her decades of activism on behalf of the LGBTQ community was introduced on stage by her longtime friend and A League of Their Own co-star Rosie O'Donnell.
In typical Madonna fashion, the icon accepted the award with a passionate, and emotional acceptance speech touching on moments that resonated with her the most over her decades in the spotlight.
"Growing up I always felt like an outsider, like I didn't fit in. It wasn't because I didn't shave under my armpits, I just didn't fit in," Madonna said.

"The first gay man I ever met was named Christopher Flynn. He was my ballet teacher in high school and he was the first person that believed in me. That made me feel special as a dancer, as an artist and as a human being. I know this sounds trivial and superficial but he was the first man to tell me that I was beautiful."

Madonna continued, "He took me to my first gay club in downtown Detroit. I told my dad I was having a sleepover at a girlfriend's house … that got me grounded for the rest of the summer."

"For the first time I saw men kissing men, girls dressed like boys, boys wearing hot pants, insane, incredible dancing and a kind of freedom and joy and happiness that I had never seen before," she said. "I finally felt like I was not alone, that it was OK to be different and to not be like everybody else. And that after all, I was not a freak. I felt at home, and it gave me hope."

Madonna took the opportunity to pay tribute to friends that she's lost to AIDS, including artist Keith Haring.

"After I lost my best friend and roommate Martin Burgoyne and then Keith Haring — happy birthday, Keith — I decided to take up the bullhorn and really fight back."

"Death and loss brought me new life," she concluded. "Brought me to life. Brought me to love. And so we are back to the beginning of my speech: the importance of love. Because as soon as you really understand what it means to love, you understand what it takes to become a human being. And that it is every human's duty to fight. To advocate. To do whatever we can. And whatever it takes."
Watch Madonna's full speech on express below: