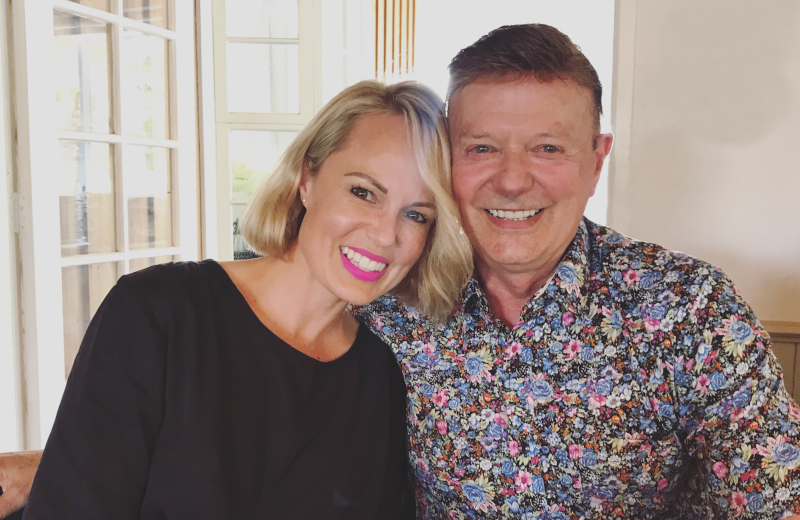 Former What Now host/2019 Dancing With The Stars Contestant Carolyn Taylor and her father, school principal Robert Taylor, sat down with express to discuss the time he told her he was gay and how honesty creates a freer family.
Robert Taylor converted to the Mormon Church when he was 18. He married a fellow Mormon and fellow teacher and had two daughters. He tells us the church encouraged 'a pretty strict way of living,' but together with his wife ensured his daughters were introduced to a range of different cultures and religions when they travelled.
In hindsight Robert tells us he 'probably always,' knew he was gay, 'but it was never a place that was socially okay to go.'
It wasn't until six years after he and his wife separated that he finally decided to act on his impulse.
"When I was doing my Masters in Wellington I met my best female friend. She could never work out why I wasn't interested in her in a physical way and asked me, 'do you think that you're gay?' I admitted it has crossed my mind, and she said 'I think you should give it a go.'
It was interesting hearing someone else say that because it suddenly felt like I had permission to give it a try. And when I did, I didn't look back… The scariest part would be talking to my kids about things."
Robert's oldest daughter Carolyn was 24 at the time and a familiar face to many young Kiwis as a presenter on the popular kids show What Now.
Robert was studying for his PhD and had been to the UK a few times in the same year, leaving Carolyn and her sister questioning if their dad (who had remained single since their parent's separation) had met someone special on his travels.
"I asked Dad if he has met someone in London because he was going there so much, and he said he had. I asked what she was like. He looked at me and said, 'It's a he'."
Prior to that moment, Carolyn tells us she had never questioned her father's sexuality, "when he brought a racing car and got an earring we just thought he might be having a mid-life crisis," she giggles.
Her father's words were met with a nonchalant reaction. "I was like 'oh okay, what's he like?'" She says, explaining, "I think because there's no judgement or uncomfortable space in our communication about anything, we've always just let each other be whatever we want."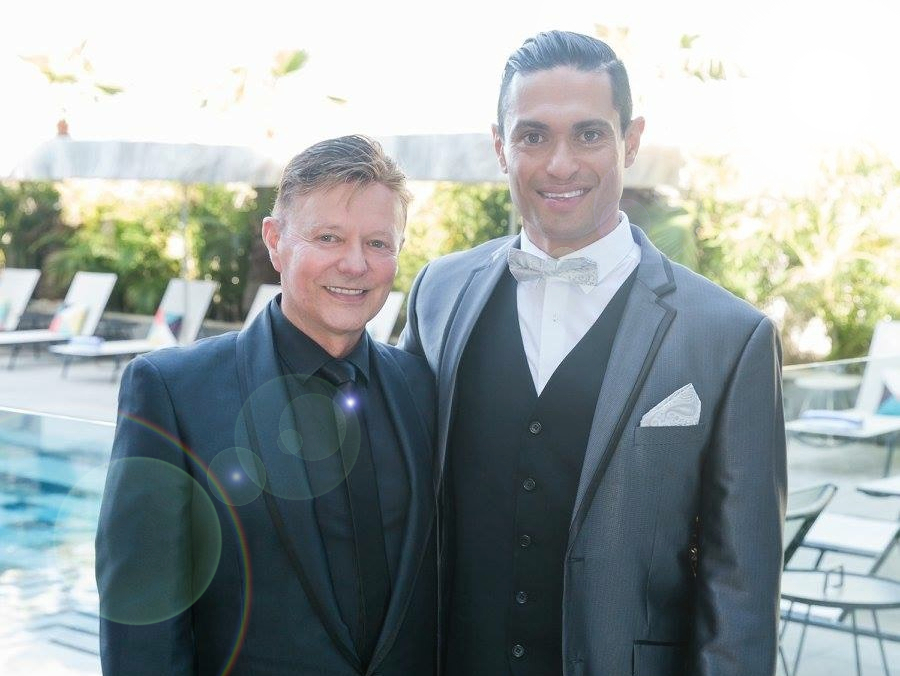 Robert confirms the moment lacked the dramatic outpouring of emotions that are often associated with coming out to family members. He reasons, "because it seemed to happen so naturally and her response was so positive, it kind of made me more confident to be open and talk about it."
For Carolyn, her only worry was how it might affect her father's career in education. She need not have been concerned as Robert has gone on to be well-respected school principal while being open at work.
Robert's British fling never became a full-blown romance, but a year later he would reacquaint himself with the man who would become the love of his life; Jason.
Both Robert and Carolyn had known Jason years before when he had been her Sunday School teacher in Upper Hutt. Jason had left the church after coming out, and recalled Robert had been one of the most supportive fellow church-goers.
Their 2004 reunion took place in Auckland's Flesh nightclub and the two have been together ever since. "Now he's part of our family!" Says Carolyn.
Robert is clearly proud of the relationship Jason has forged with his daughters. "He's quite a bit younger than I am,' he tells us. "He's like their second dad and they'll often talk to him before they talk to me!"
Carolyn believes having a parent who came out has helped create a freeing culture of communication in her family. "I think we talk more about heart things – like relationships, and I think that's an easier exchange because my dad is in a totally honest space about who he is, which is really special… People always comment: 'Man, you talk about everything'." She laughs.
Robert agrees: "When you're living in a church environment there's a lot of filtering about what's okay and not okay… [now] It's a lot freer."
The daughter her parents raised, clearly knows her own mind and has no need to conform to the expectations of others. "In my single days I sometimes got people saying, 'you must be pretty fucked up because you can't keep a man, your parents are divorced and your dad's gay.' And I would just say 'no I'm just selective about who I choose to date.'" Carolyn tells us.
This independent attitude has lead Carolyn to keep pushing her own boundaries and get out of her comfort zone, hence her return to live television on Dancing with the Stars.
"There's nothing like it. Having it back in my life has made me realise how much I missed that medium," she says of live TV. "There are so many people working around the clock on that show. Everyone is on that adrenaline buzz that comes from a place of care. It feels like a family."
Carolyn was eliminated from Dancing With The Stars on Sunday the 29th of April, express can't wait to see what she gets up to next!