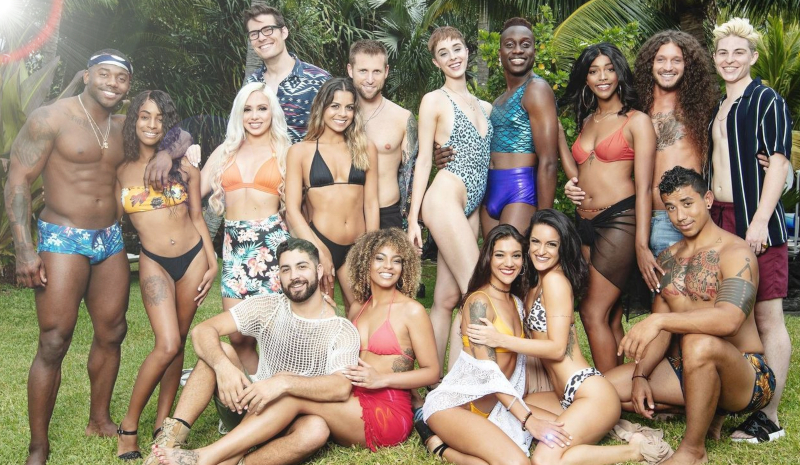 MTV is set to release its first sexually fluid reality dating competition show after rebooting its series: Are You the One?
Are You The One?, which is the first U.S show of its kind, will see 16 singles head off to Hawaii in hopes of finding their "perfect match" while competing for a $1 million cash prize.
Although the MTV show has been around since 2014, this season will be the first time ever, that all the singles identify as sexually fluid, meaning there are no gender limitations in perfect matches.
Along with sexual fluidity, the eighth season of the show will also introduce Dr Frankie, a relationship expert who works with the singles to help them become better daters and navigate between drama, poor choices and reoccurring patterns in relationships.
According to the producers, Dr Frankie will also help the singles identify current disaster-dating trends such as ghosting, benching, and stashing, and tests them on their willingness to fall into these painful trends.
"From coming out moments to discovering sexual and gender identity, Are You The One? tells powerful stories about navigating relationships and finding love as a sexually fluid individual for the first time ever on a reality dating show," said the producers.
The shows change-up follows a similar reality dating series called The Bi Life which debuted in the UK, featuring a bunch of bisexual Brits hoping to find love in Barcelona.
Hosted by RuPaul's Drag Race runner-up and UK Celebrity Big Brother 2018 winner, Shane Jenek, also known as Courtney Act, the show became popular across the globe, and could be the catalyst for the newly revamped Are You The One?
Check out the cast below and then don't miss Are You the One? which is coming soon to MTV in Australia and New Zealand.
Aasha Wells, 22, Miami Beach, FL
Amber Martinez, 23, Yonkers, NY
Basit Shittu, 25, Brooklyn, NY
Brandon David, 25, Salt Lake City, UH
Danny Prikazsky, 27, San Jose, CA
Jasmine Olson, 21, Oxford, MS
Jenna Brown, 25, Bloomington, IN
Jonathan Monroe, 28, Panama City Beach, FL
Justinavery "Justin" Palm, 24, Palmdale, CA
Kai Wes, 26, Chepachet, RI
Kari Snow, 23, East Hanover, NJ
Kylie Smith, 24, Salt Lake City, UT
Max Gentile, 25, Columbus, OH
Nour Fraij, 25, Kenilworth, NJ
Paige Cole, 21, Allen, TX
Remy Duran, 27, New York, NY